Rotary District 1010 Scotland North
Rotarians in North Scotland are being urged by their new International President to strengthen membership.
Sri Lankan Rotarian Ravi Ravindran has made a direct plea to Rotary Clubs locally and worldwide to attract more men and women who are committed to improving their own and international communities through volunteer service.
Clubs are more and more becoming first-responders when major disaster strikes, he says. On the home front they are also involved in helping food banks and local organisations with support and finances.
Rotary is fun and fundraising, with gala days, duck races, Christmas Sleighs and grottos, taking disabled kids and the elderly out for the day and much, much more.
Clubs in District 1010 are proud of their past involvement in the community in addition to playing a major part in the goal of eradicating polio throughout the world — a goal now in sight with only three countries still reporting cases. Ravi is committed to bringing a 'fresh look' to Rotary Clubs worldwide and you could play a part in making a difference in your area.
There are many different types of Club in our District, including those that meet for Breakfast, over lunch in the evening or on-line as eClubs.
If you would like to find out more why not make contact with one of clubs in the area Map with Clubs
---
District 1010 Scotland North covers some of the most beautiful and famous landmarks in the world such as Eilean Donan, the most photographed Castle in Scotland. We, therefore, hope that by navigating through this site you may be able to find a little bit about our District, our Rotarians and the work we do locally, nationally and internationally literally every day of the year.
Geographically, our District stretches from the Northern shores of the Firth of Forth, to the Shetland Isles in the North, and the Hebrides in the West. We have 88 Rotary Clubs with around 3000 Rotarian members. Every single area of our District has something to offer. From the green valleys and fertile fields of the south, up through the old fishing towns along the east coast and in the Highlands with their serene lochs and majestic peaks, their quiet glens and sparkling rivers where salmon abounds you will find some beautiful scenery.
---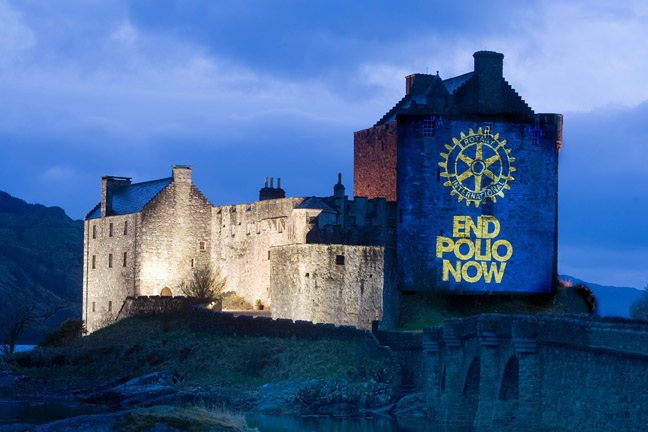 Our website has been set up as an information base for those looking to find out more about Rotary as an organisation in general or who may even be looking to join this fantastic organisation. You will find that you will be made very welcome by any of the 3,000+ male and female Rotarians throughout the 88 Clubs in our massive District if you decided to drop in for a visit. In the meantime, if you want to find out more about our organisation, then click on this link to view short video that will illustrate in a few minutes exactly what we do and why Rotary may be something you want to become involved with.
The site is also our District's main communication portal for our Rotarians to find out what is going on in and around the areas of our District. So please feel free to have a look at some of the other pages which will give you an even bigger insight into the numerous strands to Rotary District 1010. We hope you find our site useful and that it will serve your needs. However, if you can't find what you are looking for or feel that the site could be improved in anyway, please contact us and give us your feedback and we will do all we can to incorporate any suggestions that will make rotary1010.org site better as the site is developed. Enjoy your visit...!
Quick Links
FOR ROTARIANS Contents and Links to information for Rotarians read more
---
RIBI Conference 2016 read more
---
Social Media
Rotary in Scotland
Promote your Page too
Around the district in the next 30 days...
St Andrews and Fife Community Orchestra organised by the University Music Centre in collaboration with Gillian Craig
read more »
Our partner organisation, the Inner Wheel Club of Arbroath, will present a Christmas Coffee Morning on Saturday the 5th December at the Old and Abbey Church Hall in Arbroath. The doors will open at 10.00am.
read more »
Once again Arbroath Rotary Club presents Santa at the Abbeygate in Arbroath.
read more »