13/10/2018
Rotary 1010 Digest Issue 49, October 2018
.
Important news from District 1010
---
13/10/2018
East Sutherland Recruits
.
Third new member so far this autumn
---
11/10/2018
Dunfermline's Sponsored Cycle for End Polio
.
ON your bikes, guys! And remember your money-spinning mission will help the final push to rid the world of polio.
---
09/10/2018
Sandy Wilson, Obituary
.
Mr Sandy, RC Pitlochry
---
09/10/2018
Chris Dowse : Two Month Charity Walk - update
.
Crieff Rotary Club's Chris Dowse from Comrie is raising funds for ' Prostate Cancer UK ' and for the Rotary Foundation ' End Polio Now ' Campaign, by walking the 630 miles of the South West Coast Path. He set off on 20th August at Minehead.
---
09/10/2018
Fun & Games Day
.
The Helmsdale Primary School Rotakids just can't stop having fun and helping others , such is their enthusiasm.
---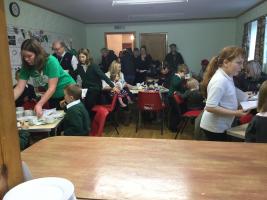 09/10/2018
Rogart Primary Rotakids Team Works
.
Last week they held a supeb Coffee morning.
---
08/10/2018
Roadshow Web training Sessions
.
Documentation
---
08/10/2018
Website - useful software
.
Some applications that may be useful when creating your website
---
08/10/2018
D1010 supporting First Steps Himalaya for 10 years
.
.
---
08/10/2018
Ellon's RYLA Girl
.
The speaker last week gave a thumbs up to Ellon Rotary for allowing her to attend the RYLA Camp in July 2018.
---
07/10/2018
New Look District & Club web addresses
.
More about New-Look District Website
---
07/10/2018
New Look District Website
.
Planned for October 2018
---
07/10/2018
Data Management System (DMS) developments
.
New for October 2018
---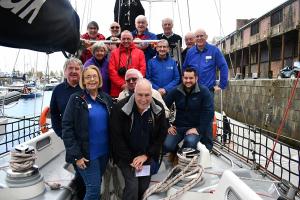 07/10/2018
Rotary Clubs Working Together
.
Alloa, Cumbernauld, Falkirk, Grangemouth, & Larbert
---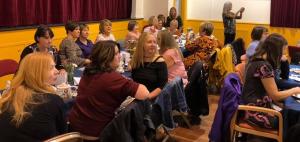 07/10/2018
Intoxicating Tea Party in Kemnay Village Hall
.
Raising funds for our Club's Live Streaming Project with the people of Kemnay . Not only did we make a good sum of money we also enticed someone to join our Club!
---
07/10/2018
KKD - Interactors have raised money for Roxburgh House
.
Kemnay Academy Interact President Katie is writing a letter to Friends of Roxburgh House with the cheque for £300. The picture shows the Interactors holding the cheque.
---
07/10/2018
Kemnay Academy Interactors toilet twinning!
.
What's a flushometer? or an Emoji Poo?
---
07/10/2018
New member for Kintore Kemnay & District
.
We are so pleased to welcome Gordon Jack who is a music specialist and has joined our Club last Thursday 4/9/18.
---
05/10/2018
ROTARYfirst E-bulletin September2018 ARCHIVE
.
Articles from September 2018
---

05/10/2018
Rewards for Ellon Interact
.
Ellon Interact was presented with the D1010 Interact Award and a Presidential Citation, both for their hard work during 2017-2018.
---
05/10/2018
Mock Interviews for All - Award
.
Sutherland Chamber of Commerce honour East Sutherland Rotary's outstanding work.
---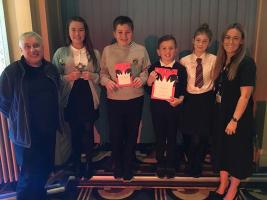 03/10/2018
Quarryhill RotaKids Rewarded
.
Quarryhill RotaKids, supported by Aberdeen St. Nicholas Rotary Club, were presented with Aberdeen City Enterprise Award at the annual Children and Young People's Services award ceremony at the Beach Ballroom last night.
---
02/10/2018
​Rotarian who rolled out Britain's first wheelie bins
.
TRIBUTES have been paid to the memory of a well-known figure in Dunfermline Rotary, municipal and sporting circles, Mr Kenneth N. Fraser, who died on 23rd September, at his home in Perdieus Mount, Dunfermline. He was aged 86.
---
27/09/2018
Stonehaven Bothy Ballads
.
Come along to Stonehaven Rotary Club's Bothy Ballads Night with Geordie Murison and friends at Stonehaven Town Hall on Friday 2nd November.Proceeds to Rotary International Water in Africa charities.
---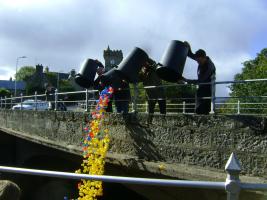 25/09/2018
Rotary Club of East Sutherland's annual Charity Duck Race
.
£1700 was raised for local youth projects​
---
19/09/2018
RIBI Showcase and Conference
.
10-12 May 2019 in Nottingham
---
19/09/2018
These boots are made for WALKING
.
This week Forfar Rotarians from the International Committee spent time sorting out shoes which have been donated for our 500 Miles Appeal.
---
17/09/2018
Rotary 1010 Digest Issue 48, September 2018
.
Important information from District 1010
---
17/09/2018
RI Convention, Hamburg, 1-5 June 2019
.
RI Convention promotion
---
12/09/2018
Inverurie Rotarian wins a Scottish Angling Championship
.
Howard Hughes, of Kemnay, won the Scottish Rotary Angling Cup at Lake of Monteith earlier this week.
---
12/09/2018
In the Footsteps of Carnegie
.
THE Rotary Club of Dunfermline is assisting two Dunfermline students to follow in the footsteps of their home city's greatest benefactor, Andrew Carnegie…
---
09/09/2018
Webmentors - Contacts for help
.
List of contacts
---
09/09/2018
ROTARYfirst E-bulletin August 2018 ARCHIVE
.
Articles from August 2018
---
09/09/2018
Crief Rotarian's Challenge
.
Chris Dowes
---
09/09/2018
Jackson/Christie Porridge Bowl retained in D1010
.
Report on this years Jackson Christie Final
---
09/09/2018
Honours for A.L.E.C. stalwart
.
Henry receiving his PHF from President Ray Walker. Looking on is AG Jim Hatter.
---
02/09/2018
Oldmeldrum host First Steps Nepal speaker Durga Aran
.
Durga Aran from First Steps Nepal visits the club which started Rotary's support for Education in the Sangachok area of Nepal.
---