Rotary Club of Conwy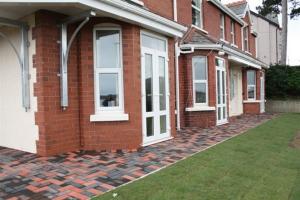 FINAL REPORT. (till the next time) 
The external works are completed, everything went sweet as pie, quite unusual really  The paving is quite colourful (see picture). I hear the residents planning outdoor activities for next spring.  I did ask the Treasurer if I could spend money on a Grand Paved Chess Board; but he said, No!  False economy I think.   
The new fascias and gutters turned out to be 'white', giving the building a 'spruced up – clean' look. The vote by the way was six for black and only one for white, but then you know who voted white, don't you? 

The residents are best pleased, (glad to see the builders muck gone!) and it has put them into a hearty spirit, so much so that Norman has started singing Christmas Carols, Jane put up the Christmas tree, and all was going well till Earnest stuck a pine branch up the Fairy's dress. Ugh!  

Just the final tallying of things now (£) and an Audit from the Welsh Office. The Treasurer says we (that's the royal we) have overspent, the Project Manager says we haven't.
All will be ok. Trust me, I'm a Builder! 

DDS