Rotary Club of March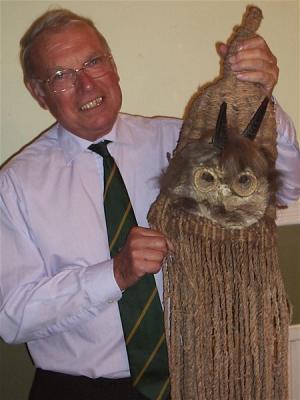 Norman Davis with Ceremonial Mask, a souvenir of his time spent in Kenya
 At the meeting held upon Monday 26th July, President John Lattimore welcomed over 40 Members and Visitors from other local Rotary Clubs, to a meal, followed by a Guest Speaker, Rtn. Norman Davis from Wisbech.
Mr Davis spoke about the four years he spent in Kenya, from 1967, accompanied by his wife and young family, teaching in the Western Provinces. He went under an International Aid Scheme to a Girls School with nearly 300 teenage pupils.
He gave a fascinating insight to the local customs, and such was the nature of the task, he wrote a number of text books, which, with updates, are still in use today.
A warm vote of thanks was proposed by Rtn. Bruce Wood, which was heartily endorsed by all.