ORDINARY PEOPLE DOING EXTRAORDINARY THINGS
Welcome to the website of Rotary International District 1080 which comprises some 2200 men and women in 74 Rotary Clubs spanning the counties of Norfolk, Suffolk, a large part of Cambridgeshire and small parts of Essex
We are part of an International Humanitarian Organisation working to make the World and our Community a better place.
If you are a Rotarian we hope that you will find this site useful; it aims to provide useful information for club officers and members and a convenient method of disseminating latest newsletters, bulletins and information from District Officers and district committees.
If you are not a Rotarian we invite you to explore our pages. You will find lots of information about Rotary on the national website and for information about a club near you then click on the 'CLUB LIST' menu button at the top of this page or the map to locate a club. If Rotary appeals to you then please feel free to contact any of the clubs in your area; they will be pleased to hear from you.
1080 News ...
Read 1080 Newsletter - download a pdf >> August 2014
DISTRICT CONFERENCE 18th OCTOBER 2014
>> CLICK TO BOOK <<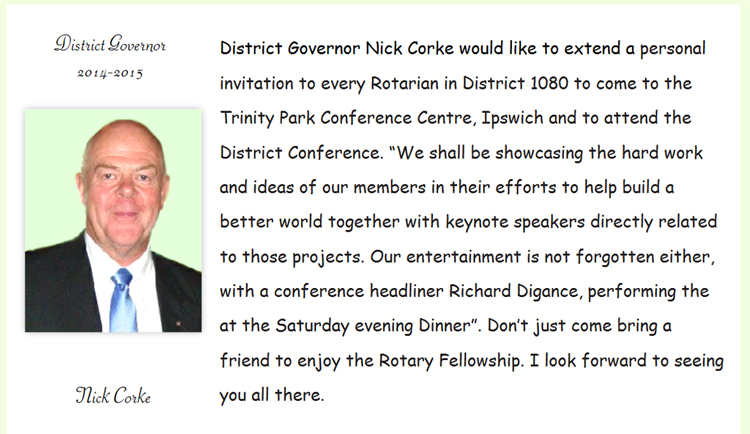 End Polio Now
World's Biggest Commercial - "Wrap Up" EN from Rotary International on Vimeo.
Quick Links
Book Now for the Conference in October 2014 read more
---
The District Directory read more
---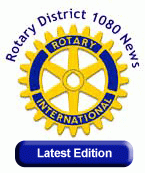 Read the latest from around the East Anglia District read more
---
Social Media
Rotary In East Anglia - D1080
Promote your Page too
Social Media
Rotary e-Club of East Anglia
Promote your Page too
Around the district in the next 30 days...