Rotary Club of March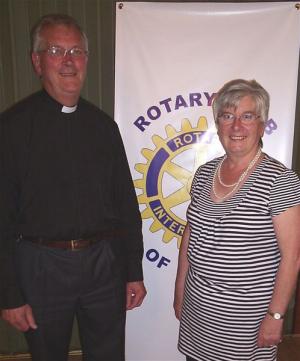 Mon Aug 15th 2011
Rev. Anthony Chandler with his Wife, Helen
 Monday 15th August President John Orbell welcomed Guests from near and far,
to the Rotary Club of March meeting at The Conservative Club, Creek Rd.

Members were joined by regular visitors, Roger Almond and Jonathan Martin
from Wisbech Club, but the special guest was Stephan Sech from the 'twin'
club in Halle, Westphalia, Germany. The Guest of Godfrey Smith, this is his
first visit to England.
Grace was said by Michael Cavert, and after dining, Albert Horton
introduced the speakers for the evening, the Rev. Anthony Chandler and his
wife Helen.

Their subject, which had been a request, was an update on the devastating
fire which destroyed St Mary's Church on the 15th March 2010.

Both very well known throughout March, their talk was positive and upbeat.
The good news is, the restoration work is on time and schedule, it is
estimated the roof and windows will be in situ by Christmas.

After describing, with many images of the scene, the total destruction of
the fabric of the building, Anthony had nothing but praise for Fenland
Council, and the Contractors for the speed of their help. Within two days,
the building had been made safe, with no need to demolish the remaining
structure.

Over 8000 clamps are in place holding the scaffolding, that supports this
Grade 2 listed building. Rebuilding estimates are in the region of £2
million but with many generous donations so far, and ongoing fund raising
the target is within sight.

The original Architect of this 140 years old building was named Wyatt, and
Shona McKay who is now the Architect in charge found some detailed plans in
the V & A Museum London, enabling the work to accurately replicate the
original building. Many specialist craftsmen are engaged on the stone,
glass, wood and other material restoration.

In spite of the tragedy, the New, Old Church, is rising from the ashes, and
will once again take it's long established place in our local community.
Questions had to be curtailed, and could have gone on another hour, such was
the feeling.

David Hill gave the Vote of Thanks, to much applause for this project so
close to the hearts of many. John Orbell then presented Anthony and Helen
with a donation on behalf of March Rotary Club towards the Restoration Fund.