Rotary Club of March

Home | Press Reports | Group Study Exchange Report..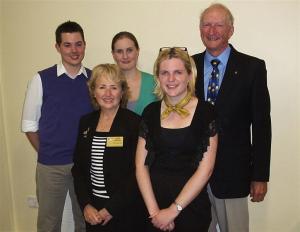 Mon Aug 22nd 2011
GSE Team at Chatteris
Members of March Rotary Club, headed by President John Orbell, visited Chatteris on Monday 22nd August, to hear a presentation by 3 members of the Rotary District 1080, Group Study Exchange. Louise Cardwell, Rob Bristow, and Hannah Bennett Hosted by Chatteris Rotary Club, and held in the King Edward Centre, they were welcomed by Patrick Druce, the President. After a fine meal, Immediate Past President Don Ashmore introduced Kate Secker, a member of Norwich St Edmunds Rotary Club, who was the Team Leader for the 5 fortunate candidates who had the opportunity to spend a month in South Illinois. USA, in April, May 2011. Normally, only four places are available for the trip, but such was the 'quality' of the applicants this year, an extra place was funded. Louise, a Matrimonial Solicitor, Rob, a Advanced Nurse Practitioner, and Hannah, a Fund raiser for a Hospice, all spoke eloquently, clearly, and with positive ideas on the experiences they had while staying with up to 12 different hosts in the month. Doors were opened for them to experience the American version on their professions in England. Sitting in on Court Hearings, assisting with medical care in Hospitals, but also a chance to see the sights. Question time raised topics such as Gangs, the Health Service in the USA, and Religion. In thanking the speakers, Don Ashmore reminded those present that under the reciprocal arrangement with South Illinois, a party of American Candidates will be visiting East Anglia in October, with March Rotary Club hosting a similar evening on the 17th October, to which all clubs in the area are invited.