Rotary Club of March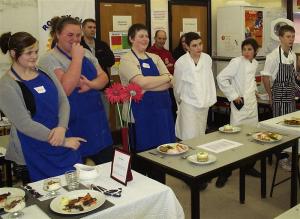 Mon Nov 7th 2011
 The Young Chef competition promoted by Rotary International, has in March, gone from strength to strength. Run in conjunction with Neale Wade Community College, this very enjoyable and fun event will take place upon the 3rd December this year. Already scores of youngsters are refining their culinary skills under the watchful eye of Zoe Clarke, Head of Food Technology.
These numbers will reduce to eleven, governed by the number of ovens available, from which one will go forward to the next round. The meal for which ingredients must cost no more the £15.00, funded by the Rotary Club of March, will again be Judged by Andrew Pugh, former Mayor of March, and Richard Wedgebury, who has a life times experience in the Catering Trade.
Last year, Robert Stone, went onto Bury St Edmunds for the 2nd round, and though unsuccessfully, was non the less a credit to his tutors. The influence of T.V. cooking was evident, with drizzles of oil, spins of chocolate, and all the usual 'cheffy things' one so often sees. Racks of Lamb, Sea Bass, exotic desserts, and delightful presentation turned many a meal into an art form, but conducted without artistic temperament.
This is just one of the projects March Rotary organise. You can expect to see members out on the streets for the Christmas Lights switch on, acting as Stewards, and may we remind, newspapers are collected in City Road Car Park every second Saturday through out the year between 9am and 12 noon. The funds this raises are used to finance local projects, such as the above.