What is Rotary?
Being Rotarian is more than just belonging to your local club.We have the opportunity to make a differnce to people's lives, all around the world.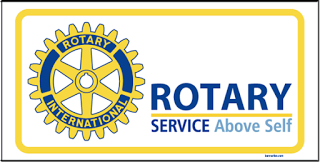 What is Rotary?
A brief history of how Rotary started:-
On the 23rd February 1905, 37-year-old Attorney Paul Harris began to change the World. He conceived an Organisation that has now spanned over 100 years.
Rotary is based upon friendship amongst professional men and women. So started the Rotary Club of Chicago. It was three years before the second Rotary Club in San Francisco was formed, and then other Clubs were started in cities across the United States before, in 1910, Rotary moved into Canada.
It was 1911 when Rotary crossed the Atlantic and moved into Dublin and in the same year the London Rotary Club was created. In 1917 the Cardiff Rotary Club became the first Club in Wales.
Today
Since those humble beginnings Rotary International has become a global network of service volunteers. It is now the World's largest service organisation for Business and Professional people with over 1.2 million members in 166 Countries.
In Rotary within Great Britain & Ireland (RIBI) there are almost 60,000 members in over 1800 local Clubs playing their part in helping those in need both locally and internationally and working towards world understanding and peace.
Rotary International runs the largest non Government Scholarship Scheme in the World through Rotary Foundation giving more than