Local Community
Service to the Community in Bewdley and the Wyre Forest area
Show related pages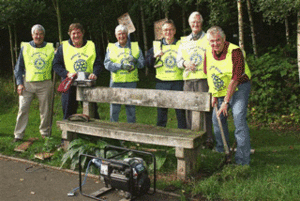 One of the first major schemes in which Bewdley Rotary members were involved was the planting of the Rotary Forest in the riverside meadows. We also supplied and erected a bench on which we attached a Rotary plaque.
The Club serves the town of Bewdley in many ways and one of the most obvious is the Christmas tree in front of St Annes Church in Load Street which, for many years, we have supplied and erected.
Some of our more recent community service activities can be viewed on the related pages below.