Vocational
The Role of the Vocational Committee
Show related pages
Chair
John Ward
Bill Bowen, David Lloyd, Christopher Perry, John Thompson, Robin Sinclair, Jenny Edwards & Sue Leonard
---
Vocational Committee
The role of our Vocational Committee is to encourage members to share their work experiences with other members and to be aware of the variety of areas of work in the local environment and, where possible, share this experience with the local community.

Much of our interaction is with young people in the community and our first event in the 2015-2016 calendar is "Youth Speaks" which takes place on 24th November 2015. The event is open to all local secondary schools. This is followed in the New Year with a series of "Mock Interviews" with students from The Marches School during the spring term. Most of our members participate in this event and their experience enriches the interview.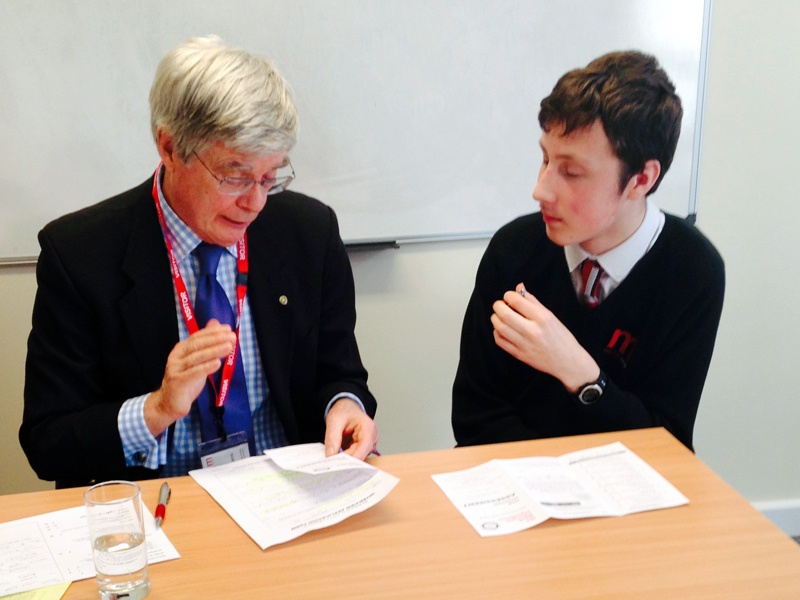 Mock Interviews at The Marches
After a year off, our annual "Investment Competition" for schools and colleges, run with the assistance of HSBC is expected to return this year.

For younger pupils in Oswestry and district, the David J Lloyd "Memorial Essay Competition" will return this year after a year's rest and presents an opportunity to distribute Usborne Illustrated Dictionaries to primary schools and winners of the competition.

Our annual "Read it-Write it" book review competition has morphed and been run alongside the Oswestry Literary Festival for the last couple of years in co-operation with Oswestry Library and Booka, Oswestry's award-winning independent bookshop. Last year the competition was called "Front Lines" - what will this year's be called?

For the benefit of our own members a popular annual "Focus Interview" is arranged in February when a member of our Club is interviewed about their life and work experience.

Trips to local businesses are popular. In 2016 we visited Guy Davies' anaerobic digestor at Little Ness which generates energy from his poultry business and other sources.