Rotary Club of Oswestry

Support the Rotary Club of Oswestry's Tree of Light Appeal 2012. Download an Application Form here.
'Tree of Light' - Christmas 2012

Let a light shine for someone special this Christmas.
Christmas is a time to celebrate with loved ones, look back fondly over happy years and to remember those we have loved and lost. For many it can also be a time of sadness, when the loss of a loved one is most keenly felt, a time when we particularly remember those people whom we love but, sadly, see no longer.

But the Tree of Light is not only about remembering those we have lost. It is also about celebrating, a time to be glad and grateful for all of the gifts we have received and to remember how good life has been to us. A wedding anniversary, an engagement, a special birthday, a treasured friendship, the birth of a child; all of these things we can celebrate by making a dedication on the Tree of Light.
We are pleased to announce that with the generous permission of the store, our 'Tree of Light' will be situated outside Sainsbury's store, Oswestry this year.

The Rotary Club of Oswestry Christmas 'Tree of Light' will be switched on in its new location outside Sainsbury's Oswestry.

This year The Ifton Band will play carols joined by a school choir who will lead the singing.

Commencing at 5-30pm, the switch on of the 'Tree of Light' will be at 6-00pm by The High Sheriff of Shropshire Mr John Abram.

Rotarians will be available for people who wish to make a donation in memory of a loved one, or in celebration of a special occasion.

Download a form here.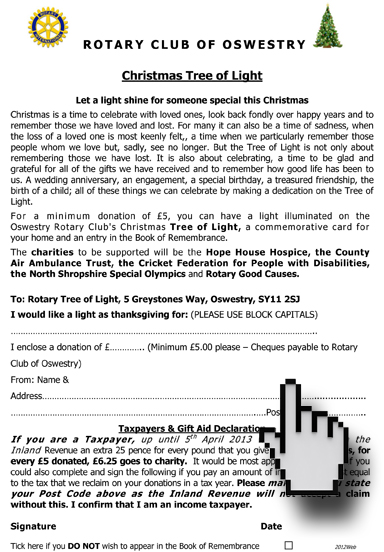 The charities to be supported are: Hope House Hospice, The County Air Ambulance Trust, The Cricket Federation for People with Disabilities, North Shropshire Special Olympics and Rotary Good Causes.

Sub-pages: