Rotary Club of Wrexham Erddig

Home | Hope House
Collections for Hope House Hospice
2012 - ROTARY COLLECTIONS FOR HOPE HOUSE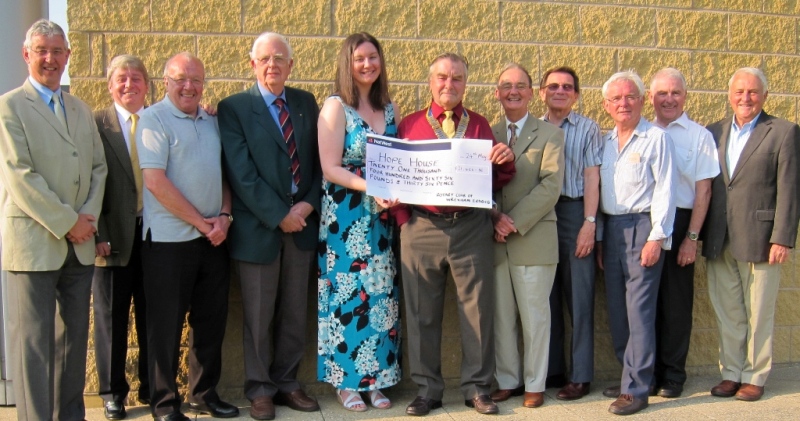 The Rotary Club of Wrexham Erddig's support for Hope House Children's Hospice first started in 1991 following a presentation to the club by representatives of Hope House showing the important work carried out at the hospice providing support and comfort for the young children and their parents in times of such desperate need.
During the 2011 - 2012 Rotary year under President Brian Doyle , following collections at Tesco, Asda and Sainsbury's supermarkets in Wrexham the club raised the sum of £1,466.36 which is, indeed, a tribute to the continuing generosity of the people of Wrexham and district and to the help and support received from the management and staff at the three supermarkets.
This year the club was also successful in passing on to Hope House an additional £20,000 split equally between the donation from a national food company that has its origins in the area and a very generous gift from an individual family who have requested anonymity.
Since 1991, and in particular this year under President Brian Doyle and during 2007–2008 under President Godfrey Williams where the club raised £10,500, the total sum raised by the club to date on behalf of Hope House has reached £43,548 all of which has been raised within the immediate locality and is, by any measure, an enormous tribute to the kindness of the general public of Wrexham and district
2008 - A RECORD £10,293 FOR HOPE HOUSE
For many years the Rotary Club of Wrexham Erddig has supported both the Nightingale House and Hope House Hospices. The focus for fundraising in the 2077-2008 Rotary year was to raise money for Hope House which culminated in the presentation of a cheque for over £10,000.
Thanks to the generosity of the people of Wrexham, store collections in Sainsburys, Tesco and ASDA raised more than £2,800. A series of other events throughout the year added to the total. A tea and concert in the Walled Garden at Erddig Hall featured the Saxations and the Brymbo Male Voice Choir and raised a further £1,800. Two concerts at the Wrexham Parish Church featured the band and choir of Rhosnesni High School under conductor Colin Fisher and raised more than £2,500. A Christmas pub collection raised £425 and a Charity Quiz Night at the Wrexham Lager Social Club added another £250. The Rotary Jubilee Walk contributed more than £1,300 and an organ recital in Rhos added a further £425. Bingo players at Mecca donated £300.
Rachel Pike, the community fundraiser for Hope House, on receiving the cheque said "The support we have received from the club has been amazing and we are very grateful for all the hard work and effort they have put into generating such a staggering amount for us."
LINK: www.hopehouse.org.uk