Rotary Club of Wrexham Erddig

Home | Sri Lanka
SEWER, TOILETS AND WASHING AREA AT ANDREW WATTA (ANDREWS PLACE).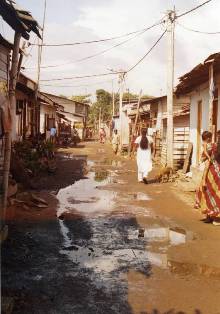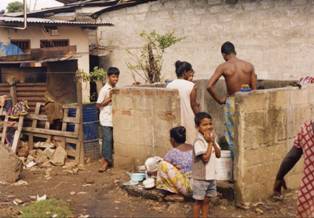 Andrew Watta is a 2.5 acre site in Columbo which accommodates some 2,500 people in various buildings. It is an area acknowledged by the local government as a health risk. Some people have erected semi permanent buildings, which are registered with the local authority. During a visit to Sri Lanka, club member Graham Arthurs met with Rotarians from the Rotary Club of Downtown Columbo. They visited Andrew Watta. There was a sewage tank which was emptied by a tanker when it overflowed.  Water was being brought from taps at some distance.  It was recognised that there was the lack of proper sanitation and basic faciliuties and it was decided to initiate a Rotary project to improve conditions.
The First phase of the Andrews Place project was to provide connections to the main sewer from the existing toilets and a storm drain to take surface water. The second phase was to build a cluster of twelve new toilets and wash rooms. The estimate for the work was about £15,000 for which a Rotary Foundation Matching Grant would be sought. The Rotary Club of Downtown Columbo carried out initial visits and obtained Municipal Council approval. They called for tenders and evaluated them and made regular visits to the site until completion of first phase.
FEBRUARY 2007
The matching grant applied for jointly by the Rotary Club of Wrexham Erddig and the Rotary Club of Columbo Downtown was approved by the Rotary Foundation.
JUNE 2008
Photos received showing the progress to date. The main sewer pipe has been laid. There was a delay in making the connection to the main sewer as the road had to be closed for a weekend.  The existing toilets have now been connected to the sewer and the new toilets and wash area are being built where the old pit used to be. The road in has new chippings, a better gutter and there is a man hole cover to the new sewer. Work is continuing. 
AUGUST 2008
The new toilets opened in August. There is a large water tank for flushing and a door to each toilet. Local people attended the opening and there is a plaque to Rotary.