Rotary Club of Swindon North

Home | The President's Message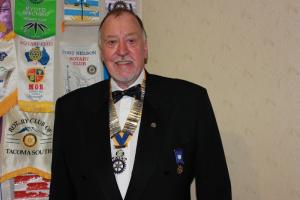 Club President 2012/2013 Tony Wise
Tony Wise, Club President 2012-13 says:
"The Rotary Club of Swindon North was chartered by Rotary International on 28th September 1966 and it has met at the Blunsdon House Hotel on the northern outskirts of Swindon, Wiltshire, ever since.
Originally called the Rotary Club of North Wiltshire, its name was changed in 2008 to give people a better idea of the Club's geographical location and to reflect the fact that most of the members live or work within the northern part of the Borough of Swindon.
We are an active Club with an excellent record of fundraising and programmes and like almost all Rotary clubs we meet weekly over a meal and often with a guest speaker afterwards.
We raise thousands of pounds each year to support various charities that address many of today's most critical issues. Every penny we raise is donated to charity - nothing is deducted for administrative costs. We also volunteer our time and skills to organise projects and events, not only to raise funds but also to do practical things to help young people develop and achieve their ambitions.
Worldwide, there are 1.2 million Rotarians in 34,000 clubs in over 200 countries and geographical areas committed to "Service Above Self" and Rotary International President 2012-13, Sakuji Tanaka, has adopted "Peace through Service" as his theme for the year.
Rotary is in the unique position of being able to reach people in need all over the world, from running life-changing projects in developing countries to making an immediate response to disaster-hit regions.
Rotarians volunteer in communities at home and abroad to support education and job training, provide clean water, combat hunger, and to improve health and sanitation. Rotarians are committed to fostering acquaintance and fellowship as an opportunity for service; advocating high ethical standards in business and the professions; applying the ideal of service in their personal, business and community lives; and they endeavour to advance international understanding, peace and goodwill.
If you would like to know more about the Rotary Club of Swindon North, or perhaps come along to one of our meetings as a guest, please use the Contact link above to send an email to the Club Secretary."