President's Welcome
The Rotary Club of Dundee was founded in 1921, and has a membership of around 100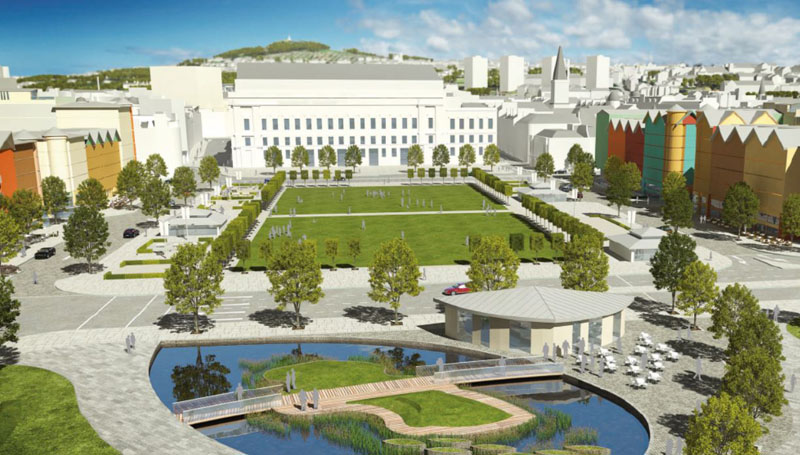 The Rotary Club of Dundee was founded in 1921, and has a membership of around 100. We are very proud of our status as the largest club in what was the very first Rotary District in the world. We have spawned many daughter and granddaughter clubs and also enjoy the support of a thriving Inner Wheel club. The image above is representative of the 'Dundee Waterfront Development' which is a £1Billion master plan which will include the new V&A Museum of modern art planned to be in place during 2017. With funding secured, much of the infrastructure is now in place and the change is obvious to see and very fast moving. Nothing quite so urgent about our Rotary Club but we do manage to change and evolve at a more leisurely pace thanks to a well honed management structure.
We have an active fellowship, social and sporting programme throughout the year in addition to our charitable work; all are dependent on the participation and commitment of our enthusiastic members. Our international links are strengthened by our events for overseas students in Dundee and by visits and exchanges that have, in the past few years, involved Swedish, French, American, New Zealand and Rwandan visitors.
Our fundraising activities include an Oktoberfest Music and Beer Festival, this year will be our sixth event held from Thursday 22nd September - Saturday 24th September 2016 in marquees alongside the RRS Discovery at Discovery Quay on Dundee's Waterfront. This event, covering three evenings, will feature many of Dundee's brightest musical talents as a showcase for their different styles and around 30 craft beers and continental biers.

The next main event is our 31st Charity Dinner, which will be held on Friday 29th October 2016. We have a reputation for a terrific line up of internationally known after dinner speakers from the worlds of sport and entertainment. The Dinners are widely supported by the business community in and around Dundee, and have raised over £650,000 for local, national, and international charities.
February 2017 will see the Club organise another successful Swimarathon in the Olympia Swimming Pool. This will be the fourth one and again it proves to be both a good fund-raiser and an excellent showcase for the work that Rotary does in the local community.
With these, and other events throughout the Rotary Year, we raise in the region of £75,000 - £100,000 each year. This allows us to support a wide range of charitable commitments, covering local and national issues.

If you are visiting Dundee, please come and join us for a 2-course lunch, followed by a guest speaker, at the Invercarse Hotel on Thursdays from 12.45pm (for 1.00pm) to 2.00pm. You are guaranteed to receive a very warm welcome.

Peter Leyland
President, The Rotary Club of Dundee
2016--2017