MEET OUR PRESIDENTS
Introduction to our current President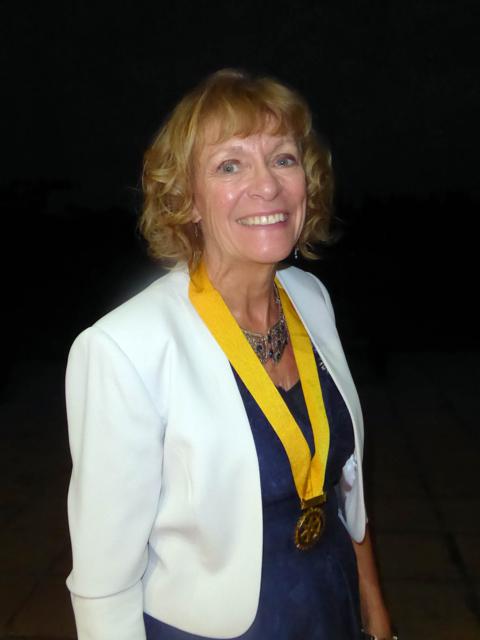 Club President 2017/2018 Jennifer Mason
A message from President Jennifer Mason –
The new Rotary year starts on 1st July each year when we select a new President, this often means that there is a change in the charities we support.
Our priority is always to continue to support and raise funds for charities in and around the Haslemere area, as well as to support worthwhile International charities. To do this, our strategy will be to concentrate our membership promotion in Haslemere, Liphook and in other villages around Haslemere.
I consider this my great honour to serve The Rotary Club of Haslemere as we enter into the 83rd anniversary of serving our local community.
I have pleasure in taking over the Presidents duties from Roy Wylam.
The main Charity this year will be The Guildford Prostate Project who are working towards a completion date in 2018.
We will fund raise for other local Charities supporting young people with Disabilities and Mental Health needs in the local Rural Area of Haslemere and District.
I am a semi-retired Director of a Family Business based in Farnborough, where our 2 Sons now oversee the General day to day running of the business and now our Daughter has also recently joined the Company. Over the years, I along with my Husband Bob have worked with employees and introduced "Investors In People" which we have now continued to achieve this award for several years.
I have found this invaluable experience both in Business matters and working as a team with the ability to appreciate other team members qualities.
I joined Rotary in July 2009 and found a fun loving , active club that enjoyed meeting with like minded people who wish to give back to the community both locally and those in need Internationally. I have been really Impressed by the work Rotary does and felt by joining Rotary I could make a difference to other people`s lives. I soon built strong friendships while meeting regularly and working together on fund raising and community projects.
Over the past years I have been Chair of the International committee twice, Community committee and also this past year Membership committee Chair, where we have been pleased to welcome 3 new members and 3 associate members.
Last year a group of us travelled to India where we visited a Charity we have supported over the years, The Kings World Trust. We also attended a Rotary Conference in Kodaikanal (a wonderful Hill Station in the state of Tamil Nadu) where we were able to see and hear of the work being carried out by like minded Rotarians of a completely different culture.
We have an interesting programme planned in the year ahead; there will be a mixture of speakers, events and fund raising projects. We welcome anyone interested in coming to any of these events to look at the Programme page of our club website. Club Secretary, Terry Watts can be contacted on 01428 645849. Alternatively follow the ''contact us'' link which can be found on the home page of the club website:- www.haslemererotary.org
If you are interested and wish to be involved in working to improve local and global communities, we look forward to meeting with you.
Jennifer Mason
Scroll Down for Past Presidents Listing
PAST PRESIDENT'S LISTING
1935/37 JH Edwards
1937/38 AG Whitcher
1938/39 HM Salmon
1939/40 HGS Peck
1940/41 LL Hamilton
1941/42 HE Dudeney
1942/43 EJ Blaker
1943/44 C Teale
1944/45 LA Harrison
1945/46 FC Brown
1946/47 RH Turk
1947/48 WD Walker
1948/49 FD Huntingford
1949/51 RJ Bolton
1951/52 BT Freeman
1952/53 RC Stephenson
1953/54 DP Lawson
1954/55 HF Price
1955/56 CI Cox
1956/57 VC Lilly
1957/58 CJ Wother
1958/59 PEJ Bargery
1959/60 HP Dubber
1960/61 LG Vine / SR Gibson
1961/62 HS Mason
1962/63 PG Madgwick
1963/64 FL Huntingford
1964/65 AJ Douglas
1965/66 MM Reese
1966/67 AN Fergus
1967/68 RD Reynolds
1968/69 LD Nicholls
1969/70 HE Cook
1970/71 GM Sykes
1971/72 WR Bleach
1972/73 JA Broughall
1973/74 R Milton
1974/75 AF Coombes
1975/76 L Anning
1976/77 FM Hodges-Roper
1977/78 EL Taylor
1978/79 DS Boxell
1979/80 GG Harris
1980/81 JR Berrow
1981/82 PW Smith
1982/83 JP Hollins
1983/84 A Bryne
1984/85 P Leete
1985/86 RJ Coleman
1986/87 P Charman
1987/88 WE Lewis
1988/89 C Brooks
1989/90 T Gittins
1990/91 MJ Gillet
1991/92 Leo Cash
1992/93 Ewart Rice
1993/94 Mike Jones
1994/95 John Smith
1995/96 Alan Paynter
1996/97 Tim Shepherd
1997/98 Mike Cowan
1998/99 Alan Wylam
1999/00 Graham Cook
2000/01 Robert Pullen
2001/02 Ray Hagger
2002/03 Martin Mustart
2003/04 Frank Chalstrey
2004/05 Rae Boxall
2005/06 John Peterson
2006/07 Jackie Gaskell
2007/08 Steve Lovell
2008/09 Gordon Exeter
2009/10 John Patrick
2010/11 Rae Boxall
2011/12 Ray Hagger
2012/13 Leonard Bate
2013/14 Yvonne Mayer
2014/15 Rob Terry
2016/17 Roy Wylam