MEET OUR PRESIDENTS
Introduction to our current President
Club President 2018/2019 John Robini
A message from President John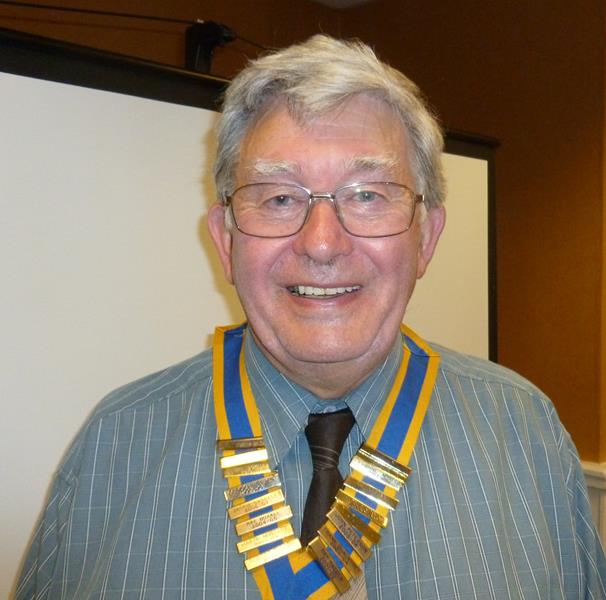 Rotary Club of Haslemere President 2018/19 -

John Robini
I was born in Chobham, near Woking in 1948, attending the local schools until I left at 16 years old. I was then apprenticed at The RAE Farnborough, attending Farnborough college. I finished my apprenticeship as a toolmaker and draftsman.

As the aircraft industry was closing down, I went into the retail trade becoming a manager of a gentleman's outfitters. I married and decided I needed a change of career again, so joined Surrey Police in 1972. I started at Guildford, then moved to Haslemere and Witley. During my career I attended many incidents including the Guildford bombings, miner's strike, inner city riots and many more.
I then decided prevention was better than reaction and I spent many years as a Crime Reduction and Design Advisor for Surrey Police. This included writing regularly for the press, television interviews and regular radio programmes.
I retired in 2002 and stayed on as a civilian in the same role until 20015.
As a civilian I was able to be involved in Politics and was Chairman of Witley Parish Council then elected as a Borough Councilor on Waverley, where I spent 4 years on the executive with various portfolios. During this time my wife Jacquie was Mayor of Waverley and I was her consort.
I have 2 children, Karen and Janet. I was sadly widowed in 2000, and I am now married to Jacquie Keen living locally in Haslemere.
My Hobbies are, Photography, Walking, Gardening, Genealogy, and local politics.
John
Scroll Down for Past Presidents Listing
PAST PRESIDENT'S LISTING
1935/37 JH Edwards
1937/38 AG Whitcher
1938/39 HM Salmon
1939/40 HGS Peck
1940/41 LL Hamilton
1941/42 HE Dudeney
1942/43 EJ Blaker
1943/44 C Teale
1944/45 LA Harrison
1945/46 FC Brown
1946/47 RH Turk
1947/48 WD Walker
1948/49 FD Huntingford
1949/51 RJ Bolton
1951/52 BT Freeman
1952/53 RC Stephenson
1953/54 DP Lawson
1954/55 HF Price
1955/56 CI Cox
1956/57 VC Lilly
1957/58 CJ Wother
1958/59 PEJ Bargery
1959/60 HP Dubber
1960/61 LG Vine / SR Gibson
1961/62 HS Mason
1962/63 PG Madgwick
1963/64 FL Huntingford
1964/65 AJ Douglas
1965/66 MM Reese
1966/67 AN Fergus
1967/68 RD Reynolds
1968/69 LD Nicholls
1969/70 HE Cook
1970/71 GM Sykes
1971/72 WR Bleach
1972/73 JA Broughall
1973/74 R Milton
1974/75 AF Coombes
1975/76 L Anning
1976/77 FM Hodges-Roper
1977/78 EL Taylor
1978/79 DS Boxell
1979/80 GG Harris
1980/81 JR Berrow
1981/82 PW Smith
1982/83 JP Hollins
1983/84 A Bryne
1984/85 P Leete
1985/86 RJ Coleman
1986/87 P Charman
1987/88 WE Lewis
1988/89 C Brooks
1989/90 T Gittins
1990/91 MJ Gillet
1991/92 Leo Cash
1992/93 Ewart Rice
1993/94 Mike Jones
1994/95 John Smith
1995/96 Alan Paynter
1996/97 Tim Shepherd
1997/98 Mike Cowan
1998/99 Alan Wylam
1999/00 Graham Cook
2000/01 Robert Pullen
2001/02 Ray Hagger
2002/03 Martin Mustart
2003/04 Frank Chalstrey
2004/05 Rae Boxall
2005/06 John Peterson
2006/07 Jackie Gaskell
2007/08 Steve Lovell
2008/09 Gordon Exeter
2009/10 John Patrick
2010/11 Rae Boxall
2011/12 Ray Hagger
2012/13 Leonard Bate
2013/14 Yvonne Mayer
2014/15 Rob Terry
2016/17 Roy Wylam
2017/18 Jenny Mason