Public Relations
Public Relations
Public Relations P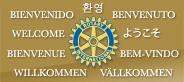 urpose
To provide the public with information about Rotary and the good work Buxton Rotary does
To encourage charity and support from the community by promoting the Club's service projects, activities and Friends of Rotary
To show that we enjoy doing what we do - Fun with a Purpose!
To see some of what Buxton Rotarians do: Read our 2015 Article in Buxton Advertiser. Browse back issues of our occasional Club Bulletin, The Kiln and Buxton Bytes Vol.1 No.1 and Buxton Bytes Vol 1 No 2. View: our Rotary Centennial Photo Montage when we celebrated 100 years of Rotary in 2005; our 'Magic of Rotary' video below, our Activities, and, for a wider picture, Why Rotary?