Rotary Club of March

Home | Press Reports | Whitemoor National Rail Recycling Centre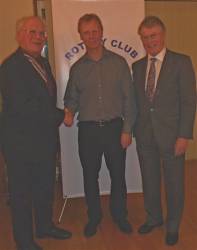 Mon Feb 13th 2012
President John Orbell thanks Gary Munns ( centre ) with Nick Kime ( right )
The wrong sort of snow did not prevent Gary Munns, Depot Manager at
Whitemoor National Rail Recycling Centre attending the Rotary Club of March
meeting upon Monday evening, 13th February 2012.

Introduced by Nick Kime, Gary joined British Rail in 1992, having progressed
through various avenues dealing with track maintenance, to his present
position, Manager at one of the leading installations of its type in the
U.K. His very interesting talk, opened a window onto the commitment to
recycle rail track, and associated fittings, both saving money, generating a
multi million pound income, and maintaining 'green' principals.

The actual quantities of items this important installation handles are
beyond comprehension, 92,000 sleepers, of which some 37% are returned to
their original use. A staff of 25 are local employed, and the facility is
working to capacity.
Track maintenance machinery are handled at Whitemoor, with a 4 hour turn
around, these specialised trains, lift track in situ, remove and replace
sleepers, fit ments and the actual ballast chippings the track sits upon.
Operating at night, and unseen by the general public, the work progresses
mile after mile.

Expensive points switching track is now, with state of the art machinery,
ground down, built up with welding and re profiled for future use, to meet
its original specification, again reducing maintenance costs.

Question time, at which many members had experience themselves in civil
engineering, continued from nearly an hour, each answer, clearly given,
produced another request perhaps at a tangent, such was the enthusiasm with
which Gary's talk was received. It is fair to say he struck a cord with the
broad spectrum of members.

Mark Haydon, in proposing the Vote of Thanks, echoed the feeling of the
audience, that had warmed to the subject, by the informative, and
entertaining way Gary Munns had presented, what upon the face of it, could
have been a rather dry subject.