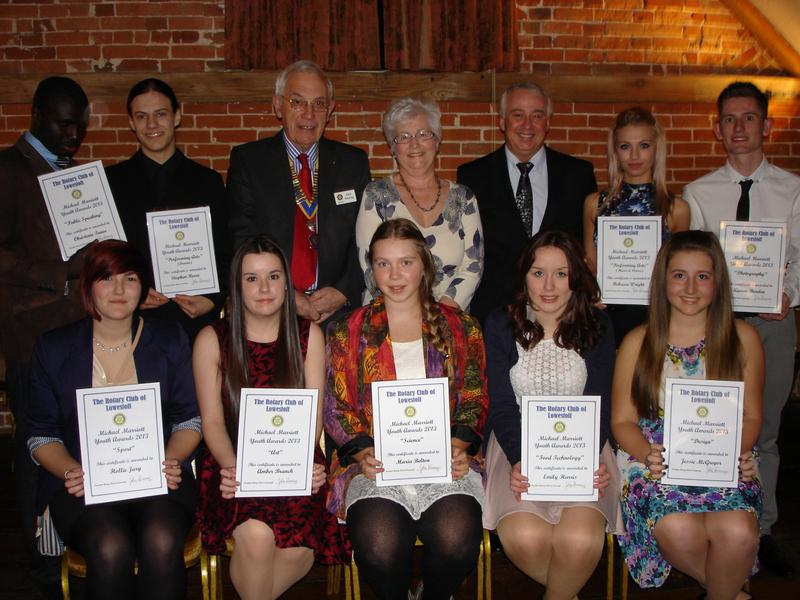 President John Hemming, Pauleen Marriott and Dan Poitras surrounded by the winners.
Michael Marriott Rotary Youth Awards 2013

The Rotary Club of Lowestoft recently held its annual Michael Marriott Rotary Youth Awards evening. Some 60 plus Students from 3 of the local schools the Denes, Benjamin Britten, and the 6th Form College, had been participating in interviews and presentations before Panels of Rotarians to find the best Student in Performing Arts (Drama). Performing Arts (Music & Dance), Art, Photography, Design, Food Technology, Public Speaking, Sport, and Science.
The event was founded some 8 years ago by the late Michael Marriott, a former President of the Club and a local Headmaster. Presentations of a cheque and a certificate were made to the winning Students at an evening Rotary Dinner by the President John Hemming, Pauleen Marriott, the widow of the Founder. Dan Poitras, a Trustee of the "Help an East Coast Child" Trust, which had given a generous donation to the event, and Rotarian Malcolm Berridge. President John congratulated the winners on their extremely high standard of achievement and also all the Students who had participated and said "The World Wide Rotary Movement values very much indeed being able to work with schools and students in local communities".
What we do: