Rotary Club of Thame

Home | Rotary Swimathon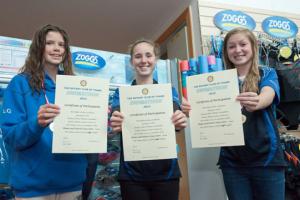 Rotary Swimathon - a fun and fundraising event on behalf of local charities.
A fun and fundraising event on behalf of local charities
How does a Swimathon Work?
We are looking for teams of up to 6 swimmers. Each team is given a lane of the pool and will swim for 55 minutes. BUT ONLY ONE TEAM MEMBER SWIMS AT A TIME.
On average this means that each swimmer does about 10-20 lengths during the 55 minutes, but there is no need for each team member to swim the same number of lengths.
Every team member gets sponsorship for the TEAM'S TOTAL NUMBER OF LENGTHS SWUM, which can be up to 100 lengths or more or sponsorship can be a lump sum for taking part.
Please refer to later for the sequence of events for each team.
Who benefits?
Everyone!
Local charities get money to help with their important work.
The swimmers have lots of fun trying to swim as many lengths and raise as much sponsorship as they can.
The Rotary Club of Thame hope to establish the Swimathon as an annual fund raising event.
The profile of Rotary is raised.
Who can take part?
Everyone - Rotary Clubs – Charities – Families – Friends – Churches – Offices – Shops –Scouts & Guides – Cubs & Brownies – Swimming Clubs – Health Clubs - Schools & Colleges – Policemen – Firemen – Paramedics – Nurses & Doctors – Businesses – Dentists
For more information about the Rotary Swimathon, the supported local charities, our sponsors and to get an information pack...
Please click onto the Rotary Swimathon's sub-pages on the left hand side menu.
Sub-pages: