Defibrillators in Horwich Schools
Defibrilators For Horwich
Show related pages
Following the collapse of Fabrice M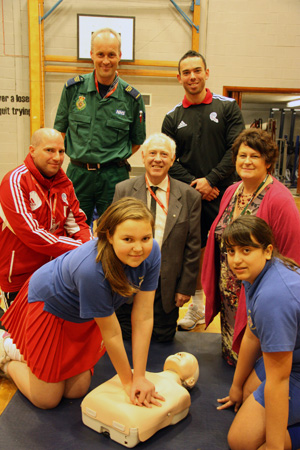 uamba on the field at Spurs football ground, a variety of organisations have reviewed their facilities on site, should a person suffer a heart attack without warning.
The Rotary Club of Horwich was approached by Judith Marsden, Chair of Governors at Rivington & Blackrod High School. With a staff of over 200 and pupils approaching 2000, Judith was concerned about the capabilities at the school should a pupil or teacher suffer a sudden heart attack, and felt that a defibrillator on site could provide a welcome addition to their first aid equipment.
Horwich Rotary were able to fund the purchase of three defibrillators, two for Upper School, and one for Lower school, plus two wall cabinets for their storage.
With the help of North West Ambulance Service, the school has embarked upon a programme where all pupils at a certain age will learn emergency techniques to help heart attack or stroke victims, skills which can be taken through to adult life. Horwich Rotary was pleased to help with this worthwhile project.
As a result of the success of the scheme, St Josephs School have adopted a similar scheme with the help of Horwich Rotary funding and the work with North West Ambulance Service.
A presentation of the Defibrillators took place at Rivington BHS, where members of Bolton Wanderers were present.