Rotary Peace Fellowship
Only the second Peace Fellow from Southern Wales, Zodiac, with Rtn Ravi Ravindran, President of Rotary International for 2015/ 2016.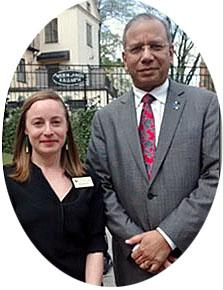 Rotary World Peace Fellowships
Rotary is one of the world's largest humanitarian organisations, with some 1.3 million members in 33,000 clubs in more than 200 countries and geographical areas. Rotarians, who come from all political, social, and religious backgrounds, are united in their mission to promote international understanding.
Rotary Peace Fellows are young people already holding appropriate Degrees and field experience, with no connection to Rotary. Fellows are recognised as potential leaders capable of promoting national and international cooperation, peace, and the successful resolution of conflict throughout their lives.
Established at six prestigious universities around the world, the Rotary Peace Centres welcome up to 50 Master's degree fellows and 50 professional development certificate fellows each year. They come from myriad countries and cultures to study subjects such as international relations, public health, international law, public policy, journalism, political science, and peace and conflict prevention and resolution.
In early 2012, Zodiac (Zoe) Maslin-Hahn, a young person with dual UK and USA citizenship living locally, contacted the Rotary Club of Mumbles to apply for one of the Master's fellowships for 2013/ 2015. After a series of interviews and submissions over a period of months, Zoe received the news that her application had been successful. This was the only one in Great Britain and Ireland that year. Just after applying for the Peace Fellowship, Zoe started working for Medicins Sans Frontleres in South Sudan on a 12 month contract. As the Finance Coordinator, she managed a 14 million euro annual budget and oversaw the financial reporting of their projects. She took up her studies at the prestigious Uppsala University in Sweden in August 2013.
Zodiac completed the first year of her Peace and Conflict Studies programme at Uppsala in June 2014 and spent seven weeks that Summer in Uganda researching the impact of "microfinance" on poor Communities. She had the chance to see some animals in the wild whilst conducting her work programme - what a contrast to the cold winter in Sweden!
Sponsored by the Rotary Club of Mumbles, and with her Peace Fellowship being coordinated by our Club Secretary, Phil Rogers, Zodiac continued to update the Club during her second year in Sweden. This period included a paid work assignment preparing an "online" course for the United Nations and she was selected by her Department to attend a two week residential course involving Peacekeeping Forces from the Swedish Army.
The photograph was taken at the Annual Peace Seminar held at the University on 9th May 2015 and shows Zodiac with the President of Rotary International throughout the world for 2015/ 2016. To the delight of Club members, Zodiac successfully completed her Thesis and hence course in Sweden and graduated in June with a Master's Degree in Peace and Conflict Studies.
She and her partner, Dr Chris Marsh, have moved to England as Zodiac will be working as a Programme Funding Officer for the Charity Afghanaid. We know that she will continue to be a great ambassador for Rotary and, most importantly, Peace for many years to come.