NEWSFLASH
Disaster Relief - Lleddfu Effeithiau Trychineb
Hurricane Dorian - Information on how you can help can be found by following this link
Rotary is actively supporting other humanitarian relief efforts in many different ways. To find out more and how you can contribute visit the Disaster Relief page on the RIBI site by clicking here.
Mae Rotary yn cefnogi ymdrechion o gymorth dyngarol i leddfu effeithiau trychineb mewn nifer o ffyrdd gwahanol. I ddarganfod mwy ynglŷn a sut y gallwch gyfrannu tuag at yr ymdrechion Yma ymwelwch a'r dudalenLleddfu Effeithiau Trychineb ar wefan RIBI trwy glicio Yma.
---
Our students in the Youth Exchange Programmes are off on their adventures all over the world.
It is already the time to think about next year
Time to start encouraging students 15 to 19 years old next summer to find out about the programmes on offer More...
Latest News / Newyddion Diweddaraf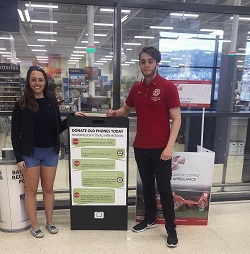 Rotaractors in Action
Aberystwyth Rotaractors partnered with Tesco. Viktoria and Aiden collecting old mobile phones to raise money for Wales Air Ambulance
---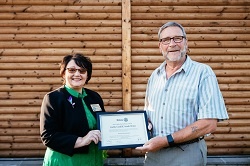 New Rotary Club Chartered
Garth satellite club has joined the Rotary family in the Southern Wales District receiving their Charter from RGBI President Donna on 12 July. Charles Middleton President stressed the five principles of Garth Rotary are: Keeping things informal, Being of mixed gender, Making new Friends, Helping in the Community and Having fun while doing this. Meeting Tuesdays at The Lewis Arms on Heol Goch Pentyrch CF15 9PN More...
---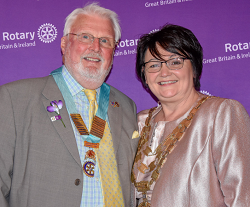 Four Generations of Rotary Celebrate!
RIBI and District Handover in Cardiff Bay. Together with Brynmawr and Pembrey and Burry Port. It was a Rotary Family handover in more ways than one at the Exchange Hotel in Cardiff Bay on 30 June.
Rotarians from all over Britain and Ireland came to Wales capital city to witness the inauguration of the new President of Rotary GBI Donna Wallbank; the National President of Rotaract GBI Anamarie Koeve of Edinburgh Rotaract and Southern
More Click Family Handover - Peter Hamilton
---
Summer is here !!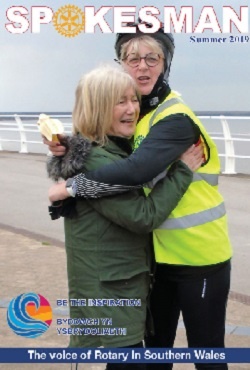 Click here to read the exiting Rotary News
---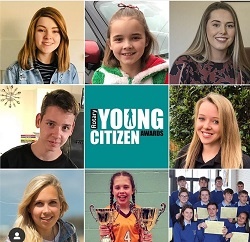 Rotary young citizens awards
It's time to meet the amazing winners of this year's Rotary Young Citizen Awards! Eight outstanding winners are being recognised for their outstanding citizenship, volunteering efforts and community engagement. #peopleofaction
---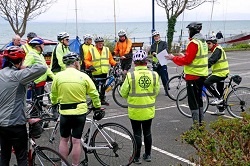 Rotary helping African schools
Rotary Bridgend visits Mumbles for an hour. 14 intrepid cyclists left Knab Rock to cycle the 50K to Laleston. In aid of an International Project being funded by the Club to help with facilities for two schools in Africa. More ...
---
Rotary Technology Tournament
For the first time ever Rotary Clubs within Pembrokeshire organised the first-ever Rotary Technology Tournament hosted by Pembrokeshire College. The schools came up with innovative ideas to produce a construction to manually lift a load from a track and move it back along the track whilst balancing it, so the crane-like structure didn't overturn. More ...
---
District Young Musician
s Final 2019
The District final of the 2019 Young Musician Competition was held at Islwyn High School. The afternoon audience was treated to performances by eight outstanding vocal competitors. During the evening a small but very appreciative audience was treated to an outstanding competition by the eight instrumental finalists. More...
---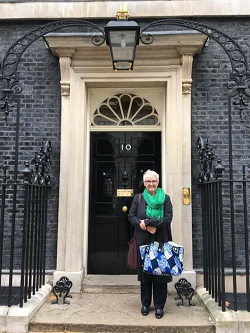 Prime Minister's Award - Point of Light Award
Angela Gorman, joint president of Cardiff Llanishen Rotary, has been awarded the Prime Minister's 'Point of Light Award' for her work with African Mothers. Gaining the award 'In recognition of your exceptional service for tackling maternal mortality in sub-Saharan Africa' More ...
---
Rotary Community Champions Awards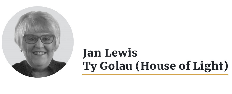 Community Champions winner Jan Lewis nominated by Rotary clubs of Pembrey and Burry Port and Llanelli More ...
---
Philippines Fishing Boat Global Grant Report
Click on the photo to link to a report on the Fishing Boat Global Grant in Anilao village in the Philippines. There are more photos and details of the project implementation and handover.
---
Raising Polio Awareness
Around the District, will be raising awareness of Polio day on October 24 in so many different ways from lighting up buildings and climbing a mountain to working with primary schools and planting bulbs in public places. Around the District, buildings were lit up purple among them Morriston Tabernacle Church, Swansea, St Catherine's and St Peter's Church in Milford Haven - several buildings in Rhondda and St Tudor's Church Mynyddislwyn near Pontllanfraith.
---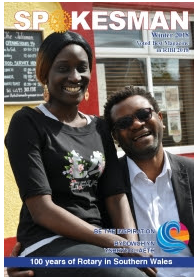 ---

Click for More
---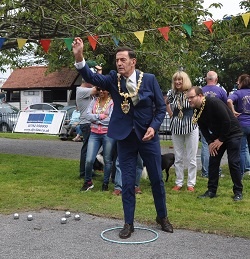 Mumboules 2nd Year Success
Organised by Rotary Clubs of Mumbles and Swansea with sponsorship from Douglas Jones and Mercer Solicitors and South Wales Evening Post, the tournament also featured live music and street food. Among the teams were the Lord Mayor's Chain Gang and Mumbles Community Council. Gower MP Tonia Antoniazzi also joined in the fun. Amongst the charities to benefit will be the Lord Mayor's charities and the Tenovus Closer to Home Appeal. More ...
---

---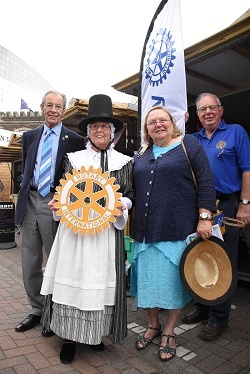 Eisteddfod - Rotary at the Bay
Rotary in Southern Wales gave a big welcome to RIBI President Debbie Hodge at our stand at Cardiff Bay for the National Eisteddfod. Debbie made friends with a traditional Welsh Lady from Blackwood and many other interesting characters and Rotarians from all over the Globe. The atmosphere on the Maes was amazing.
Eisteddfod-Rotary yn y Bae
Rhoddwyd croeso mawr gan Rotary Cymru Ddeheuol i Lywydd RIBI, Debbie Hodge, ar ein stondin yr yr Eisteddfod Genedlaehol ym Mae Caerdydd. Mi wnaeth Debbie ffrindiau gyda menyw mewn gwisg draddodiadol Gymreig o Goed Duon a chwrdd â nifer o gymeriadau diddorol ynghyd â Rotariaid o bob rhan o'r byd. Roedd yr awyrgylch ar y Maes yn anhygol.
---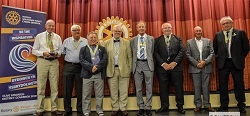 Handover to the new District AG Team
A well-attended handover at the Aberavon Beach Hotel. After a successful Centenary Year, PDG Maggie Hughes handed over the reins to Clive Edwards who urged members to embrace this year's Rotary International "Be The Inspiration" theme. We wish Clive and Gill a very successful year and look forward to our conference in Plymouth this October. The picture shows the AGs just part of your District team.
---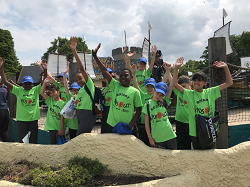 Record-Breaking KidsOut Day!
This year's National Rotary KidsOut Day has been RECORD BREAKING for the charity! Since its beginnings in 1990, this year's National Rotary KidsOut Day has been the biggest EVER with over 30,000 disadvantaged children being taken on a Fun Day all over the country in partnership with the Rotary. More ...
---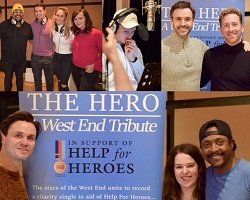 "The Hero - A West End Tribute"
A Song to commemorate the centenary of the end of WW1. Rtn. Daniel Curtis, a member of the Satellite Club of Cardiff and his wife Laura are award-winning composers and lyricists. The couple has now created a very special song to mark the 100th anniversary of the end of WWI. More...
---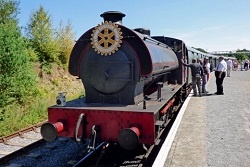 Centenary Train Ends Celebrations
It was all aboard the Glangwili Steam Railway for the final event of the Centenary year organised by AG Kevin Sivyer. The event started with a Prosecco Reception at the starting station the Bronwydd Arms. The volunteers who run the railway did us proud with a full three-course meal, while the train travelled up and down the picturesque Carmarthen track. It was a very hot day but there were plenty of opportunities to take a moment of two out of the train at the stations. The event was in aid of the Tenovus Closer to Home appeal.
Taith Trên yn ddiweddglo i'r Dathliadau Canmlwyddiant
Taith ar hyd Rheilffordd Ager Glangwili oedd digwyddiad olaf y flwyddyn canmlwyddiant a drefnwyd gan Kevin Sivyer y Llywodraethwr Cynorthwyol. Cychwynnodd y digwyddiad gyda Derbyniad Prosecco ar ddechrau'r daith yng Ngorsaf Bronwydd. Fe wnaeth y gwirfoddolwyr sy'n rhedeg y rheilffordd ddarparu pryd tri cwrs i ni wrth i'r trên deithio yn ôl ac ymlaen ar hyd llwybr pictiwrésg rheilffordd Caerfyrddin. Roedd hi'n ddiwrnod poeth iawn ond cafwyd digon o gyfleoedd i esgyn oddi ar y trên yn y gorsafoedd. Roedd y digwyddiad er budd apêl "Tenovus Closer to Home".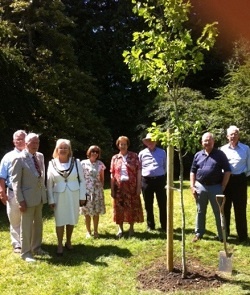 Rotary Plant a Centenary Welsh Oak
A Welsh Oak Tree was planted in Bute Park, Cardiff in June, in the presence of the Lord Mayor, Cllr Dianne Rees, to commemorate the Centenary of the Rotary Club of Cardiff and a century of Rotary in Wales.
The Lord Mayor of Cardiff, Councillor Diane Rees said: "I am delighted to commemorate Rotary's century of service to Cardiff and Wales by planting this traditional Welsh Oak sapling. We hope it will grow and thrive in this beautiful area of parkland and woodland in the heart of our city, that the young tree will thrive and grow into a mighty Oak and that Rotary will continue to grow to serve the community well into the next century."
Rotary yn Plannu Derwen Gymreig Y Canmlwyddiant
Plannwyd Coeden Dderw Gymreig ym Mharc Bute, Caerdy ym mis Mehefin, ym mhresenoldeb yr Arglwydd Faer, y Cyng. Dianne Rees, i goffáu Canmlwyddiant Clwb Rotary Caerdydd a chanrif o Rotary yng Nghymru.
Dywedodd Arglwydd Faer Caerdydd, y Cynghorydd Dianne Rees: "Rwyf wrth fy modd yn coffáu canrif o wasanaeth Rotary i Gaerdydd a Chymru trwy blannu'r lasbren traddodiadol Cymreig hon. Gobeithiwn y bydd yn tyfu ac yn ffynnu yn yr ardal hardd hon o barcdir a choetir yng nghanol ein dinas, y bydd y goeden ifanc yn ffynnu ac yn tyfu i fod yn Dderwen gref ac y bydd Rotary yn parhau i dyfu i wasanaethu'r gymuned yn y ganrif nesaf. "
---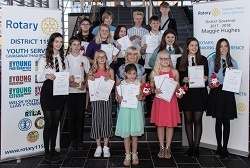 Creative Youth competitions
The Youth Creative competition presentations recently took place at the Senedd. Winners and competitors from the four Creative competitions (Young Writer, Photographer, Welsh Young Writer and Poet) gathered to receive their certificates and prizes from District Governor Maggie Hughes. More ...
---
Senedd Centenary Celebration Update
More...
---
Spokesman May 2018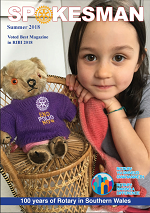 ---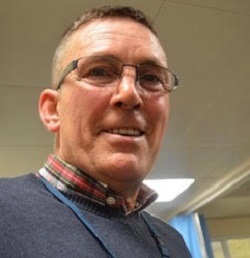 HOWARD IS COMMUNITY CHAMPION OF CHANGE
Howard Craven of Swansea is to be honoured with the prestigious Rotary Great Britain and Ireland Community Champion award for his work to help Parc Prison inmates to reclaim their lives.
---
Australian initiative
Imagine sending your children to a school where the teachers have no tertiary education and little training. What education would they receive? Yet that is the lot of most children of Nepal, the poorest country outside Africa. More...
Latest D1150 International Newsletter
---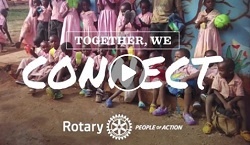 What is #Rotary
Beth yw #Rotary
'Here we go' a short snappy trailer about Rotary. Does it make you want to join? Click Here
---
"As far as the authors are aware all content is copyright-free or has permission for use, if this is not the case please contact us and that content will be removed."