SERVICE TO OUR COMMUNITY
Our fundraising efforts being channelled towards local charities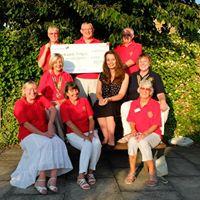 Serving our local community
We add value to our community in many ways. Sometime ago we visited the newly refurbished Kirkwood Hospice and presented a cheque for £2000. This was raised by a sponsored walk (Navigation Walk) organised by several local Rotary Clubs. This was annual event - filled with fun and purpose but it has now run its course and we are looking for another major project to take us forwards.
We have recognised the need for voluntary organisations to work in coopertive ways to meet our mutual needs. As such we are delighted to be working with Mirfield Round Table to help with their Beer Festival and Bonfire.
We organised a Technology Tournament for the local schools in which about 120 pupils from 12 schools participated.
One of the most fulfilling things we do each year is to take a group of educationally challenged pupils from Ravens Hall to Light Water Valley to join in with some 600 others for a great day out known as Kids Out.
Finally, it isn't all about fundraising or carrying out direct service for others sometimes we merely participate in Mirfield events such as the Rememberence Day Parade where we join other local organisations to lay a wreath to honour and pay our personal respects to those who gave their lives to protect our freedom.