KIDS OUT
THIS IS ONE OF THE MOST REWARDING PROJECTS WE DO - TO GIVE SOME OF OUR DISADVANTAGED YOUNG PEOPLE A GREAT DAY OUT AT LIGHTWATER VALLEY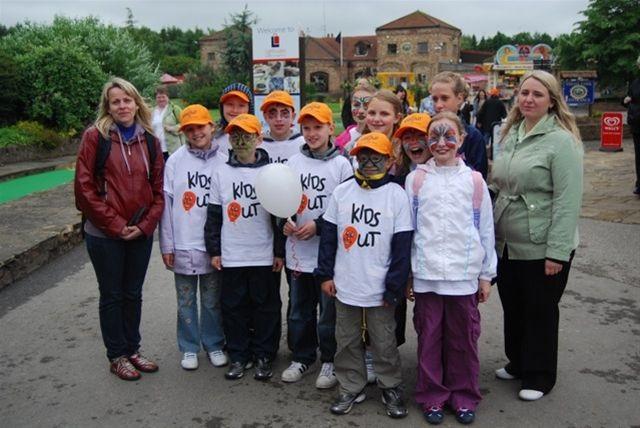 KIDS OUT - A MEMORABLE DAY WITH DISADVANTAGED CHILDREN
Each year we take a group of young people to Lightwater valley for a whole day where they freely roam around (accompanied by adults and careres when necessary) and have a great time.
This year, Julie Dillon, Sarah Duffett. Keith Steeples and Ralph Pickles joined thirteen pupils, aged eleven to sixteen, and three staff members from Ravenshall School, at Lightwater Valley near Ripon for a day full of fun and friendship. We were amongst around seven hundred children, Rotarians and helpers from all over Yorkshire.
The rides at the fun park are rated by thrill factor and therefore, before we started our way around we asked the young people if they would like high or low thrill rides and split them into two groups accordingly.
Sarah and Ralph together with Liz and Trevor from Ravenshall accompanied the high thrill seekers with Julie, Keith, and Yvonne taking the other pupils.
Sarah's first experience was with Lewis on the Claw considered the worst (or best) experience on the park. Suffice to say that neither wanted a second go. Thereafter most of the attractions were attempted and, judging by the shrieks, laughter and comments, the day was considered by children and adults alike to be a wonderful experience. The weather had been kind and Rotary District 1040 had, as always, done a fabulous job in organization and the provision of a marquee for lunch.
We are looking forward to next year.