Our commitment to Youth
Mirfield Rotary Club is committed to support local young people through the following projects, Rotary Youth Leadership Award (RYLA), Youth Sail, Kid's Out. Rotary Young Chef and the Technology Tournament
thumbnail view
KIDS OUT - A MEMORABLE DAY WITH DISADVANTAGED CHILDREN
This year - June 14th 2018
Each year we take a group of disabled young people from Ravenshall School to Lightwater valley for a whole day where they freely roam around accompanied by supporting adults and carers and all of them have a great time.
Youth Sail
This programme is aimed at the personal development of young people. Awardees who have been selected and sponsored by their local Rotary Club are engaged through a 6 day residential Sail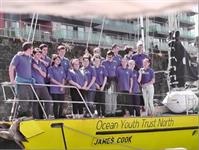 Training/Work experience during a voyage at sea.

Sail Training with Ocean Youth Trust North requires participants to confront many challenges, both physical and emotional. It is an activity that inspires self-confidence and the acceptance of personal responsibility, promotes the acceptance of others whatever their social or cultural backgrounds and develops a willingness to take controlled risks. For most it is a positive life changing experience.

Young people who would gain most from this experience. Sponsorship from local Rotary Clubs allows those, who otherwise would be unable to participate, benefit from this life changing experience.
Rotary Young Chef.
This competition is open to young people in full-time education aged 17 years and younger. It aims to encourage young people prove their organisational and planning skills and their ability to cope in a demanding situation.
To develop cookery and food presentation skills, consider healthy eating options and food hygeine issues.
RYLA
RYLA is a youth development course for people aged 16-17 years of age. It aims to help young people realise some of the leadership potentialthat others have seen. It is not an outward bound course! Yes, a lot of the activities are outdoors but it is about using a variety of activities, both in and outdoors to develop young people as individuals, as a team member and a leader of a team in a safe and enjoyable environment.