Recent News and Activities
For information on our recent activities, you can find it here and also via our FaceBook page.

Why not visit our FaceBook page for the latest news?


Another busy run-up to Christmas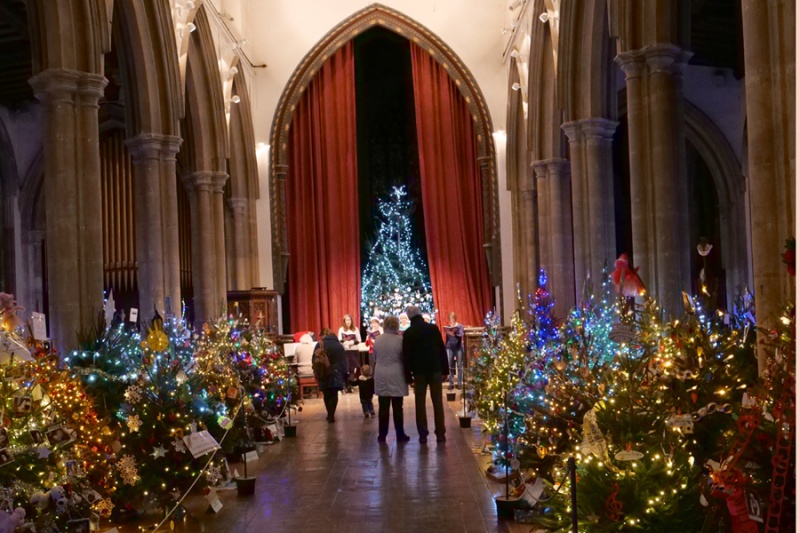 A record number of 98 decorated trees resulted in the 2018 Rotary Christmas Tree Festival being the biggest ever staged.
It is anticipated that around £4,500 will have been raised to support the President's chosen charities this year – The Befriending Scheme, East Anglian Air Ambulance and The Richmond Fellowship.
A very tall "Tree of Memories" under the chancel arch gave visitors who wished an opportunity to leave a message of love and remembrance for those no longer with us, and more messages than ever were hung on the tree during the festival. The tree was sponsored by Co-operative Funeral Services.
Santa and his elves were also busy. Based in his grotto in Sudbury Library, Santa was visited by many children. All money donated will be added to the President's charity fund.
Dictionaries for local schools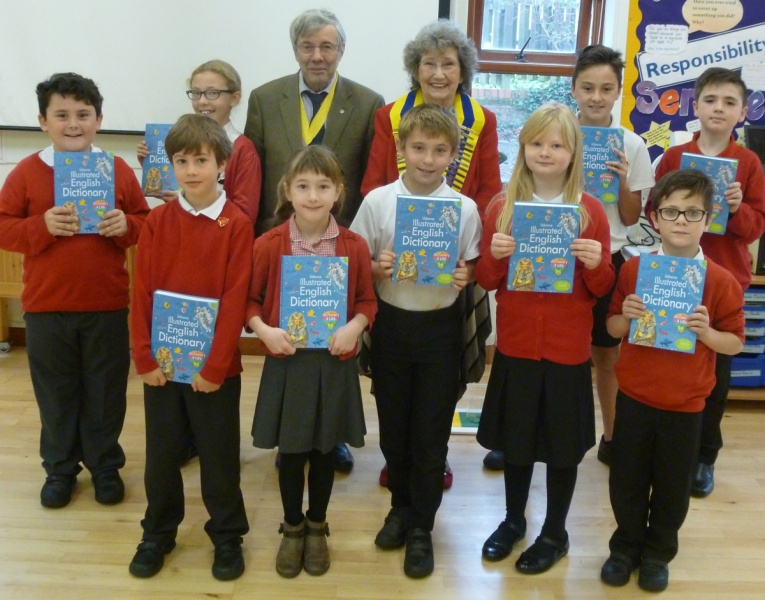 As part of our support for schoolchildren, Sudbury Rotary Club has been distributing Usborne Illustrated Dictionaries to local primary schools. This year we have donated 256 copies of the dictionaries among schools in Sudbury and nearby villages. This is a tradition for us and we have previously given dictionaries to a number of schools in the Sudbury area.
President Lesley Ford-Platt, and President-elect Tony visited both Pot Kiln and St Gregory Primary Schools to present the dictionaries at their Celebration Assemblies. It was good to see how quickly children were looking through the new books and finding words and illustrations to inspire them in their learning.
Crucial Crew 2018 brings total of youngsters to 12,000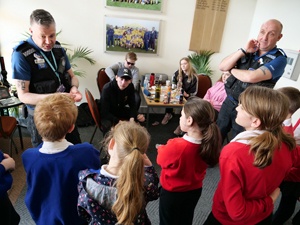 Sudbury Rotary Club welcomed another 745 Year-6 youngsters from 28 local schools during a week towards the end of April to its nineteenth Crucial Crew, bringing the overall total to around 12,000 since the activity was launched 19 years ago. Unlike other Crucial Crews in Suffolk, which are organised by the various District Councils, Sudbury Crucial Crew is funded, organised and run totally by Sudbury Rotary Club.
This year saw the introduction of two new scenarios covering Bullying and Staying safe in the sun.


St. Gregory Primary School Reflective Garden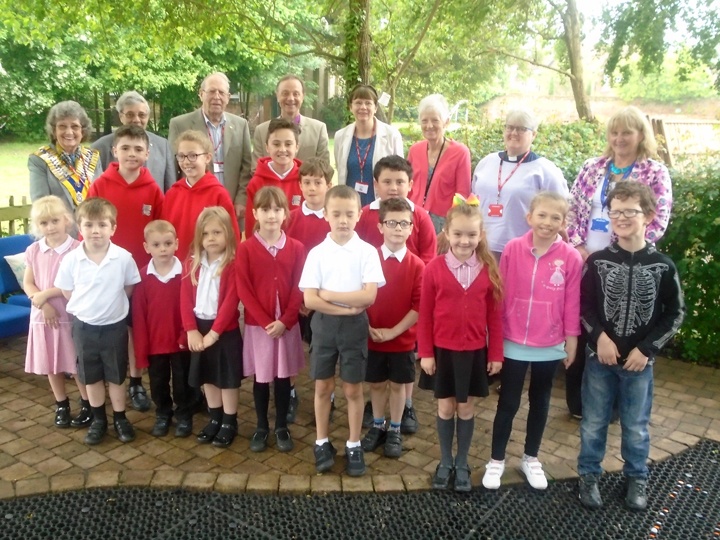 Sudbury Rotary Club has contributed towards the costs of creating a Reflective Garden, which offers a space for quiet reflection for pupils of the school. Pupils contributed their ideas towards the design and have grown a number of plants to surround the garden. It offers a very peaceful space, sheltered by a giant walnut tree, alongside the main playground. An outdoor classroom will be added in a space beyond the garden later this year. Sudbury Rotary's support of the scheme is commemorated on a plaque near the entrance.


Sudbury Rotary's work recognised with a national award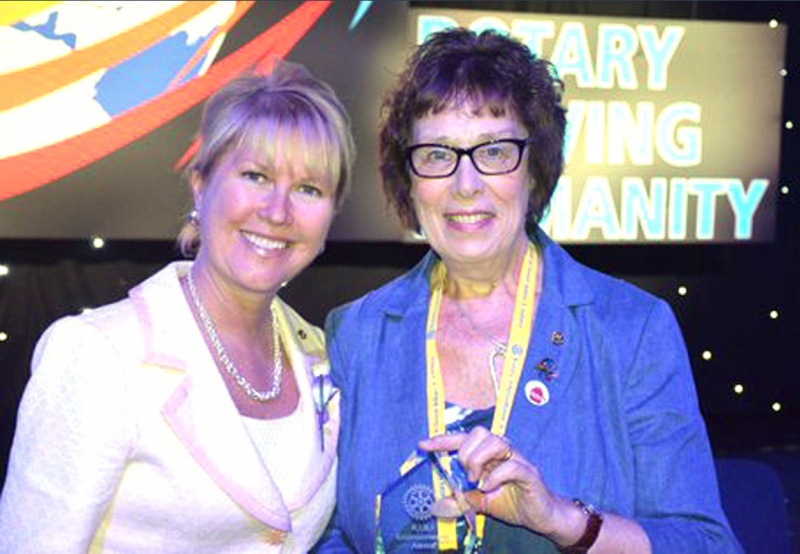 Our work in Youth and Environment has been recognised nationally with the Rodney Huggins Award. This is the first time a national award has been given to Sudbury Rotary Club in its 67 year history and follows the Rotary District 1080 Gold Environment Award in 2016.
Past President Gill Norton received the trophy on behalf of the club from Rotary International vice-President Jennifer Jones at the RIBI Conference in Manchester.
Purple Crocuses in support of Polio Eradication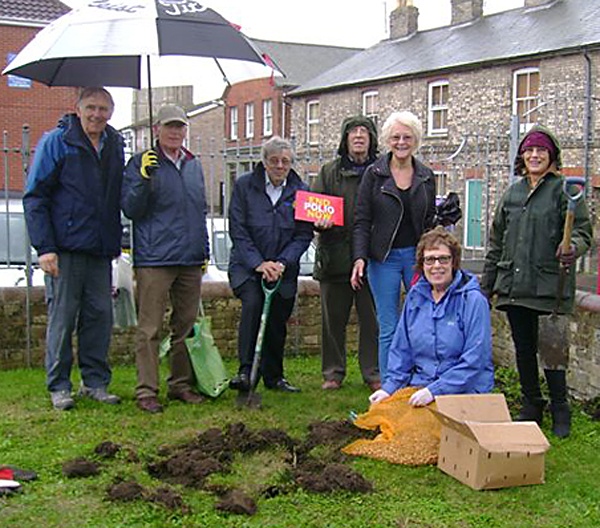 By next Spring you will see around 5,000 purple crocuses in a variety of locations, including the entrances to the town, in Siam Gardens, at the Railway station and the Health Centre. They will also be coming up in the grounds of our local schools and we hope they will not only provide a colourful environment but will also raise awareness of Rotary's on-going campaign to eradicate polio. The purple colour replicates the colour of the dye used to show that a child has been immunised. We are closer than ever to wiping out this terrible disease and Rotary has helped to immunise 2.5 billion children globally since 1985.