Press Releases
Rotary Club of Eynsham press releases.
Rotarians Raise £25,000 To Improve Sanitation in Kenyan Schools
20 May 2014
A consortium of six local Rotary clubs have raised over £25,000 to improve sanitation in six schools in the Ganze district of Kenya.
The Rotary clubs of Eynsham, Oxford Spires, Bicester, Witney, Farringdon and Didcot raised £8,000 from local fund raising events and then used the Rotary grants system to increase the sum to £25,000 with donations from Rotary District 1090 and the Rotary International Foundation.
Last year Eynsham Rotary funded, with an additional grant from Rotary District 1090, the connection of six schools in Ganze to mains water. This project was suggested by Eynsham's incoming President, Pauline Lowe, who spent 18 years in that area of Kenya working at the malaria research centre in Kilifi, the main administrative centre in that area. During this time, Pauline was a founder member of Kilifi Rotary Club.
Pauline's local knowledge of the conditions and a close working relationship with Kilifi Rotarians has been invaluable in making the project a success. Connecting the schools to mains water means that children are able to spend more time at school instead of spending the time walking long distances to fetch water from streams and ponds. It also prevents the spread of parasites and diseases from the use of unclean water sources. The picture below shows the headmaster of one of the schools next to source of water used before they were connected.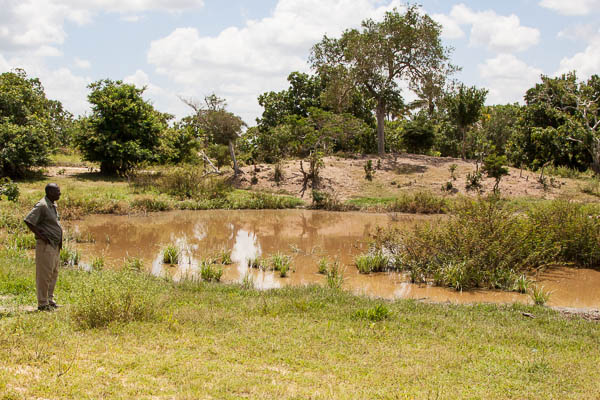 Pauline, and Eynsham Rotarian Geoff Powell, visited the schools in January 2013 to switch on the water.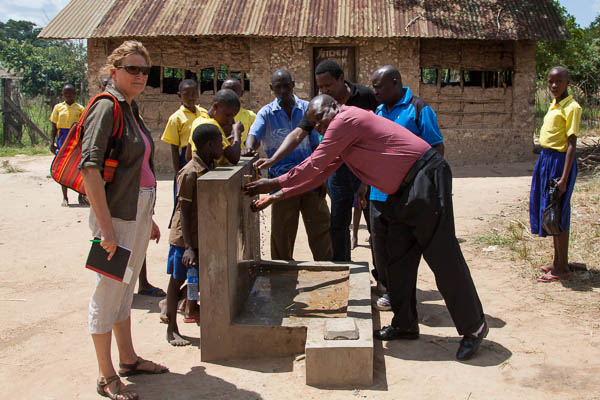 It was clear to Pauline and Geoff that whilst the water project was a major success, there was much more that could be done.
The World Health Organisation recommends that there is a toilet for every 25 children but at the moment the six schools have as many as 100 pupils per toilet. In discussion with Kilifi Rotarians, Pauline saw an opportunity to make a major difference to the living standards of the schoolchildren by funding toilet blocks to reduce this ratio to 40:1, whilst not ideal, a significant improvement.
On her return, Pauline and her committee drafted a proposal which would take advantage of the new Rotary Global Grant system to treble local funds to gain maximum benefit for the schoolchildren of Ganze. Entry to the grants system requires a club or clubs to raise $10,000, a sum Eynsham Rotary could not raise alone. So Pauline and her committee visited local Rotary clubs to ask for their support. With the help of Oxford Spires, Bicester, Witney, Farringdon and Didcot Rotary clubs the $10,000 was pledged and the grant proposal submitted. Less than a week ago, Pauline received confirmation that the proposal was accepted and the $10,000 was doubled with a grant of $10,000 by Rotary District 1090 and then the total doubled again by Rotary International, giving a total project budget of $40,000.
Pauline and her committee will now work with the Rotary Club of Kilifi, Kenya to undertake the building work which should be well under way when she visits Kenya again in October 2014.
Pauline will become President of Eynsham Rotary Club in July 2014.
For further information on the Rotary Global and District Grants system, Kilifi Rotary, the consortium of Rotary clubs or Eynsham Rotary please contact Geoff Powell, Vice President of Eynsham Rotary Club on communications@eynshamrotary.org.uk or 01865 701017