Gratitude and Thank You Page
People appreciate our help so this is our 'Thank You' page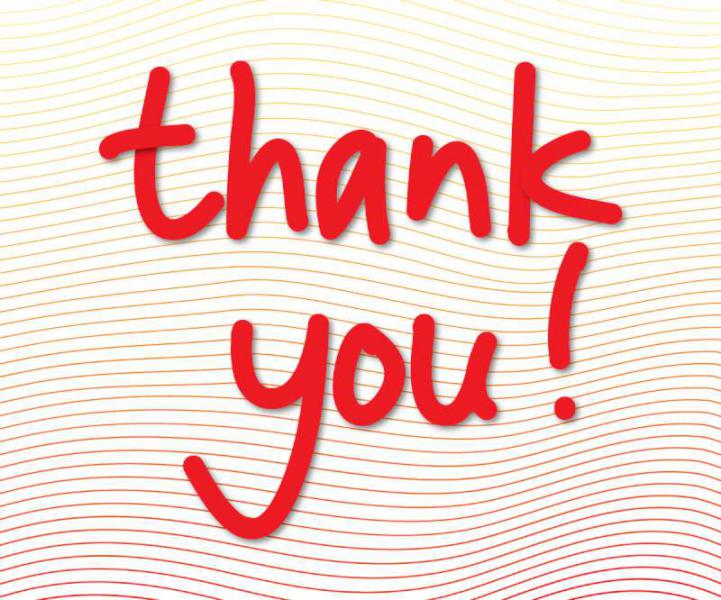 Rotarians locally give time and support to help lots of people in need locally and internationally.
These people are all evidently grateful for what we have done for them and we are encouraged to do more by their appreciation and thanks, for example:
Sebastian's Action Trust - Fundraising Administrator
"Thank you so much . . . We were absolutely thrilled with your donation raised from the Basingstoke Rotary Walk . . .given to our charity . . . that will help us address the the myriad of problems that affect families of life-limited children. Our work makes a significant difference to those who face an uncertain future."
Basingstoke Mencap - Office & Development Manager
'Basingstoke Mencap have linked up with the Rotary Club of Basingstoke to develop services for people with learning disabilities in Basingstoke. The specific focus is the ASPIRE Employment Programme. Rotary kindly provided a donation to enable Basingstoke Mencap to plan and fundraise for the set up phase of the project, and was instrumental in organizing a well attended launch event at Sherfield School to introduce the project to local businesses and media. The project has built on this by establishing partnerships with local companies who offer training, work experience and paid work to our jobseekers, and with continued support from Rotary and the local business community will grow to offer real opportunities to more local people with learning disabilities.'

Ark Cancer Centre Charity Myrddin (Merv) Rees MS FRCS and Mark Jones PHF

We thank you and your fellow Rotarians for their tremendous help and support at the recent event in Festival Place. The response from Rotarians at all three clubs was fantastic, and the support from the members was crucial to the fundraising suceess of the event, which raised an impressive £1,296 for the Ark Cancer Charity. The Rotarians always do terriffic work for the local community and we are grateful for, and very much appreciate the support given to the Ark Cancer Centre Charity and the Cancer Centre Treatment Centre Project.
Home-Start North West Hampshire - Philippa King - Senior Co-ordinator thanks Rotary . . . .
A huge thank you to Basingstoke Rotary for providing funding (£2500) for our next volunteer preparation course. We aim to have 12 volunteers attending.

Also thank you for offering two of our families the opportunity to have a weeks holiday in the New Forest. I have recently met with both families and can report they had a wonderful time, thanks to your club's generosity.

I am overwhelmed by your club support over the past year and know that your help has made a significant positive impact on our service provision. Please do pass on my sincere thanks to all your members.

You are touching local families lives!
As a local scheme of the UK's largest family support charity, we are affiliated to the Home-Start UK, but we are independent, autonomous and responsible for our own management and funding. We serve the community of Basingstoke and Deane, supporting over sixty families at any given time. We appreciate all the help given to us by Rotary.
Our relationship with the Basingstoke Rotary group is a prime example of partnership working. Our link with them formed very early on in our development and they have remained reliable and committed supporters of Home-Start over the years. They have provided funding sources which is always important for a small charity like ours, but equally important has been the 'treats' they have often offered local families in need.
Home-Start North West Hampshire was set up in 2004 and supports parents with at least one pre-school age child and who are struggling to cope with issues such as loneliness and isolation, physical and mental illness, domestic abuse, multiple births or difficult and complex relationships. A carefully selected volunteer, who has parenting experience, regularly visits their allocated family in their own home, offering emotional and practical support through these difficult times. This parent to parent support is a simple, yet effective way of giving hope and enabling families to get back on track. We also offer group support, led by needs identified by our parents; such as Multiple Birth, Teenage Parents and Dad's groups.