Lunchtime Meeting - 12.45pm - Speaker Derwen DofE Students
Mon 19th October 2015 at 12.30 - 14.00
Club member and Derwen College's Executive Principal Ruth Thomas will introduce us to the college's first Gold Duke of Edinburgh students
Show related pages
At a recent meeting of the Rotary Club of Oswestry, Derwen College Students Matthew Taylor, Simon Milner, Wesley MacIntyre and George Raffle, along with Steve Evans, their Group Leader, gave an informative and enthusiastic presentation that they had prepared about their Gold Duke of Edinburgh Expedition - the first by Derwen College students.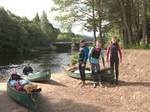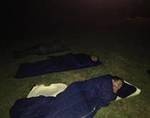 Partly sponsored by the Club
, their journey started on Monday 6 July as they left Derwen College and travelled through England towards Carlisle and over the border into Scotland. 395 miles later the group had arrived in Aviemore where they enjoyed a Scottish delicacy of deep fried mars bars before their expedition began!
The students spoke about working as a team, playing to each individuals' strengths, respecting each other and having fun; all really valuable skills. They said experiencing life in the great outdoors was a fantastic opportunity to develop new skills such as, building fires, cooking in the open and how to survive capsizing in a canoe in the 'washing machine'! The students also explained what they had learnt about bush skills, wild camping and horseshoe fungus.
Matt, Simon, Wesley and George all passed the expedition section of the Gold Duke of Edinburgh Award, achieving what they had set out to do. In total they canoed 75 miles from Aviemore to Spey Bay and camped over 4 days and 3 nights and although they got very wet, due to the weather and the occasional capsize, they said it had been a fantastic adventure and that they had learnt so many skills along the way.
Thanking the students for coming along and speaking to an appreciative audience, Club President Mike Griffiths said that "he was in awe of their achievement" and was "proud that the Club had been able to help them with the costs of the expedition and provide an audience to share their experiences with."