Colchester Military Wives & Braintree Male Voice Choirs
Sat 24th October 2015 at 18.00 - 19.00
Concert at St Botolph"™s Church with Colchester Military Wives & Braintree Male Voice Choirs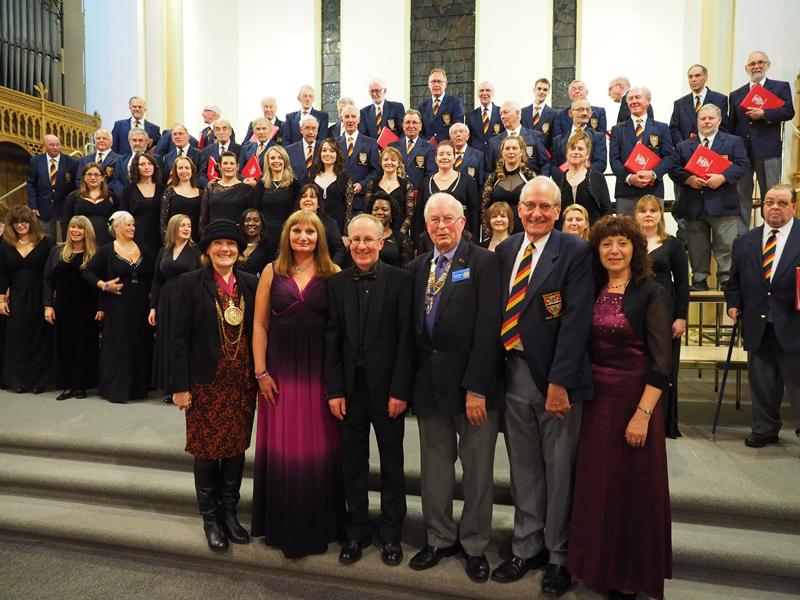 COLCHESTER TRINITY Correspondent Graham Thornton
CHARITY CONCERT
This was a new venture for Trinity and it turned out to be a fantastic success with the Colchester Military Wives Choir singing for the first time alongside the Braintree Male Voice Choir at St. Botolph's Church on the evening of Saturday 24th October.
Early in 2015 President Graham Thornton had met up with former Trinity member Ian Dewis,a member of Braintree Male Voice Choir, and the two had discussed, over a glass or two of wine, possible fund raising events which resulted in the Charity Concert in aid of Colchester Hospital's Cancer Centre Campaign.
The target of the campaign is to raise £4 1/2 million to build two additional floors to the £25 million state-of-the art Radiotherapy unit which cannot be funded out of the National Health Service budget.
Trinity members agreed to give full support to the plans for the concert which involved the sale of 350 tickets and the commitment of the Club to try and reach the target of £5,000.
The two choirs provided a memorable evening of music for their joint It's a Grand Night for Singing concert. The evening's programme included Sting's Fields of Gold; Bring Him Home from Les Miserables; You Raise Me Up; Unchained Melody and Some Enchanted Evening.
In the event and with the magnificent support of many people in and around Colchester the concert was a "sell-out" with an amount of £8,151 being raised for this very worthy cause.