Barry Milne – Electric Cars
Thu 13th April 2017 at 18.30 - 20.30
Barry Milne, of Parks of Hamilton Motor Group, will talk to the Club on the advances being made in electric powered cars H&R: Jim Peat and Robert Liddle VoT: Jim Peat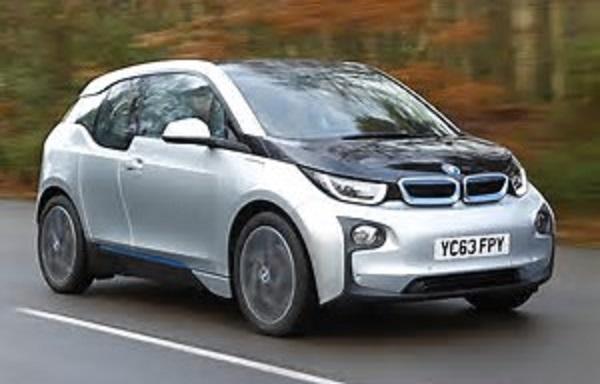 Local man, Barry Milne, was the guest speaker at tonight's meeting of the Rotary Club of Motherwell and Wishaw. Barry was a professional footballer with Dundee United, and various other teams, before he changed career, moving into the car trade, as a salesman, in 1997. He works for the BMW franchise of the Douglas Park Group and his talk was on electric cars and, in particular, the new BMW i3.
It was designed from the ground up as an eco-car and is based around a conventional platform. The BMW is a relaxing, strong performer. More importantly, it mixes incredible efficiency with quality and a greater sense of individuality. With its strikingly contemporary looks and that familiar blue and white badge on its nose, it would have been a surprise if the BMW i3 had failed to deliver a new and engaging driving experience. It doesn't, although it does have a firm ride. It's not just the i3's efficiency that impresses – the packaging and design make it one of the most user-friendly electric cars on the market. It may look pricey compared to rivals, but it definitely feels like the smarter choice too. BMW broke new ground when it launched the i3. Not only was it the firm's first city car since the Isetta of the 1950s, it also marked the firm's entry into the electric car market. Rather than being based on one of BMW's existing models, the i3 was designed from scratch around an electric drive system. As a result, it looks like no other BMW model, and it also looks like no other electric car, either. Under the skin, the i3 uses carbon fibre in its construction to help keep weight down. The i3's short length with no overhangs front or rear give it a futuristic shape, while its large diameter wheels and super-skinny tyres only help to emphasise its unique lines. Clever packaging creates a spacious four-seater interior, while back seat access is boosted by rear-hinged half doors in the back. The i3 is the most affordable car in BMW's i line-up, although with prices around the £30,000 mark, it's still not exactly cheap. While the i8 offers supercar styling, with its party-piece beetle-wing doors and powerful hybrid drivetrain, the i3 focuses more on practicality and reducing running costs significantly.
Barry answered a large number of questions put to him by the members and the vote of thanks was given by the club's petrol-head Past President Jim Peat. Past President Ian Carrol won the prize draw to have the use of a BMW i3 for a weekend.
The weekly bonus ball winner was Past President Charles Keeper.