Summer Programme - James Gibbons and German visitors
Thu 27th July 2017 at 18.30 - 20.30
I.P.P. James Gibbons addressed the Club and we were joined by two visitors from the Rotary Club of Schweinfurt - Friedrich Rueckert in Germany H&R: Ian St John & Willie Talbot VoT: Peter Brown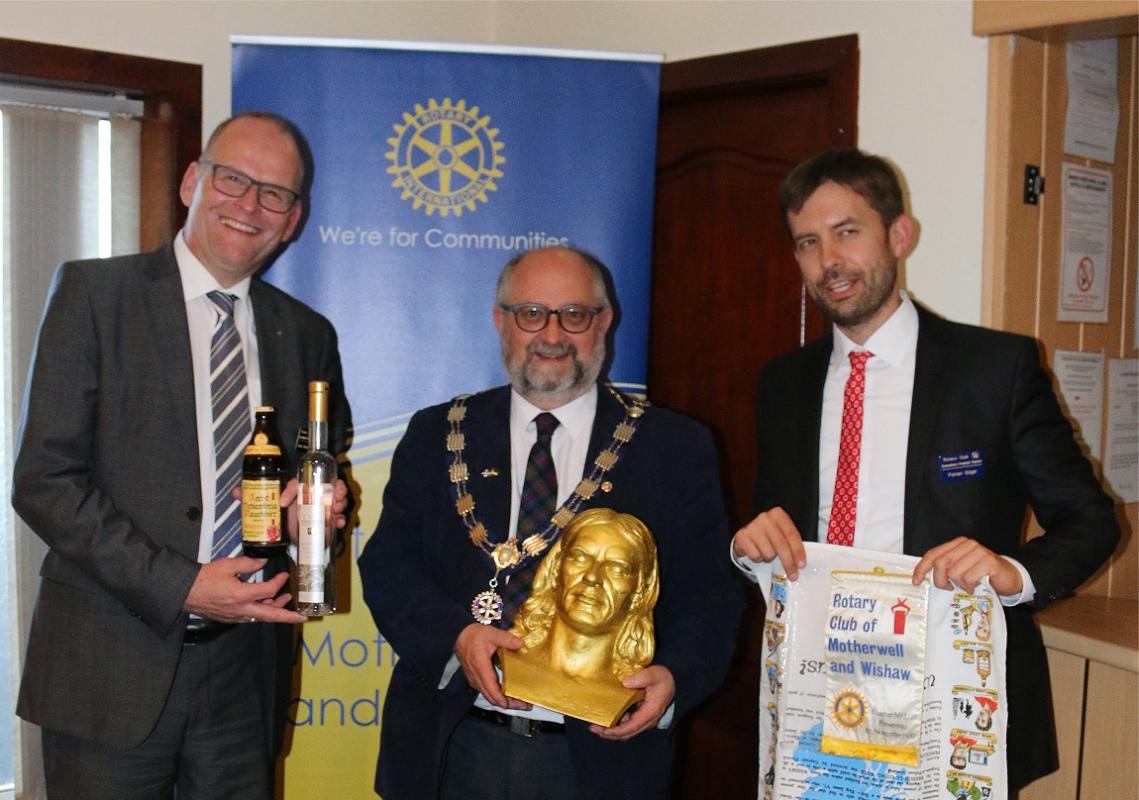 President Andrew Murray welcomed two guests from Motherwell's German twin town, Schweinfurt, at tonight's meeting of the Rotary Club of Motherwell and Wishaw. In Scotland on business, they were President Florian Goeger and Oliver Bruckmann from the Rotary Club of Schweinfurt - Friedrich Rueckert, a young Rotary Club, only chartered in 2016 and unique in Germany as married Rotarians are encouraged to join, making up the majority of the membership. During an exchange of greetings, Florian and Oliver presented our Club with a bust of Friedrich Rueckert, a famous poet from Schweinfurt, whose name the new club has adopted. In return, President Andrew presenter our visitors with one of our Club banners and his, now famous, tea towel!!
In his "beyond the tea towel" talk, President Andrew, moving on from Scottish inventions, spoke on the life of Thomas Cochrane who was born in 1775 in Annsfield, near Hamilton. Cochrane was a flag officer in the Royal Navy and a radical politician. He was a daring, and successful, captain in the Napoleonic Wars which led to Napoleon giving him the nickname "le Loup Des Myers" - the Sea Wolf and Cochrane's exploits inspired the naval fiction of C S Forrester's Horatio Hornblower. He was dismissed from the Royal Navy in 1814 following a controversial conviction for fraud on the Stock Exchange. He helped organise and lead the rebel navies of Chile and Brazil during their respective successful wars of independence through the 1820s. While in charge of the Chilean Navy, Cochrane also contributed to Peruvian Independence through the Freedom Expedition of Perú. He was also asked to help the Greek Navy but was prevented by events from having much impact. In 1832, he was pardoned by the Crown and reinstated in the Royal Navy with the rank of Rear Admiral of the Blue.
Past President James Gibbons "Summer" talk was about the effects the full moon had on people creating the werewolf phenomenon! This was a funny, informative and enjoyable talk and the vote of thanks was proposed by Peter Brown.
The weekly bonus ball was won by John McGeary.