President Tom's Page
Message from the President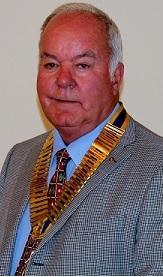 President Tom Taylor
It was an honour to be asked to become President of Preston South Rotary Club in the 50th year since its creation. I joined the club in 2008 without really knowing very much about the role played by Rotary in the UK and in the wider world, but now I never cease to view with admiration the work undertaken by Rotarians entirely on a voluntary basis, helping to make the lives of others better, safer, and healthier in the unpredictability of the modern world.
Preston South can rightly be proud of its ongoing achievements in raising money to support local, national and international charities. Our annual donations regularly average £ 20,000 per annum, but it is not just in raising money that Rotary excels. We provide help and support to individuals and families in need. We build trust and relationships with local organisations, particularly schools and colleges, encouraging young people to embrace the principles of Rotary in support of their national and local curriculum. My working life was spent in industry, commerce, and public service and I would like to think that I have plenty of experience to offer Rotary in organising and achieving worthwhile objectives.
We also know how to enjoy ourselves in pursuit of these honourable objectives – Rotary is more than giving out money. Fellowship and social interaction with other Rotarians is just as important to us, and our social events reflect that ambition. My year as President will challenge club members to live up to the Rotary motto of 'Service Before Self' and I have little doubt that Preston South members will rise to the challenge.