Featured Posts
Young Writer
Rotary Young Writer 2016 Resultsmore
Textile Technologist Competition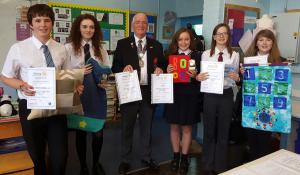 Competition results 2016 more
Calvert Trust
Forms for the 2017 Rotary Week are available on the websitemore
In the next 30 days...
Welcome to District 1190 which comprises 69 Rotary Clubs located in Cumbria & Lancashire
The funeral of Cyril Wildon is to be on Friday 29th July at 1.45pm at St Cuthbert's Church, Church Road, Lytham St. Annes, FY8 4EZ; followed by private family cremation and then at Fylde Rugby Club.
Cyril was our Young Artist Lead for the Rotary Young Artist competition in past years and will be sadly missed.
Learn about DG Malcolm's Charity for 2016-17
and donate to "Blood Bikes"
The Club Mailing of 16th July 2016 (and earlier mailings) have been uploaded to this website and are available for any District 1190 Rotarian to browse or download. If you can find them!
Log in to your club 'template' site or the District 1190 website.
Browse to the District 1190 home page.
Click the 'District Members Only Pages' link (top of the page).
From the drop-down menu select 'Admin for Clubs(MO)'
Down the right hand side of the 'Admin for Clubs(MO)' page is a list of 'Related pages'.
From that list select 'District Secretary Correspondence'
You've found it! The 'District Secretary Correspondence' page contains all Monthly Club Mailings and other important correspondence going back to July 2013 (nearly all PDF files). Click on any of the listed documents to view or download.