Mary Queen of Scots visits Buxton Rotarians & Guests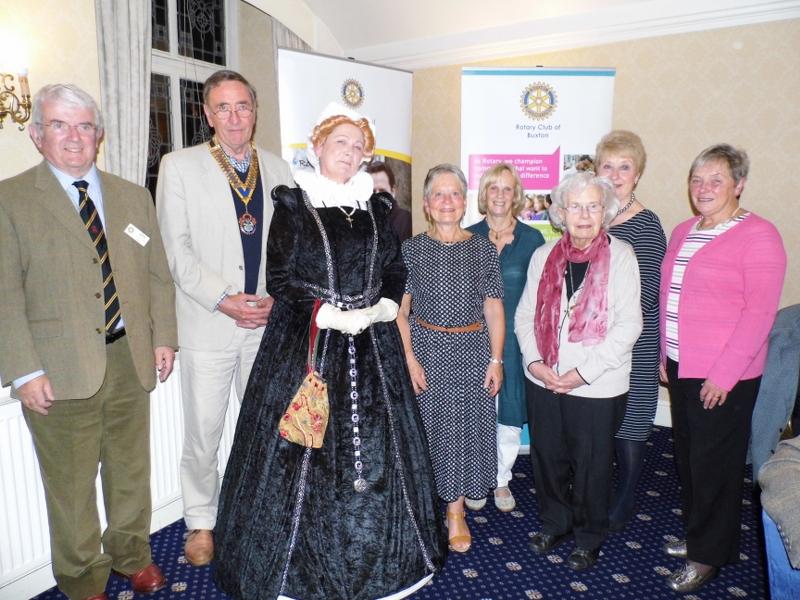 At their recent meeting in the Old Hall Hotel, Buxton Rotarians and their guests were honoured to receive a visit from Mary Queen of Scots, in resplendent Tudor dress, much to the consternation and amazement of a group of Korean tourists who were in the hotel lobby! Mary, aka 'The Captive Queen', spoke in character of her imprisonment by Elizabeth.
Moved on from a number of places, she 'visited' Buxton several times between 1573 and 1584. Given her circumstances, which she spoke of with a regal air, Mary enjoyed Buxton and the Old Hall (then a four-storey fortified tower) very much. Graciously agreeing to take questions asked in a suitably respectful manner, Mary adroitly parried several concerning the men in her life, demurring by citing her position as queen but did recall leaving several messages scratched on glass using diamond. She gave a fascinating account of her life, fearing that she could well meet an unfortunate end.
After a vote of thanks from Rotarian Mike Hallam that would have graced any Tudor Court, Mary confessed to being Jane Collier, wife of Rotarian Dr Andy Collier, and a member of Netta Christie's Discover Buxton team. There, besides her role of Mary Queen of Scots, she also gives Buxton guided tours. On retiring from nursing, she had first become a cave guide at Poole's cavern through her interest in history, particularly Roman and local. Jane had researched her Tudor character extensively, going to many of the UK sites that Mary had visited, been incarcerated in, and finally executed (Fotheringay). An active member of the Mary Queen of Scots Society, Jane had also researched Tudor dress for authenticity.
Still involved in Girlguiding, initially with Burbage Brownies, Jane became a District then Area Commissioner for Guiding, and is currently the Area's Events Co-ordinator.