Fiona's join Rotary
.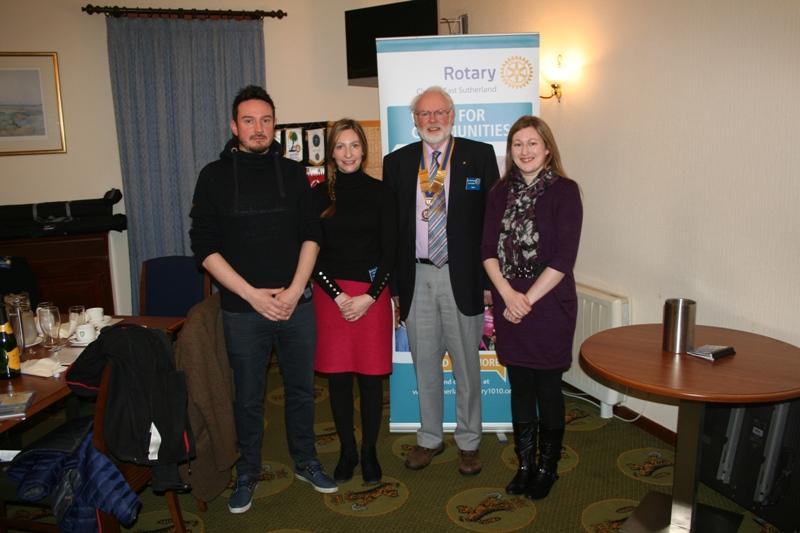 John Chambers the President of the Rotary Club of East Sutherland was absolutely delighted to welcome 3 new members into the club this week. Fiona Herd and Fiona Wylie are both attached to the UHI in Dornoch (bringing Fiona's up to 10% of the club membership!) Fiona Wylie is also the driving force in the Chamber of Commerce. Also inducted was Stuart Innes who has moved to Dornoch and works in the Care Service in Inverness.
The club has recruited 5 new members since the summer and has ambitions to see a 25% increase over the next 12 months so that they can further support local and international charities and causes. New members do not have to be called Fiona!!
At the meeting the club voted to "Save the Brora Fireworks" as the new Public Entertainment Licence and its costs had put the event in doubt with a £500 bill. Rotary has pledged to meet this cost thereby ensuring the display will be safe for 3 years without losing any content.
The next major fundraising event to be undertaken is the Polio Swimarathon at Golspie Pool on Saturday 18th February 2017. Organisers are hoping that the community will turn out in style with 100 sponsored swimmers hopefully matching last year's almost £3,000 total. With Rotary Foundation and Bill Gates multiplying the funds by the amount raised this gave a total of £12,000 from a great fun day at the pool.
Photos show left to right Stuart Innes, Fiona Herd, President John Chambers and Fiona Wylie.