Marafun 2017
.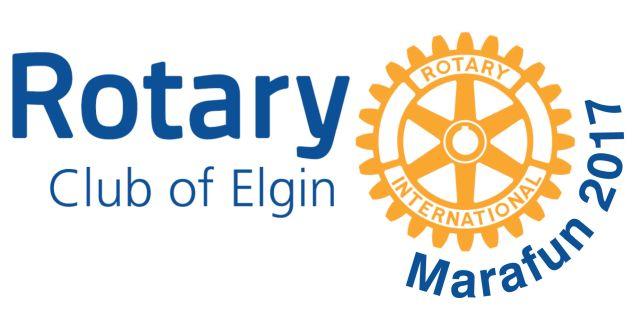 On Sunday 4thJune 2017 Elgin Rotary Club hosted the 14thbiennial Marafun around the streets of Elgin . The early rain showers didn't dampen the spirit of the nearly 90 teams who participated in the relay run and whose efforts will build on the fantastic monies that participants have raised for local charities since the event began in 1991.
Once again 100 local organisations will share equally in monies raised, to help them in their good work in our local communities. Elgin Rotary are indebted to Diageo, our Platinum Sponsor for the event and to the many others who supported Marafun 2017.
The main event was the Adult Street Relay with teams of 5, of all abilities, with each team member running 5.2 miles around Elgin Town Centre. There were a number of team categories for men, ladies, mixed, fun runners, services and sports clubs and even the best fancy dress team.
The primary school run with the children running one lap of the relay course went ahead of the main race.
To complement and complete the day there were displays of cars and new cars, charity stalls, food and other stalls as well as entertainment and fun activities for all the family.
The overall winning team on the day was the Moray Road Runners "A" Team in a time of 2.26.44. 2nd was 5 Decades and then in 3rd place Gladiator Fit & Co.
Monies raised from this years totalled a fantastic £40,000 which has now been dispersed out to local organisation across Moray. This years beneficiaries are available here
Winners
A full list of all the results can be viewed here
Club Runners Men: Moray Road Runners "A" Team (also overall winners)
Club Runners Ladies: Moray Road Runners Ladies
Fun Runners Men: The Idiot Sandwiches
Fun Runners Ladies: The Highland Beauties
Fun Runners Mixed: 5 Decades
Emergency Services: Team Rocket
Sporting Clubs: Rugby 1st
Fancy Dress: Robertson Timberettes
Our grateful thanks go out to everyone who supported us, but in particular our "Sponsors" who gave so generously to make the day a success