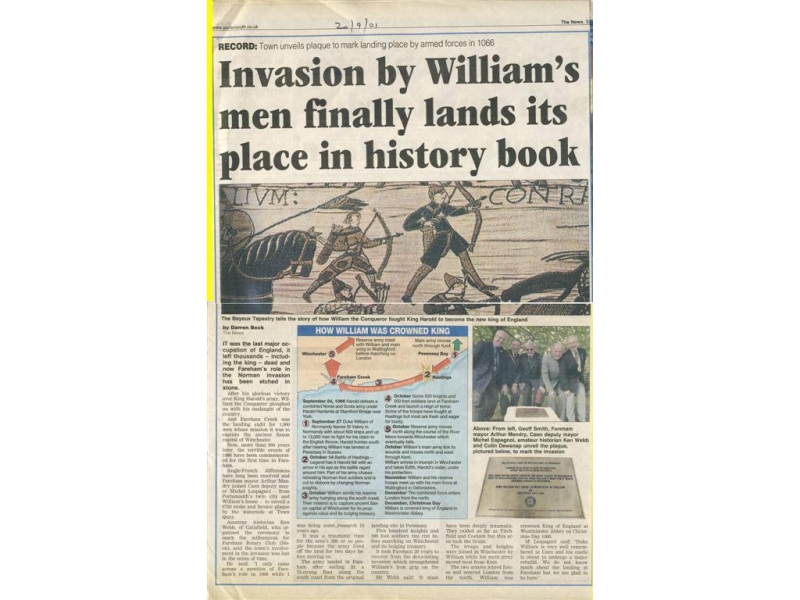 by Darren Beck, The News, Portsmouth, 20/09/01

It was the last major occupation of England. It left thousands - including the king - dead and now Fareham's role in the Norman invasion has been etched in stone. After his glorious victory over King Harold's army, William the Conqueror ploughed on with his onslaught of the country. And Fareham Creek was the landing sight for 1,000 men whose mission it was to capture the ancient Saxon capital of Winchester. Now, more than 900 years later, the terrible events of 1066 have been commemorated for the first time in Fareham. Anglo-French differences have long been resolved and Fareham mayor Arthur Mandry joined Caen deputy mayor Michel Lespagnol - from Portsmouth's twin city and William's home - to unveil a £750 stone and bronze plaque by the waterside at Town Quay. Amateur historian Ken Webb, of Catisfield, who organised the ceremony to mark the millennium for Fareham Rotary Club (Meon), said the town's involvement in the invasion was lost in the mists of time. He said: "I only came across a mention of Fareham's role in 1066 while I was doing some research 10 years ago. It was a traumatic time for the area's 300 or so people because the army lived off the land for two days before moving on". The army landed in Fareham after sailing in a 75-strong fleet along the south coast from the original landing site in Pevensey. Five hundred knights and 500 foot soldiers ran riot before marching on Winchester and its bulging treasury. It took Fareham 20 years to recover from the devastating invasion which strengthened William's iron grip on the country. Mr Webb said: "It must have been deeply traumatic. They raided as far as Titchfield and Cosham but this area took the brunt." The troops and knights were joined in Winchester by William while his main army moved west from Kent. The two armies joined forces and entered London from the north. William was crowned King of England at Westminster Abbey on Christmas Day 1066. M Lespagnol said: "Duke William is very well remembered in Caen and his castle is about to undergo a major rebuild. We do not know much about the landing at Fareham but we are glad to be here."


How William was crowned King
September 24, 1066 Harold defeats a combined Norse and Scots army under Harald Hardarda at Stamford Bridge near York.
September 27, Duke William of Normandy leaves St Valery in Normandy with about 600 ships and up to 12,000 men to fight for his claim to the English throne. Harold hurries south after hearing William has landed at Pevensey in Sussex.
October 14, Battle of Hastings Legend has it Harold fell with an arrow in his eye as the battle raged around him. Part of his army chases retreating Norman foot soldiers and is cut to ribbons by charging Norman knights.
October, William sends his reserve army hurrying along the south coast. Their mission is to capture ancient Saxon capital of Winchester for its propaganda value and its bulging treasury.
October, Some 500 knights and 500 foot soldiers land at Fareham Creek and launch a reign of terror. Some of the troops have fought at Hastings but most are fresh and eager for booty.
October, Reserve army moves north along the course of the River Meon towards Winchester which eventually falls.
October, William's main army lick its wounds and moves north and west through Kent. William arrives in triumph in Winchester and takes Edith, Harold's sister, under his protection.
November, William and his reserve troops meet up with his main force at Wallingford in Oxfordshire.
December, The combined force enters London from the north.
December, Christmas Day William is crowned king of England in Westminster Abbey.