Weekly Meeting - District Governor Visit
Wed 18th October 2017 at 20.00 - 22.30
Speaker's Friend: President Vote of Thanks: President Elect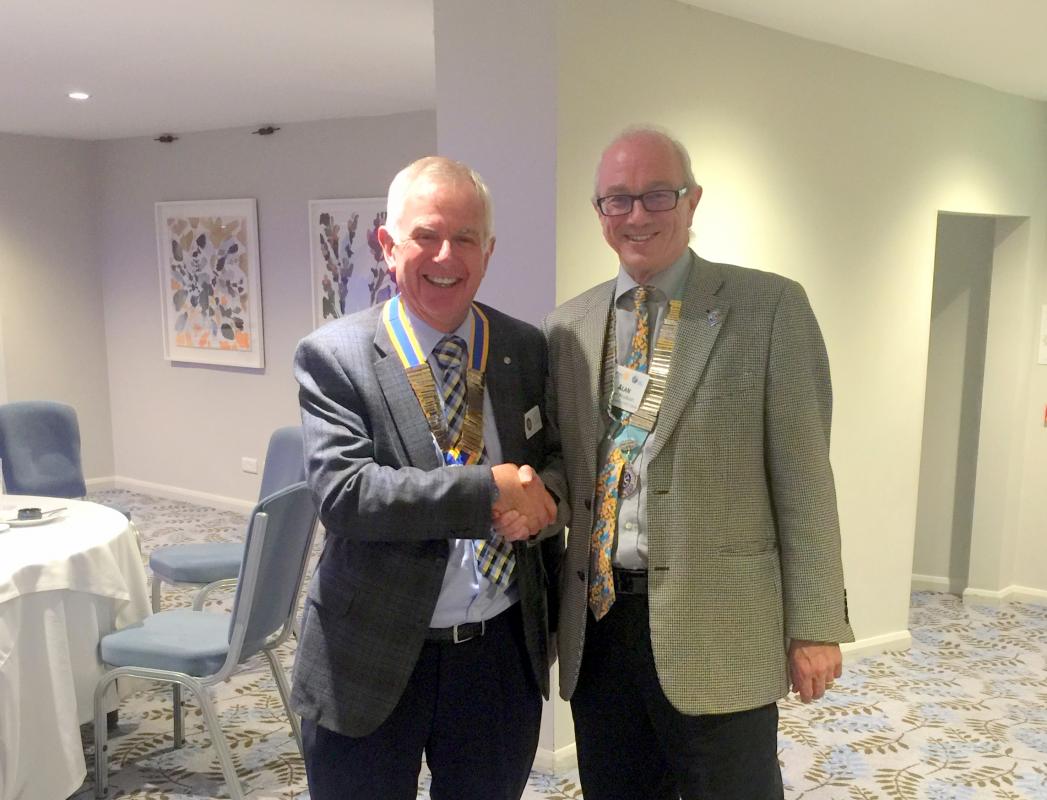 District Governor - Alan Hudson
We were blessed with a visit from the DG this evening who told us about his history and in particular how he had been involved with Rotary from an early age, followed then by a few of his thoughts on how Rotary might evolve over the coming years. Each of the various chapters in his life story were introduced by a short piece of music which was illustrative of that period and had a special significance to him. The result was an informative and enjoyable evening and we now know rather more about the DG than we otherwise might.

Alan was born into a farming family in 1952 in North Cumberland, as a teenager he became a drummer in a band and then in his early twenties obtained his first job selling insurance with NFU Mutual. It was then that he first came across Rotary being sponsored in 1983 to take part in the Group Study Exchange and so worked in Trinidad and Tobago, Barbados, Martinique, Guadeloupe and Antigua. This he described as being a formative experience as it was here that he says that he developed his social conscience. Indeed he said that he was so enthusiastic about Rotary that he would have joined without hesitation if he had been asked. However it was not until 1999, some 16 years later, that he came across Rotary again when he joined Shrewsbury Darwin and then subsequently his present club Hereford Wye Valley. In 2013 he became involved in The Foot Project in Dominica which resulted in greatly improved outcomes such that shortly afterwards the island was able to declare that due to staff training and patient education it had undertaken no diabetic induced amputations for a whole year.

As for the future his message was essentially that whereas many Rotary Clubs (ours included) have been and continue to be successful, the organisation as a whole must adapt to survive. Apparently the dining club is an old fashioned concept and whereas existing clubs may wish to continue using that formula, it is his view that membership of Rotary might best be increased by opening new clubs using a different template. He pointed to the fact that a number of new clubs are meeting early in the evening (6-00pm) so that members can call in on their way home from work (personally I found 8-00pm was perfect for that!) and there are breakfast clubs as well of course. Basically, what clubs offer must be appealing to younger people and their lifestyles.

Additionally, and rather shockingly, Alan said that 50% of new members cease to be members within two years. He suggests that clubs introduce mentoring to counter this trend.

Finally his three rules:-
1. To give support to clubs to help reduce the trend of falling membership.
2. To encourage the prominence of clubs in the community
3. To get the message out as to what Rotary clubs do

There were a lot of questions from the floor which Alan addressed and which showed the interest that members had shown in what he had said.
Adrian Smith