International Rainbow Dreams
Rainbow Dreams South Africa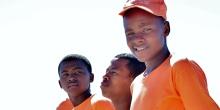 We are a Cape Town based not for profit organisation working together with disadvantaged South African youth for a better future. Every project we undertake focuses not only on immediate need, but also looks ahead to the future impact of our intervention. We believe that in order for positive sustainable change to be made, our disadvantaged youth need to have the confidence and positive self image necessary to set and reach goals and hence follow their dreams. We provide support to our youth on this journey, as they navigate through the many dangers and traps inherent in their environment.
We run youth clubs in townships, camps for disabled and chronically ill children, a youth environmental project and our one off 'Dream Catcher' projects.Our youth live with violent crime, sexual abuse, drugs, gangs, poor educational facilities, high AIDs infection rates, low parental involvement, overcrowded informal housing, basic water and sanitation facilities and a miriad of social problems within their communities. Our youth members report feeling unsafe in their own homes.
Our Founder and Director Dannie Kagan established the charity in 2006 with the aim of fulfilling the hopes and dreams of underprivileged children and adults. Our focus has been refined over the years and we work with the clear goal of supporting underprivileged youth to successfully navigate through the many real dangers inherent in growing up in under-resourced communities. We are based in Cape Town where the majority of our child charity work is focused. We very occasionally become involved in projects elsewhere in South Africa.
We operate township youth clubs in and run youth camps for those underprivileged and additionally challenged, often by illness or disability. We fund the Beyond Environment Expectations Project and we run a number of one off Dream Catcher projects. These projects are varied and include the sponsorship of a talented dance troupe to attend a major arts festival; providing a route to education for a young blind learner; and the upgrade of a successful but poorly equipped community childcare centre.
Our projects are managed by volunteers from within the community and we strive to make the most out of the funds which are donated to us. We work in communities where a small amount of money can make a noticeable difference, and our volunteers understand the value of money and how to utilise it to best effect. We monitor costs very tightly. Every project is budgeted separately and can be reported on individually thanks to Desiree our efficient and organised book keeper. We are more than happy to make our yearly audits and specific project financial information available to those who may be interested in partnering with us.