Weekly Speaker Meeting: The Principal of the Great Western Academy
Mon 1st April 2019 at 18.15 - 20.00
The Great Western Academy in Tadpole Village, North Swindon, opened in September 2018
The Great Western Academy in Tadpole Village, North Swindon, was opened in September 2018 by Maggie Aderin-Pocock MBE, the British space scientist and science educator and sometime presenter of the TV programme "The Sky at Night".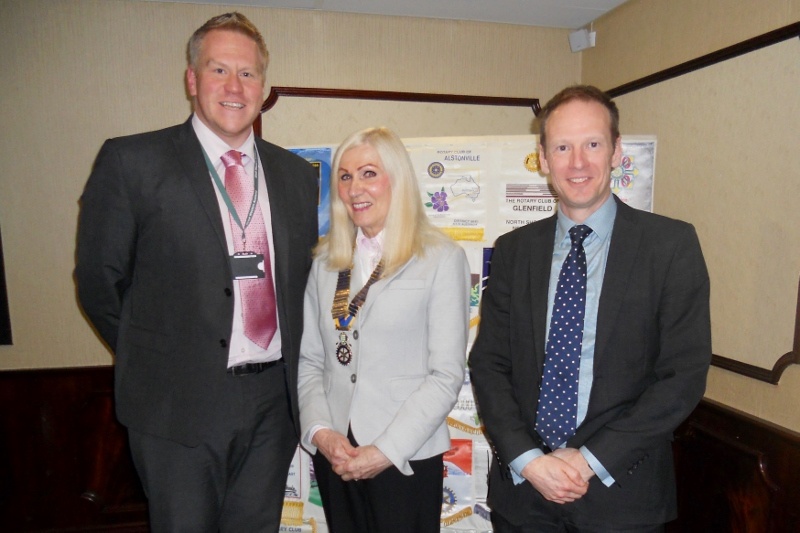 Our guest speakers were Graham Davis and David Clarke, respectively the Principal and Assistant Principal of the Academy. Photographed with Club President Ann, Graham is on the right and David is on the left.
They explained how the school was set up from scratch. Working at Swindon's New College for a year before it opened they agreed the curriculum, drew up a budget (Academies are not permitted to go into a loss situation) and visited potential students.
There was just a small number of students in the Academy's first year but it is massively over-subscribed for the year beginning September 2019. The 6th Form opens on that date too. Currently there are 9 full-time staff members but that will rise to 15 in September. At present, a small number of staff perhaps, but nevertheless a vast range of subjects is offered. As David put it: "All the basics plus more."
Messrs Davis and Clarke are as fond of acronyms as are the writers of TV's "Line of Duty". For example students are encouraged to focus on ACE (Achievement, Care and Excellence) and DIRT (Dedicate, improvement and reflection time). The heads are also fond of mission statements and punchy one-liners too. For example, "Better to aim high and just miss it than to aim low and achieve it". And "Leave [school] with humble confidence".
"For a growth mind set rather than the opposite (a fixed mind set)" the reading of books is given high importance. Every day, at 1.10pm, all students and staff are required to read for 20 minutes. And all the students must do one extra after-school activity. From 3.15 to 4.30pm a wide range of workshops and courses are available for them to choose from.
The school operates a House system, competition between which is encouraged. The House names have a space exploration theme – "it's all about high inspirations" - Aderin, Peak and Sharman. Helen Sharman will be opening the 6th Form in September. "I don't suppose any of you know Tim Peak" joked Graham. To foster good relationships and to make full use of the building out of school hours, it is offered to the local community.
Messrs Davis and Clarke are clearly two highly motivated and very focused individuals dedicated to making the Great Western Academy a highly rated and sought after school.