Speaker Meeting 6.15 for 6.30pm
Mon 17th June 2019 at 18.15 - 20.00
Speakers: Grahame Lee and Dawn Burt from Step Out Swindon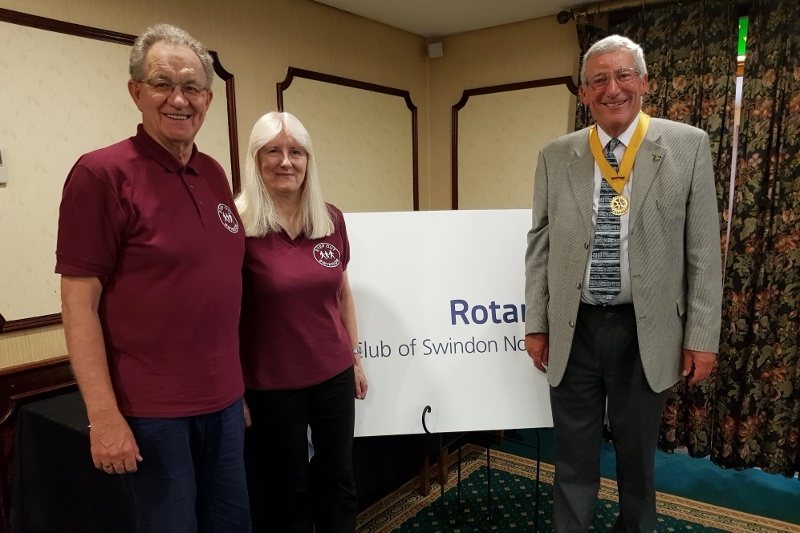 Grahame Lee and Dawn Burt of Step Out Swindon and The Ramblers attended our meeting to talk to us about Walking for Health. They are pictured with our Club's Vice-President Robin Elliott.
Step Out Swindon is part of the national Walking for Health Scheme - there are 600 schemes in the UK with 24000 walkers including 8000 volunteers.
Grahame told us that Step out Swindon was started by Swindon Borough Council. In 2017 funding was withdrawn so Grahame and other volunteers decided to take it over themselves. It is self-funding and run by volunteers. There nine 9 different weekly walks and 500 members registered. This year Step out Swindon was presented with a Pride of Swindon award.
As most of us are aware walking is good for our physical and mental health. It helps (among other things) our lungs. heart, blood pressure, joints, bone, muscles and cholesterol. Being part of a walking group can help our mental health as there is interaction with other people.
Why join a walking group - Safety in numbers – hidden gems and new places can be explored safely. Meet new friends and socialise. Swindon is "rich" in places to walk. There are many green spaces and parks. The walks discover places of interest. All the walks are free, and the leaders and assistants are trained.
The walks cater for all ages and all abilities.
The Ramblers have a wider range of walks and they are longer. There is a membership fee and members receive a quarterly magazine and some local store discounts. The Ramblers work with planning departments of local councils to ensure that green space if protected where possible.
Grahame Lee is the Scheme Co-ordinator for "Step Out Swindon Walking for Health" and the Group Chair for Swindon and NE Wiltshire Ramblers