Endevour Awards 2018
Welcome to The Rotary Club of Dundee's annual Endeavour Awards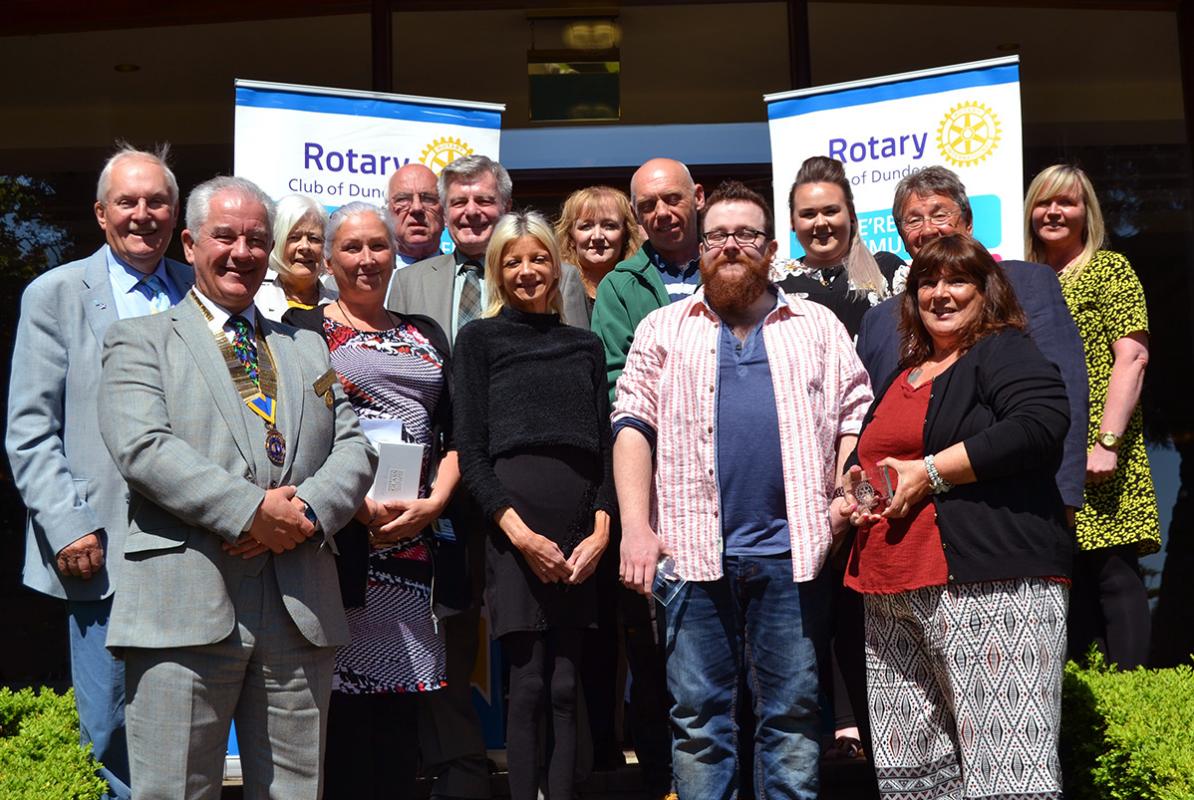 Today we are rewarding individuals from organisations that we have worked with or given financial grants to over the past year.
It is the organisations who have nominated the individual from their organisations that they feel have benefited from the help we have given.
This is 'Rotary in Action' in our communities.
I'm also reminded that the Endeavour awards were started by the late Harry Leadbetter and I'm sure he would be pleased that we are carrying on the tradition.
Now to the important part.
We have six nominees for our Endeavour Awards today.
Our first nominee is James McCulloch Paton from the Dundee Therapy Garden who is accompanied to-day by Ziskey Stovell. To tell us about James and the work of the Dundee Therapy Garden is immediate past president Peter.
Jimmy has been with the Dundee Therapy Gardens since January 2017, just a couple of months after they first opened. He was homeless for 9 years and travelled all over Scotland and England before settling in Dundee. He has overcome longstanding problems with drug addiction, essentially on his own. In 2015, Three years ago he enrolled on a college course studying Level 5 Horticulture.
Since joining the Therapy Gardens as a volunteer, Jimmy, has gone above and beyond to support the veterans, other volunteers and staff.
Jimmy has encountered a lot of trauma in his life and has come through it as a kind, gentle, generous, dedicated and intelligent person. He is an integral part of the team and the veterans respect and admire him more than simple words can say. He has become a trusted friend and colleague to everyone at the Gardens.
Our second nominee is Arron Smith from Dundee Young Carers and he is accompanied by Morgan Low. To tell us more about Arron and the work he does at Dundee Carers is Judith.
Our third nominee is Yvonne Mullen from the Mill of Mains Pavilion regeneration project. She is accompanied by Maggie Smith. To tell us more about Yvonne and how she contributes to the project is Alastair.
I first got involved in the Mil o Mains Community Pavillion Charity, when Sandra Thomson, a good friend and Weaver, told me about the plight of this organisation, after their tragic fire last year when the Pavillion was burnt to the ground by vandals! Since then, they had no help from the Council and were now working out of cramp premises in a Sheltered Complex in Mill o Mains - entirely inappropriate facilities for Yvonne and her team who had been running Kids Clubs - up to 40 kids at a time, including Breakfast Clubs. They were the lifeblood of the Community, as there were new houses being built and many more young mums and Toddlers appearing every month. They had little money as they had been let down by various Council departments, which meant they did not qualify for Grants. Despite this, they Fundraised and begged at the local Supermarkets to give them food for the Kids, and Sandra and Vivien, my wife, organised a Musical evening in St Stephens Church which raised £4,000 for their Charity.
Recently, Yvonne let a petition to the City Chambers of young children from the Community and us , to plead for the Council to reconsider their decision NOT to rebuild----- We achieved our Objective and the Future looks a lot more promising!
If the Rebuild happens, it will be all down to the courage and commitment of Yvonne, the leader of this Community Charity since it started 12 years ago, and despite a personal family tragedy, she has led it through all these difficulties, as a strong Community Project in an area of Dundee which has multiple deprivation. She has been an inspiration to many -including Sandra and I, and I very much look forward to seeing these Mill o Mains kids playing again in a safe and happy environment in their own Pavillion and Park.
Our fourth nominee is Mitchell Ramsay who is a volunteer with the family Development team based in Fintry Primary School. Unfortunately, he is unable to attend to-day but we Lesley McKendrick to accept his award for him.
I'll tell you bit more about why he was nominated.
Mitchell was an ex pupil of Fintry Ps. He is now 17years of age and helps in the Out of School Club.
He is the Youth Representative on the local management group.
He is a play worker with the aged 5-9 group of children and provides a positive role model.
He is a "weikent" face in the school.
Mitchell's own experience at school was not so positive and experienced bullying as he went to dance classes. This didn't stop him and he was nominated as a Sports Ambassador by Gareth Dailly.
He is now a volunteer dance instructor with Active Schools.
He is an essential member of The Food and Fun holiday Project planning singing, dance, arts and crafts, sport activities.
He has great patience and children relate well to him.
"Mitchell is a shining example of what young people in Fintry can do when they set their minds to it. We are so proud of him" says Lesley.
Our fifth nominee is Bill Fenwick from the Dundee Heritage Trust. To tell us more about Bill and his nomination is Alastair.
I have known Bill for 3 years, since he became a Volunteer at Verdant Works - our Jute Museum - where I am a Trustee - the last of the Jute Wallahs!! Bill has shown many people round the Museum, running the machines, teaching School children about Dundee's Textile Heritage, and operating the big Boulton and Watt Engine! This despite contracting Polio at an early age, in the 50s, when Polio was common in the UK. He has been involved with the British Polio Fellowship for over 20 years, helping to raise awareness of the disease and Fundraising for his local Group to help others affected by this handicap - Post Polio Syndrum? In fact he wishes to hand over a cheque today to our President from his efforts, to go towards Rotary's Polio Eradication Campaign!
Bill was educated in Dundee and now lives in the City with his wife and dogs and works tirelessly for the Dundee Heritage TRUST as a Volunteer, along with his other vital colleagues, which we much appreciate.
Our sixth and final nominee Nici Scammell from Brae Riding and she is accompanied by her friend and the admin at Brae, Cindy Grant.
Nici has been a volunteer at Brae for 4 years. She has to overcome health issues that make every day activities exhausting for her, but she stills turns up 2 days a week to help with the office work, from filing to counting up the cash donations, sorting out the volunteers uniforms and clothing and is a happy and smiling face around the stables.
She has recently lost three close members of her family but she has still continued her commitment to Brae Riding.
"Coming to the Brae has helped me cope and get through this terrible time of my life." Said Nici.
That concludes our Endeavour awards for 2018.
I'm sure you will agree that we have had a worthy group of award winners this year and we should give them a final round of applause.
Thank You