2018 - 19 Trevor's Year
on 28th June 2018 Trevor was handed over the "badge of office" and will lead our club for the following year.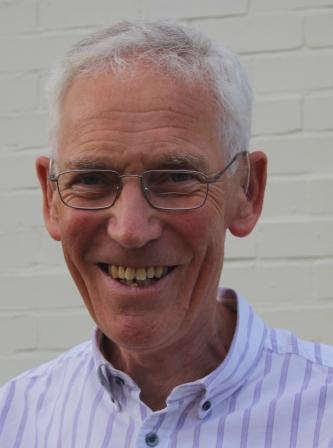 28th June 2018 - Handover to Trevor was a brief, low key affair with none of the usual confusion - other than Trevor dropped his chain of office, Maggie & Jane looked bewildered when Trevor asked that they both join him to receive the regalia for Senior Vice president. The usual "photo call" took place and the meeting was closed at just after 8.30.
At the beginning of Trevor's year he said:
"Our New Year, will it be a good year? I hope so.
Ours is an innovative Club, we take on many challenges and help people in our Community and Internationally.
I hope our work with the Community continues, particularly the newly established RotaKids, with Robert Miles Primary School in Bingham. The School has an enthusiastic group of pupils who have shown they can come up with good ideas. We will support them, where they want us.
The Memory Café continues its work with those experiencing memory problems. It is good to have a strong group of Rotarians and family volunteers, who run and present monthly entertainment.
As I write this the detailed planning work for the 9th Vale's Got Talent Show, has already begun. Each year the competitors astound us with their talents. Sponsors and advertisers in our Programme help fund the event, which also raises money for our Community and International work.
Our annual Charity Programme will shortly be confirmed. This year, more than ever, we will need to balance the effort required to raise Charity Funds and the Programmes of donations we can afford to support.
There are already procedural changes in hand to review how we assess the work of charities we may support. Ensuring that we introduce Conflict of Interest in the way we work will be important for now and in the future. There may be other new requirements to consider. Internally we have had to adopt new forms of working within our Club to ensure day-to-day management continues to run smoothly.
During the recent, visit by our new District Governor, Dr. Cheryle Berry, she recognised that we were an inspirational Club, and one which has a positive attitude. I know this spirit will continue.
Thanks to the Members of the Vale of Belvoir Rotary Club for their hard work."
5 July 2018 Be the Inspiration – District Governor Cheryle Berry MBE
Club were treated to a very balanced and inspiring presentation by the new District Governor Cheryle. She mentioned her visit to San Diego with 530 other Club Presidents with this year's theme of "Be the Inspiration".
She pondered the question: What would the World be without Rotary? In a much poorer situation, as it is human nature to expect "others" to do 'things'…but they don't!
Rotary has a legacy of Service, with 5 fundamental pillars: 1.Membership (both recruitment and retention) 2. Inspiring the next generation 3. Humanitarian Service 4. Raise the profile of Rotary 5. Say "Well done" via various awards
She talked a little about her own patch in Clay Cross, a challenged area, but one that she is very proud of (Those who have least often give the most generously) Personally she has worked with destitute children in India for the last 8 years and is currently trying to raise £17k for a building, equipment and training with District 3211 in Kerala. She has run 15 London marathons and one in New York raising money and plans to do The Robin Hood half marathon in September to raise funds for Maggie's Centre. She has worked with St. John's Ambulance for some years and has a project to put First Aiders on every street corner in collaboration with other organisations like paramedics with The Community Save a Life Scheme. It is in the process of being produced by The Virtual College, an on-line learning system, already with 3 million learners. It's due to be launched in October and will be a free app for the mobile phone and we were given a PowerPoint presentation indicating how the system worked with a Theory module, a game and an assessment.
She congratulated our Club with the first Rota Kids team to be formed within the District and requested that we promote her vision in The Community Save a Life Scheme. AR
12 July 2018Trabbi Travels – Steve Moses & Barbara Hastings
Steve started the presentation with Trabbi World, in Central Berlin, where he was first smitten to buy one, although Graham, an eccentric friend from the village of Youlgrave, Derbyshire had owned fifty of them!
His first purchase was acquired on eBay & he spent £500 on parts getting it roadworthy. He's now on number 4, buying & selling along the way.
Trabant means 'satellite or companion' in German and was built from 1957 to 1990 in Zwickau, East Germany at the VEB Sachsenring Automobilewerke and 3 million have been manufactured over 3 decades. It has a steel unibody frame with panels made from recycled cotton waste, called Duroplast (which apparently appeals to the appetite of pigs and goats!)
However, the purpose of their presentation was about a charity John O'Groats to Land's End journey they endured in what is classed by some as one of the world's most unreliable, cramped & uncomfortable vehicles.(although one of our members compared it to the model T Ford, considering its time of production and durability)
They managed the journey of over 2000 miles (double distance: home>JOG; JOG >LE; LE > home) in 12 days, breaking their journey at Newcastle, Perth, J O'G, Fort William, Alloa, Bingham (home), Worcester, Bridgwater & Land's End. They met a number of Trabant owners along the way (including 'Swiss Phillip and his family, who camped in their tent, on top of their Trabant) and also had several Geocaching meetings. They raised £2200 for their 2 charities: Prostate Cancer UK & Asthma UK.
President Trevor presented them with additional cheques for their respective charities. AR