2018 - 19 Trevor's Year
on 28th June 2018 Trevor was handed over the "badge of office" and will lead our club for the following year.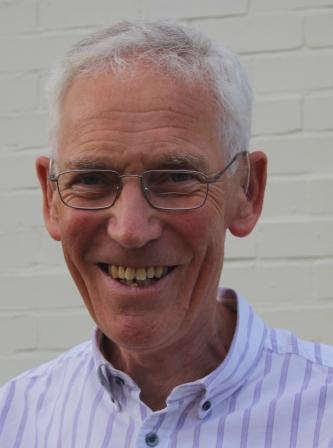 28th June 2018 - Handover to Trevor was a brief, low key affair with none of the usual confusion - other than Trevor dropped his chain of office, Maggie & Jane looked bewildered when Trevor asked that they both join him to receive the regalia for Senior Vice president. The usual "photo call" took place and the meeting was closed at just after 8.30.
At the beginning of Trevor's year he said:
"Our New Year, will it be a good year? I hope so.
Ours is an innovative Club, we take on many challenges and help people in our Community and Internationally.
I hope our work with the Community continues, particularly the newly established RotaKids, with Robert Miles Primary School in Bingham. The School has an enthusiastic group of pupils who have shown they can come up with good ideas. We will support them, where they want us.
The Memory Café continues its work with those experiencing memory problems. It is good to have a strong group of Rotarians and family volunteers, who run and present monthly entertainment.
As I write this the detailed planning work for the 9th Vale's Got Talent Show, has already begun. Each year the competitors astound us with their talents. Sponsors and advertisers in our Programme help fund the event, which also raises money for our Community and International work.
Our annual Charity Programme will shortly be confirmed. This year, more than ever, we will need to balance the effort required to raise Charity Funds and the Programmes of donations we can afford to support.
There are already procedural changes in hand to review how we assess the work of charities we may support. Ensuring that we introduce Conflict of Interest in the way we work will be important for now and in the future. There may be other new requirements to consider. Internally we have had to adopt new forms of working within our Club to ensure day-to-day management continues to run smoothly.
During the recent, visit by our new District Governor, Dr. Cheryle Berry, she recognised that we were an inspirational Club, and one which has a positive attitude. I know this spirit will continue.
Thanks to the Members of the Vale of Belvoir Rotary Club for their hard work."
5 July 2018 Be the Inspiration – District Governor Cheryle Berry MBE
Club were treated to a very balanced and inspiring presentation by the new District Governor Cheryle. She mentioned her visit to San Diego with 530 other Club Presidents with this year's theme of "Be the Inspiration".
She pondered the question: What would the World be without Rotary? In a much poorer situation, as it is human nature to expect "others" to do 'things'…but they don't!
Rotary has a legacy of Service, with 5 fundamental pillars: 1.Membership (both recruitment and retention) 2. Inspiring the next generation 3. Humanitarian Service 4. Raise the profile of Rotary 5. Say "Well done" via various awards
She talked a little about her own patch in Clay Cross, a challenged area, but one that she is very proud of (Those who have least often give the most generously) Personally she has worked with destitute children in India for the last 8 years and is currently trying to raise £17k for a building, equipment and training with District 3211 in Kerala. She has run 15 London marathons and one in New York raising money and plans to do The Robin Hood half marathon in September to raise funds for Maggie's Centre. She has worked with St. John's Ambulance for some years and has a project to put First Aiders on every street corner in collaboration with other organisations like paramedics with The Community Save a Life Scheme. It is in the process of being produced by The Virtual College, an on-line learning system, already with 3 million learners. It's due to be launched in October and will be a free app for the mobile phone and we were given a PowerPoint presentation indicating how the system worked with a Theory module, a game and an assessment.
She congratulated our Club with the first Rota Kids team to be formed within the District and requested that we promote her vision in The Community Save a Life Scheme. AR
12 July 2018Trabbi Travels – Steve Moses & Barbara Hastings
Steve started the presentation with Trabbi World, in Central Berlin, where he was first smitten to buy one, although Graham, an eccentric friend from the village of Youlgrave, Derbyshire had owned fifty of them!
His first purchase was acquired on eBay & he spent £500 on parts getting it roadworthy. He's now on number 4, buying & selling along the way.
Trabant means 'satellite or companion' in German and was built from 1957 to 1990 in Zwickau, East Germany at the VEB Sachsenring Automobilewerke and 3 million have been manufactured over 3 decades. It has a steel unibody frame with panels made from recycled cotton waste, called Duroplast (which apparently appeals to the appetite of pigs and goats!)
However, the purpose of their presentation was about a charity John O'Groats to Land's End journey they endured in what is classed by some as one of the world's most unreliable, cramped & uncomfortable vehicles.(although one of our members compared it to the model T Ford, considering its time of production and durability)
They managed the journey of over 2000 miles (double distance: home>JOG; JOG >LE; LE > home) in 12 days, breaking their journey at Newcastle, Perth, J O'G, Fort William, Alloa, Bingham (home), Worcester, Bridgwater & Land's End. They met a number of Trabant owners along the way (including 'Swiss Phillip and his family, who camped in their tent, on top of their Trabant) and also had several Geocaching meetings. They raised £2200 for their 2 charities: Prostate Cancer UK & Asthma UK.
President Trevor presented them with additional cheques for their respective charities. AR
19 July 2018 Club Social - Mike Cox Quiz
26 July 2018 Up close and personal with Emett – Terry Rodgers
A cheque presentation was made to Graham Allen, Chair of the Belvoir Wassailers for all their Charity work and entertainment in the Vale. Gerry also received a £200 cheque for The Memory Café from the priest in Cotgrave, in appreciation of all the valuable work done by Gerry & her team.
On to our main speaker, Terry who is blind and he gave us an insight into what that is like and in particular, with regard to his faithful guide dog Emett,
an eight year old male black Labrador retriever cross
.
Emett is named after Rowland Emett who designed and built the famous water clock in the Victoria Centre in Nottingham.
There are 5000 Guide dogs in the UK, all bred at Leamington Spa, but trained at 5 Training Centres around the UK and costing about £60k each to train. There are 'puppy walkers' used to do some of the early training to get the puppies used to the urban environment with noises, people and traffic that they will have to work in. The guide dogs are trained to go to the toilet on command, as well as eating on command; they have to know the difference between 'left' and 'right'.

Even after getting the 'phone call' to say he would be getting a guide dog, it was trained by his handlers in Nottingham, then Radcliffe, where Terry lives, so that Emett was familiar with the surroundings he would be working in, followed by 2 weeks where they both stayed in a Hotel in Nottingham, for further 'bonding'!
Emett never barks, he may snore or make noises when asleep, but they walk together about 3 or 4 miles per day and has been on 5 cruises with Terry and his wife. Terry speaks to a number of clubs and organisations as an ambassador for Guide Dogs for the Blind, whilst having limited sight has many drawbacks, other than the obvious, the one advantage in Terry's case is that it has brought Emett into his life for some six years now and it is obvious that both parties enjoy each other's company very much. Guide dogs tend to be retired after 6 to 8 years, so Terry is hoping his wife can have him as a pet and he can be trained again for a new guide dog.
What an inspiring talk and President Trevor presented Terry with a cheque, which will go to the Guide Dogs Association.
DE/AR
2 August 2018-'Tales from a Dairy Farmer's Wife'Jane Barnes
Jane Barnes gave the Club a passionate and enlightening talk entitled 'Tales from a Dairy Farmer's Wife'. Jane and her Dairy Farmer husband, Mark, live and work at Southfields Farm in Somerby, Leicestershire. The farm is a dairy farm with an average herd size of 160 pedigree Ayrshire cows producing milk for the Long Clawson Dairy that produces the world famous Stilton Cheese. There are also two pedigree Ayrshire bulls (Billy Beaumont & Quaker), the proud fathers of some of the calves that enter the milking herd or if not sold on Facebook.
Facts and figures flowed, relating to their present set up and their plans for the new farm, as their son Harry has now qualified and committed to continuing for the next generation of dairy farmers with targets of1.2million litres and 230 cows. Jane was passionate that we all drink 'Whole Milk' at 4% fat content and said that using anything else was just helping the Supermarkets to make more money and able to sell other dairy products. Like other farmers Jane said that the long spell of dry weather was causing problems this year but because they had looked forward their crop of long stem maize would help as well as the 'New Zealand' type of grazing the grass. Jane said that she really wanted to tell the story of their life to as many people as she could and as well as her talks she is about to organise school visits to the farm to show children and their parents from viewing platforms where milk really comes from.
In conclusion Jane said that Dairy Farmers have so much to be positive about and quoted 'It's amazing that we get to wake up in the morning and actually produce food for people to eat', a very uplifting and forward thinking presentation that Club members thoroughly enjoyed.
Gordon Marsh
9 August 2018- A "pointless" Evening – Rob Gray
Rob entertained the members with a "pointless quiz" competition. He split us into 6 teams of 4 or 5 and posed various questions, ensuring a different team had 1st guess each time.
The questions ranged from "name a 5 letter word ending in 'ump'", to football teams with 'United' in their name, the currency of countries before the Euro was adopted. The object being to get the 'lowest' score, but if your answer didn't appear on the list, 100 points was scored against the team.( although it was the 2010 game version, so anything in the last 8 years did not register!
There were some 'interesting' answers, but the eventual Winners were: Chris Netherwood, Chris Henley, Steve Lawes, Duncan Garment and David Valentine, what an array of intellectual brainpower, no wonder the other teams didn't stand a chance!
Good fun evening and well organised as usual by Rob. AR
Thursday 23rd August
Yet another brilliant talk from Tony about Cambodia and Laos, which was enjoyed by Rotarians and partners. He travelled from the source of the Mekong River as far as Laos. His photography was, as always totally stunning and his memory of the places they visited was phenomenal.
David V
20 September 2018 Ultimate the Sport Tom Styles
Before the main speaker, our honorary member. Head teacher Rob Gilbey, on his first visit, gave a brief outline of how, with the help of members of our Youth committee, we had started a Rota Kids club at Robert Miles School.
The Club was then treated to an excellent presentation from Tom Styles, a Bingham local, talking about the emerging sport of Ultimate Frisbee.
Tom has played Ultimate for many years, and now he also commentates on the sport at local, national and international levels, as well on TV. He has a passion for the sport which came over most eloquently in his talk to us.
He covered the history of the sport from its origin in 1938 by Fred Morrison to the Pluto Plates of 1955, using 'Frisbee' tin pie dishes, moving on to the use of 'Wham-O' plastic Frisbees right through to today's major competitions and world championships. Ed Headrick then formed the International Frisbee Association, as well as developing Disc Golf. Joel Silver, an American film producer wrote the first rules for Ultimate in 1968 in Columbia.
Tom explained how Ultimate is an all-inclusive sport, in that it can be played by all ages and all levels of fitness and in mixed teams. Amazingly, and quite uniquely, the game does not have any referees, relying on sportsmanship and self-discipline, to police the games which invokes a 'Spirit of the Game' to maintain fair play. He was part of the commentary team for the World Games in WROCLAW Poland 2017 and The World Flying Disc Federation in Cincinnati. Rob Gilbey now plans to introduce the sport in the 10 schools in their Trust.
An excellently delivered presentation which was very well received by all Club members. APC
11 October 2018 Mines Advisory Group - Graham Allen
Graham Allen gave a very thought provoking talk on mines clearance (MAG) in conflict zones around the world, the initial damage the laying down of ordinance has caused, but even more damaging the long term consequences for generations to follow. The ongoing maiming and killing of adults and especially children for decades after conflicts have finished, demonstrated the urgency and need for MAG's work. A couple of statistics demonstrated how bad the worldwide danger from unexplored ordinance has become i.e. 3 x the amount of explosives was dropped on the Ho Chi Min trail in the Vietnam war than was dropped in the whole of World War 2 and the complete clearance of unexploded ordinance in the recent Syrian Elepo conflict could take between 23 and 27 years! It came over very clearly how lucky we are in comparison to these mainly third world countries and how much we need and are obligated to provide the means of making these lands safe again to live without fear through the work of such organisations as MAG. A donation was made to the MAG charity on the night.
Doug Downing
Thursday 18th October 2018 NaomeKayondo - 'Rotaract in Uganda'
We were very lucky (as arrangements were made with Jane at 5.30pm!) and honoured to receive Naome as our guest this evening. She is in the final stages of completing and being awarded a Master of Science in Real Estate at Nottingham Trent University and the reason for her visit is linked to the fact that she plays cricket, at the National level for Uganda, but now also for Bingham Cricket Club. On one occasion when the Bingham Fair was on she went to it and discovered our Vale of Belvoir Rotary stand and spoke to Neil, who in turn, put her in contact with Jane. This was back in the summer and obviously Naome has been studying hard and whilst she couldn't make contact with a Rotaract Club, she decided it was time to make acquaintance with us.
As it was programmed as a 'Social evening', naturally Jane put her 'on the spot' and asked if she could talk to us about Rotaract in Uganda and herself. Which she did with great aplomb, skill and enthusiasm.
She is a member of the Rotaract Club of Kampala Ssese Islands, having been inducted in 2014 and risen up the service and leadership levels to Vice President, which she had to resign from due to her further studies in England. She is a Valuation Surveyor and her club has various professionals like Lawyers, Engineers, Doctors, Bankers, Accountants and Sales personnel amongst others. There are over 100 Rotaract Clubs in Uganda and they all take responsibility for a particular community, and her Club 'looks after' Ssese Islands alongside its mother club the Rotary Club of Kampala Ssese Islands.
Next weekend (26th – 28th Oct) they have their Annual Community Service Project on the Islands, where medical and service staff from other Rotaract Clubs join them to provide medical services to the Island community such as immunisation, dental tests, body check-ups and HIV testing. Last year they constructed a Ventilated Improved Pit latrine for the Banda Islands community; they also collected and distributed scholastic material and newspapers to help the island children with their education and to broaden their understanding of local, national and world issues. The project this year shall include free legal consultation as well as commissioning an Eco - san latrine.
Kampala Ssese Islands Rotaract Club has and is participating in Mission Green, an afforestation project focused on preserving the environment. The club is also working on an agro-based project in Banda Island which is starting out as growing food for subsistence and then once the islanders are covered, it is hoped to develop into a commercial farm programme that will address economic sustainability.
Despite the English weather (the cold specifically), she is enjoying her time in Nottingham, with the more 'liberal' environment and culture and is able to take advantage of the proximity of Europe and having some exploratory trips.
The final twist of coincidence in the tale of Naome is that whilst playing cricket for Bingham CC, our very own Umpire (Chris Henley) was officiating when Naome played, so they exchanged long stares of "I recognise that person, but can't think where from", when realisation finally hit Chris, he had to confess.
What a wonderful evening's entertainment from a bubbly, smiling and very skilled presenter, which the Club showed their appreciation….and no doubt we will be seeing Naome again.
AR
25 October 2018 Newton – a 17th Century 'Swinger' - Alan Lievesley
On Thursday evening we were entertained and educated by Alan Lievesley a man immersed in the teaching and understandings of Isaac Newton's scientific theories.
Alan is a retired science teacher and presently a volunteer at the National Trust Woolsthorpe Manor hands on science centre where he explains to the public Newton's experiments and theories, commenting also on Newton's famous 3 books, making up 'Principia'. This includes his theory on gravity and the 'inverse square law'. Although the concept of gravity was known about since Aristotle, who suggested that 'ether' was responsible, causing Newton to do experiments to prove ether was not the factor, using a hollow pendulum and different enclosed materials. He finally concluded that time (for a pendulum) = 2'pie' square root of l/g
Alan's enthusiasm was very obvious as he explained the movement of the pendulum starting with demonstrating the movement of the grandfather clock pendulum. He brought along his *magic pendulum" built by himself from 15 golf balls, wire and wood to show how a number of different length pendulums lines up and set in motion and follow through a timed pattern. This was first built by Austrian physicist and philosopher Ernst Mach.We were all amazed by the brilliance of this magic pendulum and his patience in building it. However I think a number of us were baffled by the mathematics involved, even with Alan's 'layman terms' description.
In conclusion I am sure we were all in agreement that it was a great talk and demonstration and we need to follow this up with a visit to Woolsthorpe Manor when they reopen their refurbished premises next March.
Mary Bridge-Collyns
1st November 2018 Malcolm Darroch - Travels in Tibet Grace: B. B Vote of Thanks: C. C
We enjoyed an extremely interesting and colourful talk on Tibet last night
by Malcolm Darroch of Wollaton Park Rotary Club.
Originally a kingdom, then a Republic, Tibet was completely independent,
ruled by the Dali Lama (their Spiritual Leader) 1912 until 1951, when the
Chinese claimed Tibet as belonging to them.
The Chinese influence is seen everywhere, from military installations to
large housing developments built specifically for Chinese people.
Malcolm surmised that this is a deliberate attempt to 'dilute' the ethnicity
of the Tibetan people.

The slides we saw showed Tibet to be an extremely colourful place, with
magnificent Temples(Johkang), Monasteries (Sera and Ganden)and
Palace(Potala) made from wood, exquisitely carved and decorated. The
spiritual nature of the people was very clear with all of the prayer wheels
and flags, as well as the pilgrims crawling for 100's of miles on their
hands and knees.
The Brahmaputra Hotel Lhasa that Malcolm stayed in was more like a museum,
containing hundreds of Tibetan antiques, the best in the country, but little
English spoken.
The Yak proved to be a most useful animal, providing transport, milk,
butter, cheese, fur, meat, fuel for the fires amongst many other things.
Buddhism is the other system that is a major influencer in Tibet as well as
being a religion, it covers education, law, community life and a code of
behaviour for these wonderful people.
I was left with a feeling that Tibet is hauntingly beautiful, with a very
simple way of life, but one wonders, under the threat of the Chinese
influence, how long it can survive in its present form David Valentine