2018 - 19 Trevor's Year
on 28th June 2018 Trevor was handed over the "badge of office" and will lead our club for the following year.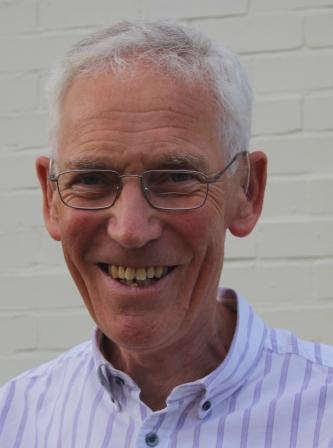 28th June 2018 - Handover to Trevor was a brief, low key affair with none of the usual confusion - other than Trevor dropped his chain of office, Maggie & Jane looked bewildered when Trevor asked that they both join him to receive the regalia for Senior Vice president. The usual "photo call" took place and the meeting was closed at just after 8.30.
At the beginning of Trevor's year he said:
"Our New Year, will it be a good year? I hope so.
Ours is an innovative Club, we take on many challenges and help people in our Community and Internationally.
I hope our work with the Community continues, particularly the newly established RotaKids, with Robert Miles Primary School in Bingham. The School has an enthusiastic group of pupils who have shown they can come up with good ideas. We will support them, where they want us.
The Memory Café continues its work with those experiencing memory problems. It is good to have a strong group of Rotarians and family volunteers, who run and present monthly entertainment.
As I write this the detailed planning work for the 9th Vale's Got Talent Show, has already begun. Each year the competitors astound us with their talents. Sponsors and advertisers in our Programme help fund the event, which also raises money for our Community and International work.
Our annual Charity Programme will shortly be confirmed. This year, more than ever, we will need to balance the effort required to raise Charity Funds and the Programmes of donations we can afford to support.
There are already procedural changes in hand to review how we assess the work of charities we may support. Ensuring that we introduce Conflict of Interest in the way we work will be important for now and in the future. There may be other new requirements to consider. Internally we have had to adopt new forms of working within our Club to ensure day-to-day management continues to run smoothly.
During the recent, visit by our new District Governor, Dr. Cheryle Berry, she recognised that we were an inspirational Club, and one which has a positive attitude. I know this spirit will continue.
Thanks to the Members of the Vale of Belvoir Rotary Club for their hard work."
Our first 2 months(July-August 2018)
Our Second 2 months(September-October 2018)
Our third 2 months(November-December2018)
10th January 2019The Dr. will see you? The future of General Practice - Dr. James Gray
Beforethe speaker presentation, Jane and Maggie made the award to Roy Mortledge for the Bernie Ashman Trophy, normally presented at our Christmas Dinner, which on this occasion Roy was unable to attend.
Dr James Gray gave a powerful and informative talk about the future changes we can expect in the NHS. He started with the Daily Mail article suggesting that the national average for a routine appointment was 1 month! He outlined the differences between 'Primary Care' (GP's) and Secondary Care (Hospitals), including the fact that only 7% of the NHS budget was spent on Primary Care! The changes are driven by several factors including the aging population, the multiple and chronic illnesses that can occur in old age and financial constraints. There are some in the service that resist these changes such as the appointment of Physician Associates (a course on which James is Course Director at The University of Sheffield) and the use of online systems which they feel threaten their positions. The general public are a big part of the problems, significantly the number of people who do not turn up for their appointments, which wastes a critical amount of resources. Many in the club were surprised to hear that James and many others in the service are not "NHS doctors" but contractors to the NHS, although they may employ some 'salaried GP's.
Club members responded to this talk with a long series of questions, one asking if he enjoyed his job. He responded by saying that he does, but when working the 12 hour days when in the practice he finds it emotionally draining, which is why he lectures on the other days to give him a good balance. The numerous questions reflecting the quality of the talk and the growing interest in health matters from the aging membership. SH/AR
17th January 2019
This week is committee week, no Club Meeting
24th January 2019 I've 'Braved the Shave' - Victoria McFarren
The Club welcomed past member Victoria, who was invited to give a talk on "Brave the Shave". This Macmillan Cancer research charity encourages people to do something amazing by shaving their head to raise money for people living with cancer. Victoria had long hair for a long time and having recently lost a friend due to this illness, she decided to have it cut off and become a "shaver". Encouraged and supported by her friends and colleagues at Belton House, National Trust, Grantham, and impressed by the package that Macmillan offered on their website, Victoria set herself a target of £500 but she now hopes to reach £1000. Although she decided on this action in January 2018, she wisely decided to wait until it got warmer before the big event! She also illustrated her presentation, a new topic for many members, with photographs of her head being shaved, and an unforgettable experience! Her hair was then platted and tied and sent to "The Little Princess Trust" that prepares wigs and hair styles for children and young adults suffering from cancer. "Brave The Shave" is helping to raise millions of pounds for Macmillan and a donation of £50 was presented to Victoria by President Trevor. MT
31 January 2019 Club Business Meeting
7 February 2019 QubitFluorometer – Dawn Broomfield
Our speaker was Dawn Broomfield, who is the Community Fundraising Manager for the University of Nottingham. She spoke to us about the Children's Brain Tumour Research Centre which is part of the University and based at the Medical School at QMC.
She explained that many of the children who suffer a brain tumour will be left with a disability, but brain tumour research still only receives less than 1% of the UK's Cancer funding. The Children's Brain Tumour Research Centre was launched 22 years ago thanks to a donation from Sir Peter Mansfield (the inventor of the MRI scanner). One of their research projects, the Headsmart campaign, has helped reduce the diagnosis of children's brain tumours from 14 weeks to 7 weeks. She gave examples of some children's experiences (Daniel and Jessica) and explained that before they had the Qubit fluorometer they had to send DNA samples out to a specialist contractor for up to £200/sample. With their QF they can analyse their own results, get the results immediately and do not need to use as many samples for analysis.
Our Club gave the University a cheque for £1,550 which will be used to purchase a Qubit Fluorometer, a device which identifies how much usable DNA is available for testing in tumour samples. Damaged DNA can contribute to the occurrence of brain tumours so finding out how much DNA is available for testing is essential for research staff at the centre. DE/AR
14 February 2019 Scatter evening
21 February 2019Charity Trusts President Trevor
Prior to President Trevor's presentation on Charity Trusts, Jane briefly explained about their visit to Uganda, where a new Rotary Club of Lyantonde Metropolitan had been formed in District 9211, Tanzania and Uganda. They had presented the solar light equipment and Desks. David E. informed us that £655 had been collected at the Friary Jumble Sale at Cotgrave.
Trevor explained that Rotary got embroiled in discussions with the Charity Commission following the closure of 'Kids Company'. Consequently Trevor proposed that we set up a Working Party to investigate and better understand the legal requirements of the Charity Trust we operate as a Club. The members being Ian, Stuart and Mike Cox with the outcome being the care of the terminology we should use. E.g. "if we are successful in fund raising we intend to support…"; "net proceeds after reasonable expenses…" ;"pledge the money for specific purposes(e.g. QF)" All collectors should be aware of where our donations will be going to. All publicity should contain our Charity number. Ian had drawn up the original Trust Deed back in 1992 which now needs updating, keeping it as simple as possible to ensure we are compliant.
The presentation generated a fair amount of discussion and a better understanding of our responsibilities. AR
7th March 2019 Bottesford Community Library – Jane Bennett
Prior to the speaker there was a cheque presentation of £1k to Chris H for 'Life Education'
Jane gave an enthusiastic and energetic talk about Bottesford Community Library in which she has been involved since 2016.
The library became a charity in October 2015 when the local community took over its running with our Rotarian Mary Bridge-Collyns being one of the first volunteers and Anne Daley a fellow Trustee!
It now provides over 20 services including e books, events for adults and children, coffee (with loyalty card!), local information, display of local arts and crafts and even photocopying and printing.
It has been a very popular service with the local community who are able to use the facilities 7 days a week, unheard of in many local libraries and as Jane quoted "a bulwark against the scourge of loneliness".
Leicestershire County Council agreed to fund the operating costs until 2022 and the rent (£8k) will be paid until 2027 when the trustees will then be responsible for running the library. With this in mind, the library runs a range of activities and fund raising events. The website offers suggestions on how to donate or help to keep the vital service to the village operating. We wish them well! GT
14 March 2019 No meeting this week as it is a committee week
21 March 2019The Nottingham Street Pastors -Ramsey Piggott
Prior to the speaker presentation a £350 cheque was gifted to the Flower Pod, with Tracy & Bex saying a 'thank you' and explaining that previous donation had been used for improved communication software, which had vastly improved things for a number of their challenged clients.
Stan also announced that the International Committee had diverted some £2k funds to the Idai Cyclone disaster in East Africa.
Ramsey is a volunteer with the Nottingham Street Pastors, which is a project set up by the Malt Cross Trust in 2010. The aim of the Malt Cross Trust is to improve Nottingham's nightlife and the project sees over 70 volunteers go out to care for and look after the 30,000-40,000 visitors who use Nottingham city centre's nightlife every weekend. Part of the Urban Trinity between the Police, Local Government and the church, and having obtained Purple Flag accreditation in making the City a safe, diverse and entertaining environment.
Street Pastor volunteers patrol the city in teams of three or four on Friday and Saturday nights between 10pm and 3am to help when someone's night out takes a turn for the worst. Their mission is to offer practical, non-judgemental and compassionate help to people at risk following over-indulgence in the city's bars and clubs.
They really come in to their own when dealing with members of the public who are worse for wear and simply can't look after themselves. Historically police officers and paramedics have been needed to try and sober these people up, arrange transport for them and contact a loved one to make sure they aren't alone and are being looked after – but now this is a role played by the Street Pastors who are just a radio call away from police officers.
The Street Pastors offer a calming effect to often drunken and rowdy people and the offer a lollipop or a bottle of water r a pair of flip-flops has an amazing effect on people.
The Club were very impressed with the dedication, and community spirit that shines out from the practical assistance that the Street Pastors offer every weekend, accordingly a cheque was presented to Ramsey. AF