2018 - 19 Trevor's Year
on 28th June 2018 Trevor was handed over the "badge of office" and will lead our club for the following year.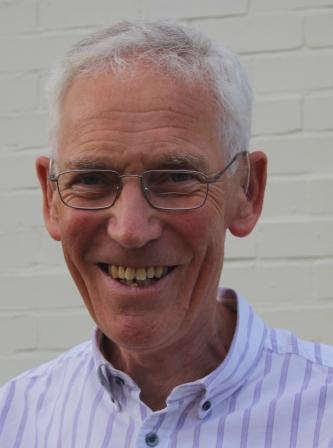 28th June 2018 - Handover to Trevor was a brief, low key affair with none of the usual confusion - other than Trevor dropped his chain of office, Maggie & Jane looked bewildered when Trevor asked that they both join him to receive the regalia for Senior Vice president. The usual "photo call" took place and the meeting was closed at just after 8.30.
At the beginning of Trevor's year he said:
"Our New Year, will it be a good year? I hope so.
Ours is an innovative Club, we take on many challenges and help people in our Community and Internationally.
I hope our work with the Community continues, particularly the newly established RotaKids, with Robert Miles Primary School in Bingham. The School has an enthusiastic group of pupils who have shown they can come up with good ideas. We will support them, where they want us.
The Memory Café continues its work with those experiencing memory problems. It is good to have a strong group of Rotarians and family volunteers, who run and present monthly entertainment.
As I write this the detailed planning work for the 9th Vale's Got Talent Show, has already begun. Each year the competitors astound us with their talents. Sponsors and advertisers in our Programme help fund the event, which also raises money for our Community and International work.
Our annual Charity Programme will shortly be confirmed. This year, more than ever, we will need to balance the effort required to raise Charity Funds and the Programmes of donations we can afford to support.
There are already procedural changes in hand to review how we assess the work of charities we may support. Ensuring that we introduce Conflict of Interest in the way we work will be important for now and in the future. There may be other new requirements to consider. Internally we have had to adopt new forms of working within our Club to ensure day-to-day management continues to run smoothly.
During the recent, visit by our new District Governor, Dr. Cheryle Berry, she recognised that we were an inspirational Club, and one which has a positive attitude. I know this spirit will continue.
Thanks to the Members of the Vale of Belvoir Rotary Club for their hard work."
Our first 2 months(July-August 2018)
Our Second 2 months(September-October 2018)
1st November 2018 Malcolm Darroch - Travels in Tibet
We enjoyed an extremely interesting and colourful talk on Tibet last night
by Malcolm Darroch of Wollaton Park Rotary Club.
Originally a kingdom, then a Republic, Tibet was completely independent,
ruled by the Dali Lama (their Spiritual Leader) 1912 until 1951, when the
Chinese claimed Tibet as belonging to them.
The Chinese influence is seen everywhere, from military installations to
large housing developments built specifically for Chinese people.
Malcolm surmised that this is a deliberate attempt to 'dilute' the ethnicity
of the Tibetan people.

The slides we saw showed Tibet to be an extremely colourful place, with
magnificent Temples(Johkang), Monasteries (Sera and Ganden)and
Palace(Potala) made from wood, exquisitely carved and decorated. The
spiritual nature of the people was very clear with all of the prayer wheels
and flags, as well as the pilgrims crawling for 100's of miles on their
hands and knees.
The Brahmaputra Hotel Lhasa that Malcolm stayed in was more like a museum,
containing hundreds of Tibetan antiques, the best in the country, but little
English spoken.
The Yak proved to be a most useful animal, providing transport, milk,
butter, cheese, fur, meat, fuel for the fires amongst many other things.
Buddhism is the other system that is a major influencer in Tibet as well as
being a religion, it covers education, law, community life and a code of
behaviour for these wonderful people.
I was left with a feeling that Tibet is hauntingly beautiful, with a very
simple way of life, but one wonders, under the threat of the Chinese
influence, how long it can survive in its present form David Valentine
15 November 2018 Welfare Britain - Myth or Reality - Ian Jones
Prior to the meal there was a £300 cheque presentation to Peter Purdy of Bingham Audio Magazine
Ian explained that he operates out of the Radcliffe Advice Centre (which has been there for 35 years) & the newer Bingham advice Centre, opening 8 years ago. He posed questions about who is the biggest burden on the benefit system. Not 'fraud', not 'the unemployed', but 'pensioners'! Despite Rushcliffe being a fairly affluent area, it has a pensioner population around 33 %( with 66% in a small village, such as Cropwell Butler). He identified that pensions are part of "Universal Benefit", but an entitlement, rather than a need, which started in 1910. At which time it was established for miners who became 'out of work', but they could only take it for 8 weeks & had to have a wife and dependents.
Now days the Job Seekers Allowance is £73.10/week and the individual has a contract with The Department of Work and Pensions, which expects them to seek a job at least 35 hours/week.
On EU immigration he explained that despite costing £2.6bn, they actually pay in Tax and NI £14.76bn
On Universal Credit in theory it is 6 benefits combined into one. Originally there were 48 different benefits, now it's only 43! It came into being 3 weeks ago in this area, unfortunately it was never designed as a planned system, but has grown more like a 'patchwork quilt'
A number of questions flowed which generally Ian managed to deal with. A very informative presentation, well delivered in a subject most of us new little about.
AR/BN
22 November 2018 Dingbats and quiz Roy Mortledge
There were 2 Community Grant presentations of £250 each to: 1. Kirsty Birch, a 14 year old who is going to a Girl Guide event in Hungary, next July for 10 days 2. Samuel Mark, a 17 year old who is at Brackenhurst studying Environmental and Wild Life. He is going to Cambodia in July to help build a school kitchen. His Mum also spoke to say that Sam had been entered for the Young Environmentalist of the Year.
We also had a brief presentation from Katie Oldham (President elect of the new Rushcliffe RC) on the Nottingham Showcase Event (Conference), taking place in Nottingham in May 2019 with the theme of Modern Slavery.
In the absence of Victoria, who was now unable to speak on her "Brave the shave" charity event, Roy offered up another of his "Dingbats" quizzes, which proved to be an entertaining affair, as chaos reigned supreme, with people shouting out answers(often incorrect!) and Roy unable to resist offering helpful clues. Although a competition with a box of chocolates prize, there was some difficulty in deciding which group won, so he gave the chocs to Doug, who generously shared them out amongst everyone. Victoria had supplied Roy with a quiz which proved far too challenging for our members, but provided entertaining commentary. Another good evening of fellowship, well done Roy! AR
29 November 2019
Business Meeting & Special General Meeting
10th January 2019The Dr. will see you? The future of General Practice - Dr. James Gray
Beforethe speaker presentation, Jane and Maggie made the award to Roy Mortledge for the Bernie Ashman Trophy, normally presented at our Christmas Dinner, which on this occasion Roy was unable to attend.
Dr James Gray gave a powerful and informative talk about the future changes we can expect in the NHS. He started with the Daily Mail article suggesting that the national average for a routine appointment was 1 month! He outlined the differences between 'Primary Care' (GP's) and Secondary Care (Hospitals), including the fact that only 7% of the NHS budget was spent on Primary Care! The changes are driven by several factors including the aging population, the multiple and chronic illnesses that can occur in old age and financial constraints. There are some in the service that resist these changes such as the appointment of Physician Associates (a course on which James is Course Director at The University of Sheffield) and the use of online systems which they feel threaten their positions. The general public are a big part of the problems, significantly the number of people who do not turn up for their appointments, which wastes a critical amount of resources. Many in the club were surprised to hear that James and many others in the service are not "NHS doctors" but contractors to the NHS, although they may employ some 'salaried GP's.
Club members responded to this talk with a long series of questions, one asking if he enjoyed his job. He responded by saying that he does, but when working the 12 hour days when in the practice he finds it emotionally draining, which is why he lectures on the other days to give him a good balance. The numerous questions reflecting the quality of the talk and the growing interest in health matters from the aging membership. SH/AR
17th January 2019
This week is committee week, no Club Meeting