Beaulieu Walk 2019
Hythe & Waterside helps other charities to help themselves If you are interested in raising a team for 2019, please contact walk@hytherotary.org.uk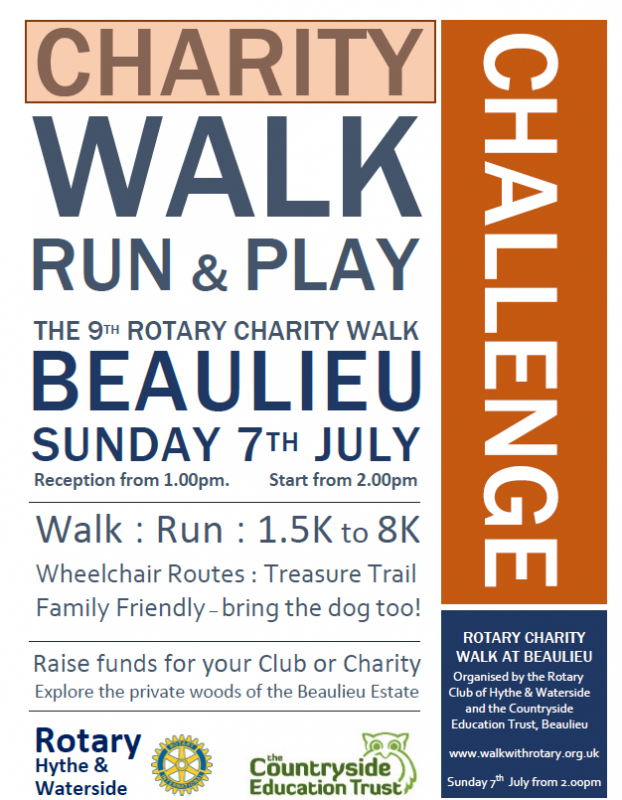 Charity Walk
The 9th annual Rotary Charity Walk at Beaulieu will be held on Sunday 7th July at 2pm.
This is a great opportunity for Club and Charity fundraisers to enjoy a family-friendly walk, or run, in the private woods of the Beaulieu Estate; and raise money through sponsorship too!
Since the first Walk in 2011 over twenty Charities and Clubs, most of them local to the Waterside area, have shared almost £35,000
This year the Walk is also open to runners to test themselves over some of the routes, of varying distances from 3 kilometres to a challenging 8 kilometres.
The entertaining 1.5 kilometre Treasure Trail continues to provide fun for children and adults alike; and there's an added attraction this year – a Creepy Crawly Bug Hunt! And there's a wheelchair and pushchair friendly trail too.
The tracks are similar to those encountered in the New Forest and family dogs are welcome to accompany walkers.
All the trails start and finish at the Countryside Education Trust Tree House Study Centre, where complimentary refreshments are available at the finish for all participants.
Registration for individuals is £5 and families and groups can register for only £10. After registration, participants receive an official Sponsorship Form which will need to be brought along on the day to be validated.
Find out all about the Walk at our website: www.walkwithrotary.org.uk
We are grateful to Lord Montagu, who has given us permission for the Charity Walk to be held in the private woods of the Beaulieu Estate, and to our partners for the Walk, the Countryside Education Trust.
Countryside Education Trust.