Twilight Meeting RYLA Presentation by Molly Humphries
Tue 23rd October 2018 at 17.45 - 19.00
Desk:- Keith Ward Vote of thanks & Speakers Report:- John Fishburne Raffle:- Robin Lawson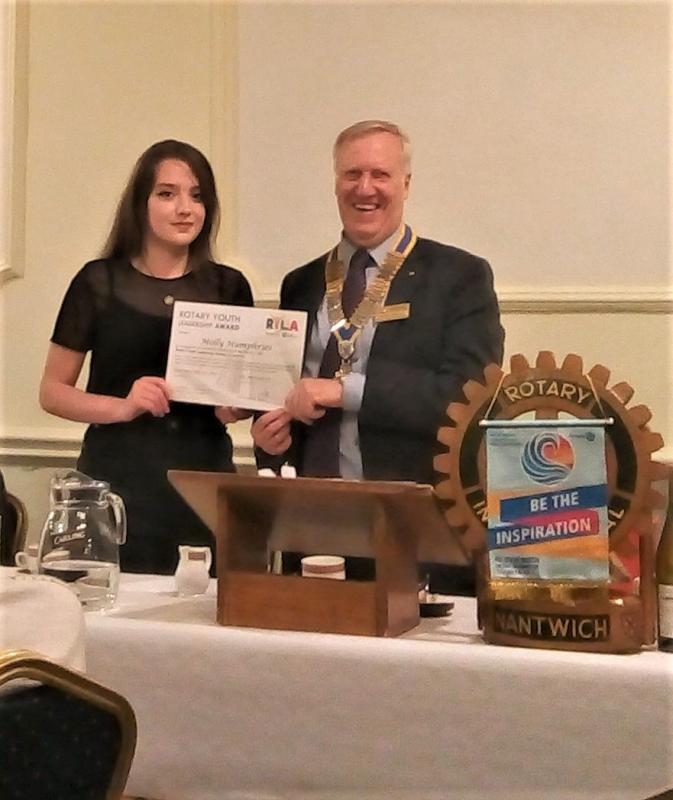 Molly Humphries from Brine Lees School
RYLA course for summer 2018.
Molly spoke about her experiences on a 5 day course held in Wales during the Summer holidays
She said that she went on it with a certain amount of trepidation and feared that a number of the tasks which the attendees were challenged with made her very apprehensive but as the course progressed she realised that the challenges the students faced were not impossible after all, enabling them to grow in confidence.
Some tasks were individual, some team exercises. She found that working with people she did not know added a new dimension. At the end of the course she felt that she had benefitted greatly, particularly from a competitive team exercise whereby the students had been placed in groups of 5 and each group had had to build a boat. Her team won the exercise, giving them a moral boost.
A number of questions were raised at the end which showed how much the members had enjoyed the talk and in turn her answers grew in confidence.
In the vote of thanks it was stressed to her that she must always include details of the course in any CV which she might present in the future.
John Fishburne