Gavin Palin & Max Kelly - Voluntary First Responders
Tue 5th March 2019 at 12.45 - 14.15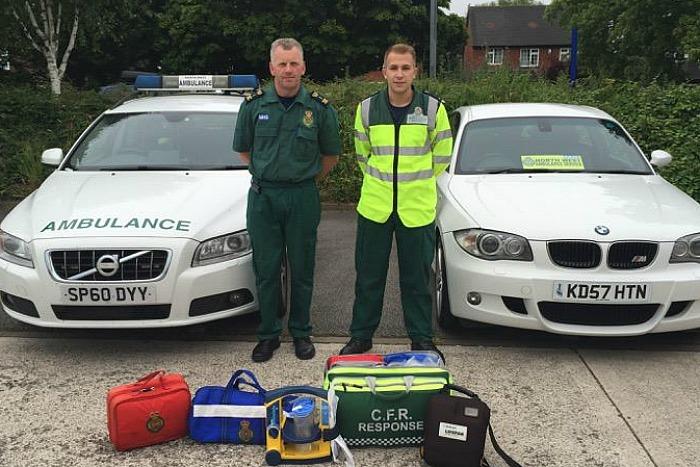 Nantwich Voluntary First Responders – Gavin Palin and Max Kelly
Voluntary First Responders are available for life threatening accidents and emergencies. Gavin has been a responder for 16 years and Max for 6 years. We were given an excellent talk and shown some of the equipment they have available.
In our area there are lots of villages, where urgent response by ambulance is difficult, so the First Responders are a vital resource. They respond to all kinds of emergencies but limit response, where possible, to life threatening ones. This is where the information from the 999 call is vital to assess the priority. This involves quite a lot of questions over the phone and important for people to understand the need for clear answers.
We were shown a range of equipment used by the team. Examples were Entonox equipment for pain relief, defibrillator, burns blanket, oxygen therapy, pelvis binders and monitoring equipment. They currently have two vehicles and get help with the costs of fuel and repairs from various sources. Many towns now have defibrillators and the team help with training in the use of this vital equipment. Cardiac arrests are clearly an area where early response is needed and the team have responded to nine of these over the past 2 weeks.
The team were thanked by Rotarian Ian McAlpine for an excellent talk, and for the essential work they do in our communities.