Presidents Night 2019
Sat 22nd June 2019 at 19.00 - 23.00
.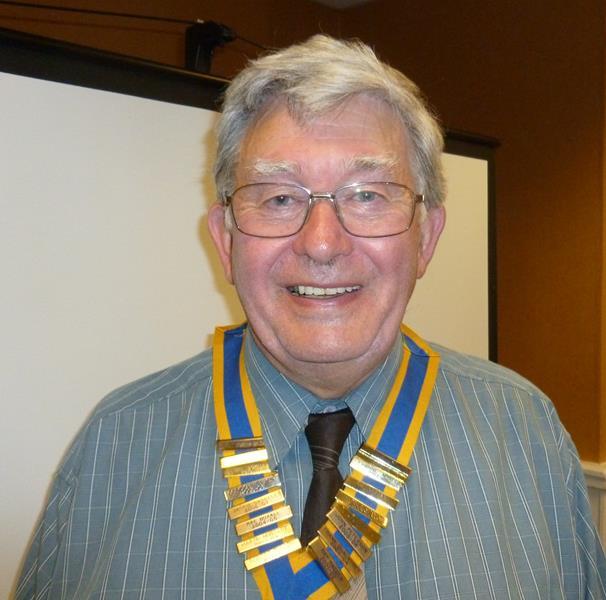 SCROLL DOWN TO VIEW ALL DETAILS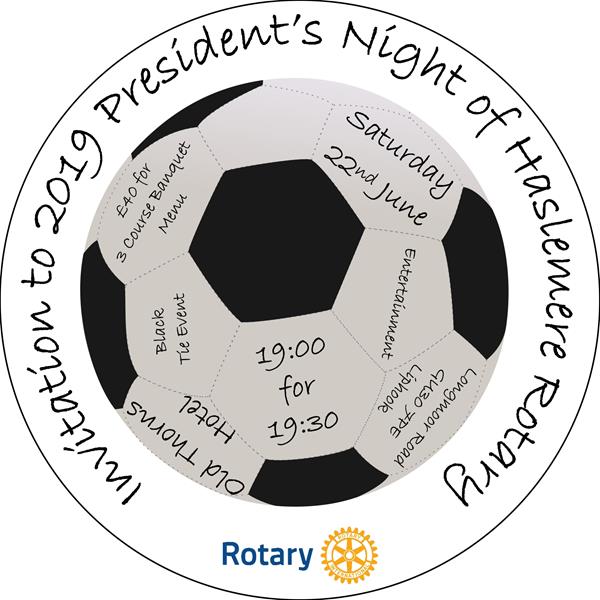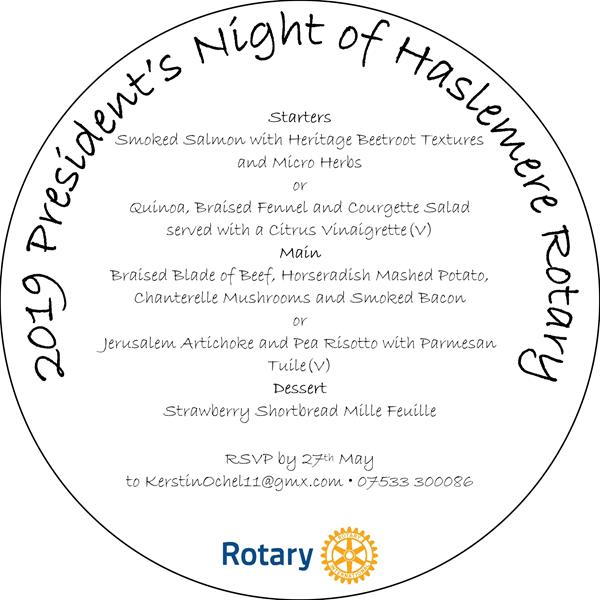 CLICK HERE TO GO TO THE EVENT ATTENDANCE FORM
Wine List
125ml /Bottle
CHAMPAGNE
01 Moët & Chandon Brut Impérial, France 9.00 46.00 A well known blend of older reserves with young wines to ensure a consistency of this flowery aroma and warm biscuit hints.
02 Moët & Chandon Rosé Impérial, France 12.00 62.00 Salmon-pink in colour, this has a wonderful fresh, floral style with summer strawberry flavours.
03 Moët & Chandon Ice Impérial, France 14.00 65.00 Champagne with a decidedly sweet outlook, designed to be served over ice with fruit.
04 Moet & Chandon Ice Imperial Rose, France 15.00 70.00 Vivid pink with golden highlights. Scents of Red berries and cherries. Luscious palate combining sweetness and firmness. Refreshing finish with hints of pink grapefruit.
05 Veuve Clicquot Yellow Label Brut, France 67.00 Reflecting the traditions of the past, this is full, yet dry and has a rich, creamy style with biscuity flavours.
06 Veuve Clicquot Brut Rosé, France 80.00 Luminous, fresh, pink with initial aromas of red fruits leading to dried fruits and biscuit notes.
07 Perrier-Jouët Belle Epoque Brut, France 145.00 A prestige cuvée renowned for great length and elegance, these bubbles are also bursting with seductive, ripe berry richness. SILVER (2008) DECANTER WORLD WINE AWARDS 2017 SILVER (2008) INTERNATIONAL WINE CHALLENGE 2017
08 Moët & Chandon Grand Vintage Brut, France 98.00 The harmonious blending with older reserve wines yields these most loved floral aromas and subtle biscuit whispers.
09 Dom Pérignon Brut, France 170.00 Long and satisfying on the palate with layers of yeasty, nutty flavours, superbly fat and ripe. Complex, luxury Grand Cru Champagne made only in the best years
. 10 Krug Grande Cuvée Brut, France 215.00 Barrel-fermented wines contribute toward the style of this magnificent, opulent and unique Champagne.
SPARKLING
11 Fantinel Prosecco Extra Dry, Italy 5.50 28.00 Fresh, dry and fruity, a pleasant and extremely elegant bouquet with delightful, floral hints.
12 Bottega Gold Prosecco Brut, Italy 35.00 Characteristic, fruity with scents of golden apple, Williams pear, acacia flowers and lily of the valley. BRONZE (NV) INTERNATIONAL WINE CHALLENGE 2017
13 Bottega Rose Gold, Italy 39.00 Notes of mixed red berries alongside floral and white fruit aromas. BRONZE (NV) INTERNATIONAL WINE CHALLENGE 2017
14 Hambledon Classic Cuvée, Hampshire, England 39.00 Fresh sourdough, magnolia and lily scents mingle with a hint of smoke over a core of greengage, red plums and dessert apples. The palate is vivid, almost vibrantly crunchy with precise, structured yet ripe acidity.

VERY DRY, LIGHT, DELICATE WHITE
15 Castelbello Bianco, Italy 4.35 5.85 17.00 Dry and refreshing with ripe fruit and hints of citrus, peach and spice.
16 Belvino Pinot Grigio delle Venezie, Italy 5.45 7.30 21.00 Delicately flavoured with notes of green apple and pear, with just a hint of sweetness.
17 Mâcon-Villages Domaine de la Grange Magnien 29.00 Louis Jadot, France Excellent softer style of Burgundy. Fresh, full flavoured with pleasant citrus and buttery undertones.
18 Picpoul de Pinet, Petite Ronde, France 25.00 Fresh with a citrussy and stone fruit character highlighted with floral notes.
19 Saira Albariño Costers del Segre, Raimat, Spain 32.00 Shows delicate aromas of citrus, dried fruits and spice with a hint of sweet vanilla: the palate is well-rounded and the finish citrussy and refreshing.
20 Gavi Ca' Bianca, Italy 35.00 White flower and green fruit aromas, with a touch of honey and refreshing minerality on the palate. BRONZE (2016) DECANTER WORLD WINE AWARDS 2017
DRY, HERBACEOUS OR AROMATIC WHITE
21 Santa Rita 8km Sauvignon Blanc, Central Valley, Chile 5.95 8.55 26.00 An approachable Sauvignon Blanc with fresh fruit flavours of grassygooseberry and citrus
22 Southern Rivers Sauvignon Blanc, Marlborough 28.00 New Zealand Fresh and crisp with classic characters of gooseberry and tropical flavours.
23 St Hallett Riesling, Eden Valley, Australia 42.00 Shows aromas of flint and spice intermingled with lemon blossom and lime peel: the palate is vibrant with citrus and minerally notes.
JUICY, FRUIT-DRIVEN, RIPE WHITE
24 Whispering Hills Chardonnay, California, USA 18.00 A crisp, lemony Chardonnay from California's sunny Central Valley. A wine full of ripe tropical fruit flavours and excellent mouth-feel.
25 Kleine Zalze Vineyard Selection Chenin Blanc, Stellenbosch 20.00 South Africa Ripe and silky-smooth, from South Africa's most popular white grape variety with rich guava fruit and honeyed character. BRONZE (2016) DECANTER WORLD WINE AWARDS 2017
26 Chateau De La Salle Bordeaux, France 5.70 7.20 20.75 Peach and white nectarine marry with notes of vanilla. Well-structured with balanced acidity.
FULL-FLAVOURED, NUTTY, OAKED WHITE
27 Rioja Blanco, Barrel Fermented, Viña Real, Spain 28.00 Beautifully balanced and quite delicious with pure, floral and citrus aromas leading into a rounded, creamy, rich palate. 125ml measure available upon request
ROSÉ
28 Whispering Hills White Zinfandel, California, USA 4.60 6.30 18.50 Loads of fresh summer-fruit flavours and lively acidity. Mediumbodied to appeal to most palates, California's own Zinfandel.
29 Parini Pinot Grigio Rosé delle Venezie, Italy 21.00 Soft, coppery-pink rosé: delicate and fruity bouquet: soft and fresh on the palate.
30 Côtes de Provence Rosé, Héritage, Estandon, France 28.00 Fresh aromas of peach and pear, followed by a soft and well-balanced palate. BRONZE (2015) SOMMELIER WINE AWARDS 2017
LIGHT, SIMPLE, DELICATE RED
31 Whispering Hills Merlot, California, USA 4.60 6.30 18.50 Typically soft and juicy with ripe berry fruit flavours and supple tannins. A small proportion of Cabernet Sauvignon is added to give added structure and depth of flavour.
JUICY, MEDIUM-BODIED, FRUIT-LED RED
32 Camarsac, Bordeaux, France 22.75 Concentrated, well-balanced layers of black berry richness exuding headily intense aromas.
33 Chateau De La Salle Bordeaux, France 5.70 7.20 20.75 Elegant red and blackberry fruit with a nutty background. Round and structured with integrated tannins.
34 Don Jacobo Rioja Crianza, Bodegas Corral, Spain 29.00 Abundant bright raspberry aromas mingle with sumptuous cherries and layered with a creamy barrique character.
SPICY, PEPPERY, WARMING RED
35 Son Excellence Syrah, Pays d'Oc, France 5.05 6.85 20.00 Silky, red berry and spice scented wine.
36 Luna del Sur Malbec, San Juan, Argentina 6.25 8.55 25.00 Ripe berries, spice, cinnamon and vanilla. A Classic Mendoza Malbec
37 Côtes du Rhône, Les Abeilles Rouge, Jean-Luc Colombo 28.00 France Fresh and silky on the palate, the aromas of small red fruits follow through, prolonged by notes of liquorice and spice. BRONZE (2015) INTERNATIONAL WINE CHALLENGE 2017
38 Feudi Salentini 125 Primitivo del Salento, Italy 28.00 Elegant with notes of ripe plum, cherry jam and cocoa followed by a hint of spicy vanilla.
39 Portillo Malbec, Uco Valley, Mendoza, Argentina 29.00 Plums, blackberries and a touch of vanilla: fresh fruit flavours, supported by a touch of spice. SILVER (2016) SOMMELIER WINE AWARDS 2017
125ml measure available upon request
OAKED, INTENSE CONCENTRATED RED
40 Shingleback The Davey Estate Shiraz, McLaren Vale 39.00 Australia Luscious aromas of ripe strawberry and blackberry are highlighted by nuances of chocolate and violet: silky tannins and the fresh acidity are enhanced with a shot of espresso like American and French oak. SILVER (2014 & 2015) INTERNATIONAL WINE CHALLENGE 2017
SOPHISTICATED, POLISHED, COMPLEX RED
41 Bay of Fires Pinot Noir, Tasmania, Australia 36.00 Complex aromas of sweet ripe red berry fruit alongside star anise, cinnamon spice and floral nuances. Although elegant and supple, the wine shows remarkable power. SILVER (2015) DECANTER WORLD WINE AWARDS 2017 SILVER (2015) INTERNATIONAL WINE CHALLENGE 2017
DESSERT WINE
42 Sauternes Les Garonnelles, Lucien Lurton et Fils, France 37.5cl 23.95 An alluring seduction of heavenly honeyed lemons and limes with a ripe luscious richness.