World Rotary President is visiting East Sutherland!
.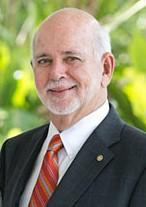 The Rotary Club of East Sutherland are delighted that RI Past President Barry Rassin will be the speaker at our meeting on Wednesday 4th September. The event will be held at Royal Dornoch Golf Club and will include a Carvary meal at 1900. Cost will be £15.50 per person plus there will be a Raffle the proceeds of which will go to for Polio Eradication. As the maximum number of places available is 70 those wishing to attend should book through Club President Peter Orrel.
---
Barry Rassin is one of the best known and most influential Rotarians in the World and until 1st July he was the President of Rotary International - the top man!!
In his time as RI President his slogan was "Be The Inspiration" and he certainly epitomised than mantra. Something he will share with the local Rotary members in September when he visits Sutherland and unique in Scottish Rotary in recent decades as World Presidents may have spoken at international events in Scotland but not at a club meeting.
On retiring from the World Presidents role his declared targets were to continue to inspire Rotarians and young people to achieve Service Above Self, including the eradication of Polio to encourage Rotarians to support the needy and the disadvantaged in communities across the World. To encourage others to join Rotary and enjoy having fun helping others and share in great achievements in Health, Education and in Peace.
So why is a man from the Bahamas visiting East Sutherland??? Could it be the support and the example our local club provides??? Has the East Sutherland Clubs reputation crossed the Atlantic??? Possibly, but more likely it is his other passion - GOLF!
When he spoke at the World Convention as he stepped down he stated that he looked forward to a year of comparitive relaxation spent playing golf and enjoying the company of Rotarians.
So, no better place than Brora, Dornoch and Golspie and the members of the Rotary Club of East Sutherland.